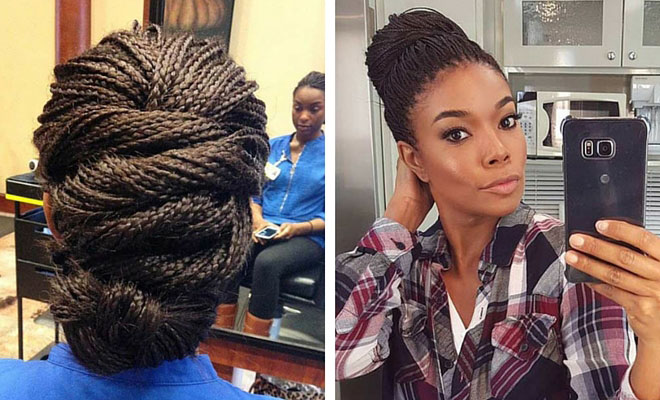 61 Beautiful Micro Braids Hairstyles
There are so endless amount of protective hairstyles you can choose from and micro braids are one of them. Micro braids have been popular and trending for years. They are made by having a bunch of braids, which are merged together that cover your whole head. This protective style is easy to maintain and is low maintenance. The braids look gorgeous and are very stylish once they're done but can take several hours to finish. Also, they are very versatile so you can change your style on a daily basis.
Things You Need to Know Before Getting Micro Braids
Before you get started, ensure your hair is long enough, healthy and can cope with the micro braids as they can damage thin and weak hair. Then get yourself comfortable and have a friend by your side to help you. Having micro braids will definitely benefit you, especially if you have a busy lifestyle. Once you have your braids installed, they can last for months. We suggest you take your braids out every two-three months so your natural hair can breathe and settle. You could say this is like your hairs recovery time. This is also good for you because then you can restyle your hair or braid them differently. Leaving your braids in for longer than three months, can cause damage to your hair by making it thin and then it will start to break.
To maintain your braids, ensure you use a conditioner to keep them moisturized and fresh. Don't use a heavy condition as they can cause build-up in the hair, resulting in a dry scalp. Use a spray or an oil formula so you can target areas more specifically and you can control the amount you apply better. Drink plenty of water too, as this will help your hair to look fantastic. Before you go to bed, you can protect your braids by wearing a scarf. This will help keep them tidy and neat.
We have come up with 61 beautiful micro braids styles you can have. Enjoy!
1. Stunning Micro Braids Updo
Once you have your gorgeous braids, try this updo hairstyle. As you can see, micro braids also look beautiful when gathered into an elegant updo. If you decide on having micro braids, prepare your hair beforehand. Make sure you thoroughly wash your hair and use a conditioner afterwards. Remember, when you have braids, you won't be able to clean as intense as you can now. Ensure you have everything by your side so you don't have to move in the process. Also, make sure you have enough hair! There's nothing worse than getting halfway through and realising that you have run out. Use a comb to detangle your hair so it's easier and quicker to braid. You want to make the process as simple as possible without any problems in between.
As mentioned, make sure you do take your braids out every two – three months or so, and when you do decide to braid your hair again, try a different style. This will help your hair and head by not causing stress and tension in one area over time.
2. Cute Style for Summer
Summer is coming so you need to think about what hairstyle you can have to stand out. This cute style for summer will definitely get heads turning. Separate your hair into two sections then braid and loop around. Secure everything with bobby pins.
3. Gabrielle Union's Micro Braids
Gabrielle Union looks so beautiful, right? Check out her hairstyle – these micro braids look amazing. She is rocking her braids so you can too.
4. 7 Different Ways to Style Your Micro Braids
The styling doesn't stop after you've got your micro braids, this is when the fun begins! There are so many different styles you can do with your braids. Check out these 7 different ideas. Hair up, hair down, even a braid for your micro braids, how cool is that? They all look fabulous!
5. Simple, Black Braids
You have sat for hours on end whilst you and your friend (or hairdresser) create a masterpiece with your hair. You can at least enjoy the finished result without doing anything more to your hair. It's a classic look and looks flawless.
6. Micro Braids + Shaved Side
Shaving your hair may seem scary at first and not many people dare to do it, but this style looks incredible. It might just sway you towards the shavers. Toss your hair to one side to show off your unique shaven side, and when you get bored, just toss it back into a centre parting! If you're still unsure, you can always shave a tiny section, smaller than the photo and see what you think.
7. Burgundy Micro Twists
Try these burgundy micro twists to show off your character and style. This style is so sexy! Release your inner fashionista and go for a lovely warm tone for your braids.
8. Micro Braids Mohawk Style
Go for the rocker Mohawk style by creating a gorgeous girly braid version. This works so well with shaven sides and an electrifying colour such as red or auburn. The shaven sides will help you pin back the main braid. Essentially, it's a main braid made from your tiny micro braids and styled into a Mohawk. Work from the back and pin your main braid to the back of your hair. Rock your Mohawk with style.
9. Micro Braids & Gorgeous Curls
There are no rules when it comes to braiding your hair. You don't have to braid your entire head but majority of people do, so why don't you think outside the box and just braid the front section. If you have no patience, this is probably the best option for you. Then you don't have to sit down for hours. You can then create your own unique micro braid style with your natural curls.
10. Micro Braids into a Side Braid
Side braids are feminine and girly as Gabrielle Union shows you below. Unlike box braids (or poetic justice braids), micro braids are thinner and easier to style. Braid your micro braids into a neat side braid to keep them off your face. The style is simple and easy to do. You can either continue your main braid all the way down or end it in the middle, which looks divine!
11. Micro Cornrows Style
Before you start micro braiding, maybe think about having micro cornrows. This is very popular with many celebrities and they look breath taking. You can always add beads to the ends for a summer vibe. This is a great look for the beach and music festivals.
12. Heart Bun Updo
This impressive micro braid updo will be the talk of the town. It's very detailed and intricate. Be aware, for this style, you may need some practice. Probably best you get your friend to style your hair. It's hard to do yourself as it's all facing the back. To generate the heart shape bun, it will be easy to grab all the braids together but the harder part will be to show it's a heart and not just a detailed bun. Good luck!
13. Two Toned Micro Twists
Go for the two-tone hairstyle with twists to show off your distinctive side. From every angle, it will look astounding. This will look great when you tie your hair back or even when you have your hair down. The distinction between the two colours will look so good.
14. Braided Updo
Having micro braids will allow you to separate the hair easier than usual, so make sure you grasp this opportunity to show off your artistic side. This will open the door to a completely new path for lots of different updos, like this one. Grab the front section of your hair and implement your own creative style. You can then tie up the back section of your hair and make your style.
15. Micro Braids into a High Bun
You can't beat the classic bun. A classic ballerina style bun is cute and feminine. This is fresh and elegant which will create a sophisticated look. Great for work, school, going out or even popping to the cinema or shops. You'll be ready for anything with this style.
16. 4 Different Ways to Style Micro Twists
Twisting your braids is fashionable and stylish. This photo shows four different ways to style your micro twists so get twisting! You have the choice of having your hair up, down or half up. Depending on your plans or event, there's a style for all.
17. Easy Half Updo Style
If you fancy having your hair in a different style but still want it down, the half updo is so easy to do. Grab a few braids from either side and tie it in a loose hairband. You could even wrap a few braids around to act as a hairband.
18. Micro Senegalese Twists Updo
We adore these twists and the photos look unbelievable. The micro Senegalese twists are the most pretty and popular twists out there. Make your hair look and feel this pretty. Having two-tone hair really sets the twists off and instantly attracts a warm glow.
19.Elegant Half Updo
Elegant, classy, stylish, chic and sophisticated. This updo hairstyle is all these things rolled into one. All you have to do is braid your front braids, and make a stunning design. The hair that is left down, you could sweep to one side.
20. Gray Ombre Micro Braids
Gray ombre micro braids are a fashionistas dream. Until a few years ago, gray was just a hair colour that was seen on mature people, but roll on 2016 and nearly everyone wants it or has it! We all know that the gray colour has been trending for a while now and it looks incredible with braids.
21. Caramel Micro Braids
Be a trendsetter not a follower with this style. If you want a softer look, opt for a caramel tone. This will complement your braids and look fantastic.
22. Zoe Kravitz's Micro Braids
Zoe Kravitz set the micro braids alive with her classic look. Braids went crazy when Zoe Kravitz was rocking them, now they are back. This is such a simple, chic and stunning style.
23. Blonde Brown Style
Stylish and chic should be your middle names if you're going to have this style. To make your braids stand out, mix blonde and brown together to highlight your striking hair. This is the perfect combination and I can guarantee all your friends will be copying you within the next few weeks.
24. Curly Micro Braids Style
Let your curls flow with the sassy style. If you're lucky to have sexy curls, you need to show them off to the world. Don't hide them away, let your hair do the talking with this curly micro braid style. Your hair will look healthy and amazing.
25. Micro Twists = Cute Protective Style
This cute updo will look stunning as well as protecting your long braid locks. Maybe you're working or going to the gym to exercise. These times, you need to ensure you don't damage your hair so having an updo, will ensure this doesn't happen.
26. Micro Braids with a Pop of Color
Having a radical change, can take a while to process and sometimes takes us a while to make that jump. Are you feeling bold? Add a splash of blonde colour to your braids. This sets your braids alive and will complement any outfit.
27. Micro Cornrows Style
Having classic cornrows with braided long hair looks classic and chic. This is a low maintenance style, which draws all the attention to your face and hair. If you love to show off your face, opt for cornrows. Your hair will be pinned back, having your face in the spotlight. It's your time to shine!
28. Blonde Micro Braids Updo
As the saying goes – "Blondes have more fun". Do you want to test this mantra out? Going blonde will enhance your skin tone and your hair, so you'll end up having a total transformation. This is an ideal solution if you want a makeover and want to transform yourself. It's always good to have a fresh and different style now and again. Who wants to look the same all the time? Blonde hair is striking, particularly with braids, so what are you waiting for?
29. Micro Braids into a Bun
Wrapping your micro braids into a bun is the easiest hairstyle you could do. Bunch your hair together, wrap your braids around near your crown and keep doing so until you have a bun. It will be secure and will look fresh throughout the entire day.
30. Long Micro Braids Style
Long micro braids look girly and sleek. You will not be disappointed if you opt to have this hairstyle, just look at this photo to reassure you. If you're going for extensions, you might as well have long ones!
31. Burgundy Micro Braids
To achieve that warm glow, think about dying your hair a burgundy shade. Deep red, also known as burgundy, is an in-between a red and a purple and looks rich in colour. This will set off your stunning braids and enhance your hairstyle, whether you choose to wear your hair up or down.
32. Micro Twists Half Updo
Micro twists have their own fashionable style and they look outstanding. Try this updo hairstyle for that wow effect! You can style you hair however you wish but try this style and see how special you feel!
33. Beyonce's Super Long Micro Braids
If Beyonce can rock her super long braids, then why can't you! As mentioned, we know that long braids look remarkable but there's long hair and there's extra-long hair. If you have long hair, you'll all know what I mean when I say this. Take a look at B's hair in this photo, extra-long right? It looks fabulous, will you go that extra long mile? I'm pretty sure it'll be a conversation started at any event.
34. Micro Braids Into a Loose High Bun
Are you feeling this loose high bun? We are! Instead of wrapping your braids tightly into a high-rise bun, wrap them loosely and you'll end up with this style. Don't worry about the bun falling out, as you already have braids, this will help the hairstyle stay put. Trust me, this is a secure style that will last all day.
35. Micro Twists with Shaved Sides
When you hear the word shaving, you don't often think of shaving your hair. Majority of people don't even think about shaving their hair and when they do, it scares them because they think of shaving their entire hair not just the sides! Welcome to 2016 guys. Shaving your sides is becoming more popular. This is due to having the best of both worlds – you can have the shaven look as well as having long locks. Be creative and bold and shave your sides.
36. Amazing Braided Updo
Making braids out of micro braids is easy. Even though this style looks hard and complex, don't be fooled and scared to try it. Once you do, you'll see that it's not as hard as what it looks and you'll be so glad you did it. Look at the outcome you could have. If you practice, you'll become an expert and you'll probably be styling your friends hair too!
37. Red Micro Braids
Red hair alone looks so sexy and vibrant. Teaming red hair with braids looks super sexy and super vibrant. Having your hair up or down will draw attention to your hairstyle as this colour stands out from the crowd. Going for such a lively colour, complements your braids. Be ready for that extra attention you'll receive once you leave your hair salon! You will feel like a local celebrity.
38. Cute Mini Braids Style
Go for a cute look with these mini braids. It looks super girly and super fresh. As you can see on this photo, she's got a relaxed and casual vibe going on, but yet she looks sensational. This looks effortless and stunning.
39. Black Micro Braids
It's the gorgeous Gabs again guys, and yes, she's smashed it with her luscious locks! Look how simple and stunning she looks in this photo. Her braids are not bright or tied up in a detailed bun. She loves her braids and we can see why. Wouldn't you if you had this hair?
40. Simple yet Gorgeous.
Braids are so versatile and sometimes we can overthink them. Shall I have my micro braids tied back? What about having a high or low-rise bun? Stop for a second girl, try having your locks down and going with the flow. It looks simple yet gorgeous so get up and go!
41. White Ombre Micro Braids
Ombre and braids are two completely different styles trending right now. Who would have thought by mixing them together, you finish with a masterpiece! Team them together to become the fashionable Goddess that you are. Ombre looks fab on all types of hair but to blend with braids, really shows off your hair tips and style. The contrast between the white and black hair is incredible and will set any outfit off. Are you ready to strut your super trending ombre and braids? Go for it girl!
42. Micro Braid Bun
Braided hair looks beautiful when put up into a bun. Here we have a bun that sits quite high on the head and the bun looks a little loose instead of very tight. This is an elegant and chic bun that would look very pretty for a special occasion. This look was created with a braided wig, and if you like it, make sure to check out the Instagram profile of the brand. They have many cute styles!
43. Long, Ombre Micro Braids
You can jazz up your braids by adding ombre. Ombre is not only stylish but it is a great option for ladies who want to try a new color or add color to their hair without being too bold. These ombre braids are the perfect example. The light, warm blonde shade is trendy and will suit everyone. Ombre works best on long braids.
44. Braided Ponytail
Another way you can style your braids is in a ponytail. Here is a gorgeous example. The hair has been put into a low ponytail. A low ponytail like this is sleek and chic. You can also choose a higher ponytail too for a trendy look. Either way, a ponytail is a cool and relaxed style that you can wear everyday.
 45. Trendy, Long Micro Braids
Next, we have trendy micro braid look to share with you. The braids are long and braided beautifully straight. This hairstyle has been finished off with a gorgeous hat. As you can see, a hat is a stylish accessory to add to your look. Choose a hat like this in the summer and a warmer one for the winter.
46. Copper Braids
If you are looking for a stylish braid color, this idea could be for you. These micro braids are a warm coppery tone. Copper is a trendy color and it will suit any season. You can choose a similar color to this or go for a brighter shade. Copper will look amazing on all braid types and lengths.
47. Braided Micro Braids
Our next braided hairstyle has a boho vibe. The braids are long with two beautiful side braids that meet at the back. This is a pretty hair idea and it would look amazing for the summer, vacations and festivals. It is an easy to wear style that will look chic every time.
48. Micro Twists into a Bun
Here we have another bun idea. This bun is smaller than the one featured earlier and it has a more relaxed look. It is a very cute bun that you could wear anywhere. A bun like this will look beautiful in any color and it will suit everyone.
49. Chic Long Braids
Looking for an easy to wear hairstyle? Then this is for you. These braids are simple and in a straight style. Braids like these are effortlessly beautiful. It is the perfect look for the women who want a chic hairstyle that can be worn from the office to a night out. You can of course add accessories or change up the style but this look is just super pretty.
50. Gorgeous Half-Up Hairstyle
Next, we have a gorgeous half-up hairstyle for you. For this idea some of the braids are swept back and create a small updo, where some of the braids are styled to almost create a ponytail look. It is an elegant hairstyle that would be beautiful for a special occasion.
51. Beautiful Brown Micro Braids
Another stylish color that you can try is brown. These micro braids are a beautiful brown shade. Hair like this is warm and trendy. Brown tones will suit everyone. It is a great choice for ladies who want to try a new hair color that isn't too dramatic.
52. Super Long, Dark Blue Micro Braids
We love very long braids. Long braids look trendy and will instantly give you a glam look. Here is a gorgeous example. For this hairstyle, the micro braids are just long and straight. To jazz up the braids you can add some bright color but we don't think it needs it, the hair is effortlessly chic.
53. Casual and Chic Bun
If you love bun hairstyles, you will like our next idea. Here we have a casual and chic bun. As you can see, the braids have been styled high on the head. This is a beautiful hair idea and it can be dressed up or down to suit any occasion. It will really show off your earrings too!
54. Super Long Ombre Braids
Give your hair a summery look all year round with our next idea. This hairstyle features long micro braids with ombre color. The hair has also been accessorized with a cute hat. Hair like this is perfect for the summer seasons or to brighten up your look during the winter months.
55. Micro Braids Ponytail
Next, we have beautiful micro braids that have been styled in different ways. These stylish braids have been left loose, put into a bun and worn as a ponytail. This shows off how versatile braids can be. All the hairstyles will suit everyone and will always look gorgeous.
56. Long Micro Twists
Love the sleek and straight hairstyles? Then this idea is for you. The braids are trendy and easy to wear. It is a beautiful look and you can keep your hair in a natural color or be bold and try a bright shade. Red would look amazing!
57. Curly Micro Braids
Our next idea is curly and chic! Here we have micro braids that are beautifully curled. As you can see, the curls give the braided style a completely different look. This hairstyle is amazing and will instantly make you look stylish. Try curly braids in blonde like featured or opt for a different color.
58. Micro Braids with a Stylish Scarf
Another way you can style your braids with a scarf. Here is a gorgeous example! These micro braids have been accessorized with a vibrant, patterned scarf. By using scarves you can make any hairstyle unique to you. Try something bold like this or a subtler scarf in one color. No matter which scarf you choose, you will have a trendsetting look.
59. High Braided Bun
Next, we have another amazing bun to show you! This bun sits very high on the head and it is in a stunning color. We love this braided bun as it makes a statement and demands attention. A bun like this is perfect occasions where you want to dress up.
60. Long Ombre Braids
If you like the ombre ideas, this next hairstyle is for you. Here we have long micro braids with a chic ombre. This look is subtler than the blonde style we featured earlier. It shows that the hair does not have to be vibrant to create a stunning ombre look. Ombre like this will look great on shorter hair too.
61. Deep Red Micro Braids
Look like a Queen with our last braided hairstyle. These micro braids are long and sleek. The color used is just stunning. These braids have regal look to them and are perfect for the times when you want to look glam and feel fabulous!