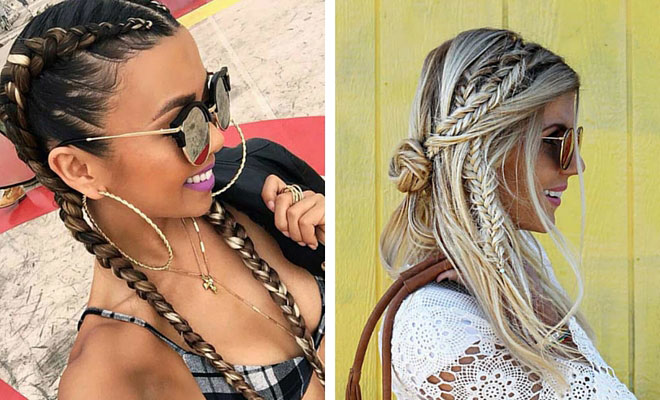 21 Trendy Braided Hairstyles to Try This Summer
Braids have been around for many years and every year, or should I say every summer, we start to experiment more with our hair. You start to see more braids in summer than any other time of the year. Braids are easy and low maintenance. If you look after your braids, they can last for 2 months, even longer for many people but we would recommend 2 months.
Braided hair can show off your style and character. They are unique to your hair and look stunning for summer. It is very adaptable with all braids, from fishtails to cornrows, you can mix them together if you wish.
With all this in mind, summer is here so we thought we would show you 21 trendy braided hairstyles to try. Bear in mind that a few may be a little tricky and you might need a friend to help but with practice, you will be braiding your hair every day! Even if you don't think you can achieve these styles, how will you know until you try?
1. Cornrows with Colored Extensions
Add a little colour to your braids. Adding a few coloured extensions will add your unique style and add a little colour to your braids. This is simple and easy to do, just add the coloured extensions when you are braiding.
2. Messy, Fishtail Updo
Everyone loves a fishtail braid. What is not to love about this braid. They create a unique braid that only fishtails can do.
3. Two Long Cornrows for White Girls
This style is very Kim K and we love it. Create this gorgeous two long cornrows hairstyle and be the envy of all your friends.
4. Blonde Cornrows
Blonde cornrows are stunning and striking. These blonde cornrows will make you stand out from the crowd.
5. Big Caramel Cornrows
Add a subtle touch of colour. If you are looking to highlight your hair but don't fancy going blonde, how about caramel highlights? Look how good caramel shades intertwined with braids.
6. Messy, Boho Fishtail Braids
This is screaming beach, boho style. We all love to chill on the beach in summer and this is the perfect hairstyle for it. Whether you are playing beach volleyball or just relaxing on the beach, you want to look catwalk ready. With this hairstyle, you will be catwalk and Vogue ready. It is two trending hairstyles in one – messy hair and fishtail braids! Messy hair is perfect for summer as we tend to get all hot and bothered by the weather and the last thing we need to think about is whether our hair is looking good. While messy hair is fashionable, you need to take advantage of it so mix it with fishtail braids to look amazing!
7. Braided Crown Style
Having a braided crown looks stunning. No need for any hair accessories when you have a braided hair crown. It completely changes your look and it is perfect for any occasion.
8. Super Long Cornrow Braids
This hairstyle is for when long cornrows just isn't enough anymore… You need the super long cornrow braids. You need to make a top statement wherever you go and all your friends look to you for style advice. Rock your super long braids!
9. Cool, Kim K Inspired Braided Style
As we already mentioned, Kim K is a super fan of braided hair. It is a low maintenance style and if you look after your braids, they can last up to 2 months. We suggest you take them out after this time so your hair can relax. They look stylish, fashionable and perfect through the day and evening.
10. Big and Small Cornrows
Mix it up a little by having big and small cornrows. Who needs to have symmetrical hair nowadays, be different and add a few big cornrows with a few small cornrows.
11. Braided Updo for Black Women
If you have afro hair and are looking for a different stylish braid, look no further. This is ideal for you. It looks stunning, girly and elegant. Having a braid that goes across the top of your head will bring all the attention to your face.
12. Simple, Straight Back Cornrows
This is a simple, easy and a classic style. Some say, why change something that works and looks amazing? This is so true with this style. Many people do get bored of the timeless styles like the one above but we love it. It is always fashionable and never seems to bore us. It will highlight your face and keep your hair back during the day. It is perfect for your hectic schedule.
13. Dutch Braid Cornrows
This may look hard to do but it's quite simple. A Dutch braid is a reverse of the French braid. You simply braid under instead of over. If you are really good at French braids, then try this. We can guarantee you will be happy with the results.
14. Long, Caramel Boxer Braids
Boxer braids are trending but so are cornrows. Many think that Kim K made this style famous but I am afraid not. We all know she's a fan of this hairstyle and she has had an impact on many people choosing this style but sorry to say, they have been around for many years before. People are confused as to what boxer braids are. The only difference between boxer braids, cornrows and Dutch braids is the name only. Boxer braids are trending on social media such as Twitter and Instagram but don't worry, you are still trending if you have cornrows or Dutch braids. You can call yours boxer braids or whatever you like!
15. Braided Style with Extensions
If you have ever wanted to experiment with hair extensions, now is the time. Summer is all about showing your style and being creative. Braiding your hair and adding hair extensions while braiding, is a great idea. It will add length to your gorgeous braids and can add colour. This photo above shows how amazing hair extensions can look. You can always take them out when you take your braids out, so you might as well try it. Have fun.
16. Cute, Braided Updo on Natural Hair
If you have sexy, natural hair and want to embrace it, take a look at this style. It is almost like a crown braid but set further back and with two braids. It is a cute and trendy style that everyone will love, especially you! It is the perfect style for work, studying, shopping, partying, walking on the beach or relaxing at home. We also love how it has the centre-parting showing, whereas a crown braid would cover this. We know you will love this style but it may take some practice to master. Keep practicing and you will become a pro!
17. Cornrows with Braid Cuffs
Added hair accessories to your braids, can show off your style even more so. Braid cuffs look striking and show off your creativity. They look so good and you will be a trendsetter with all of your friends. Look out for who wears their cuffs next!
18. Two Dutch Braids + Tiny Cornrows
We are loving this style. It is unique, fun and has a variety of braids. Two Dutch braids are the main attraction but if you look a little closer, you can see the tiny cornrows that are added on the sides. It is something different for the girls that are used to having two braids and need a little boost of inspiration.
19. Colorful Braids
Adding colour to your braids will get you in the summer mood. Having colourful braids sets the bar high and you look fabulous. They aren't just braids, they are colourful braids. Stand out and show off your colours.
20. Perfect Summer Style
This is a very detailed and sexy style for you to try this summer. Maybe you are thinking of something special for your summer festivals or are going on holiday and want to have a hairstyle that will last… this is perfect. We do know that it looks very intricate and hard to achieve but if you are going to a hairdressers or have your friend coming over to style your hair into braids, show them this photo and they will love the challenge. It looks amazing and it is a hairstyle that is ready for anything, from rock climbing to sun lounging, anything goes with this hair.
21. Two Dutch Braids Style
Go for the classic two Dutch braid hairstyle. This is perfect for girlies with a busy lifestyle and want to look great every day. If you have a 9-5 job or are a student, sometimes you feel like waking up, having a shower and not having to think about your hair. This style will last for a few months and will look fantastic for your daily lifestyle but also your evening events such as partying, date nights or just chilling at home in your pajamas!