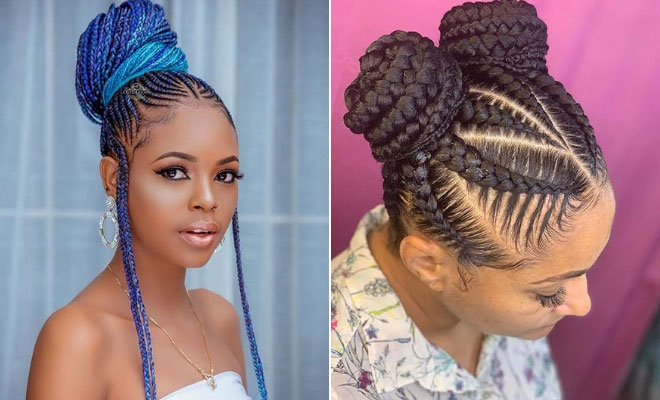 Instagram
Beauty
23 Braided Bun Hairstyles for Black Hair
By
|
11. Stylish Bun Updo
If you like to wear stylish braid patterns, then this next look is perfect. The hair on the head is braided into a wave pattern and then the hair is styled into a sky high braided bun. Patterns like this one are a great way to make your hair look more unique and you can have any design created that shows off your own individual style.
12. High Braided Bun with Grey Braids
Next, we have another braided look with a bold color. Here we have a jumbo braid bun with loose side braids. Some of the braids are also colored in an amazing silvery grey shade. This color looks amazing with the black braids as the contrast of colors is so striking. Recreate this or you can add more grey color.
13. Large Braided Bun
Want a hairstyle that will wow? Then check out this bun. For this look the hair is braided into a neat and sleek pattern on the head. Then the hair is styled into a large, high bun. We love this bun because the braids on the bun start chunky and then get thinner. It just looks so cool and trendy. With hair like this, you will steam the limelight wherever you go.
14. Sleek and Braided Hair Idea
This next hairstyle is a little different from the rest. The hair is sleek with bangs. There is a beautiful twisted bun and there are only braids at the back of the head. The sleek hair looks amazing with the braids and the twisted bun is one of our favorite looks. You can recreate this or try a different braided pattern.
15. Braided Bun with Loose Side Braids
Next, we have a beautiful braided bun with two loose braids at the sides. The hair on the head features a simple and very gorgeous pattern and the bun is high. This is a stylish and easy to wear look. Try a similar bun to this or you can try it without the loose side braids. Either way, it will look amazing.
16. Multi Tone Braided Bun
You can jazz up the simplest of styles by adding color and this next hairstyle is the perfect example. Here we have a feed in bun. What makes this hairstyle really stand out is the multi tone braids. Some braids are black and blonde, some are brown and more. As you can see, the colors really make a statement. Recreate this summery hairstyle or you can try any colors to create a multi tone look.
17. Braids with Triangle Parts
Another way to make your braids look unique is with triangle parts. Don't just take our word for it, check out this next idea. This hairstyle features a sky high bun with a braided pattern and triangle parts. The triangles are trendy and they create a bold hairstyle too. This is perfect for the ladies who want their hair to stand out from the crowd.
18. Two Cute Buns
We love this next hairstyle! Here we have two cute braided buns instead of one. There is a stylish braided pattern on the head with two high buns. A hairstyle like this is fun and would be perfect for the summer, vacations and festivals. You could even add some hair accessories too. It would also look amazing in a cool color like red or maybe pink.
19. Glam Blonde Braided Bun
If you love the blonde hairstyles, then you need to see this next hair idea. This hairstyle features thin braids with a stylish pattern. The braids on the head are black and the braids used for the bun are blonde. The color combination is so trendy and hair like this will suit everyone.
20. Unique Heart Braid Updo
This next hair idea is one of our favorites! Here we have a beautiful braided bun that is styled low at the the nape of the neck. What really makes the hair unique is the heart shaped braid. The heart is so cool and unusual, it makes a statement too. Hair like this will be perfect for a special occasion such as Valentine's Day.
21. Easy to Wear Bun
Next, we have an easy to wear bun. It is simply gorgeous and looks effortlessly stylish. The braided pattern features thin braids and the bun is styled high on the head. Hair like this will look fabulous on anyone and it will look amazing for any occasion too. It is a great hairstyle for busy ladies who need hair that will look beautiful day or night.
22. Bold Braided Bun Idea
Want to try a bold new hair color? Then then check out this hair idea. This braided bun is styled high with loose side braids. The braids are also a vibrant blue color. We love the blue color because it is so vibrant and fun. Hair like this is perfect for the ladies who want to show off their unique sense of style. Recreate this blue look or try a different blue bun. You can also use only one blue shade too.
23. Trendy Braided Bun
The last hairstyle we have to show you is trendy and edgy. For this look the hair on the head features a pattern with thin and thick braids. All of the braids are then put into a bun. The color of the braids is a gorgeous light brown shade. This is a super stylish hair idea and it is great for those who want to try a new look.
We hope you have been inspired by these braided bun hairstyles!