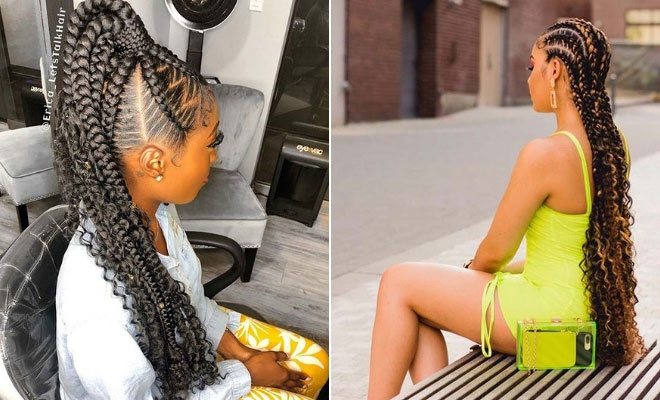 Instagram
Beauty
21 Bohemian Feed in Braids You Must See
By
|
11. Simple and Stylish Boho Braids
Next, we have long and trendy braids. The hair has a mix of chunky braids with smaller ones and the curls are quite subtle. This is a stylish and easy to wear hairstyle. You can keep it simple or you can make the hair more statement making. We would recommend ombre color, that will look stunning! Try blonde for the summer or go for a darker tone in the fall and winter.
12. Beautiful High Ponytail
Braided ponytails are one of the most popular hairstyles and with braids like these, we can see why. Here we have bohemian feed in braids that are styled into a sky high ponytail. The curls used for this one are quite loose and you can recreate this for a more relaxed look. You can also create a version of this ponytail with tighter curls, this will create a more glam ponytail.
13. Long Multi Tone Bohemian Braids
The next hairstyle features another multi tone look. Here we have straight back braids with a thin and chunky braided pattern. About midway, a dark brown tone has been added to the hair. A brown shade like this will lighten the hair and give it a lift but it won't be too bold. Hair like this is great for those who want to try a new color without being too over the top.
14. Trendy Braided Hairstyle
We love this next hair idea as well. This style features long bohemian braids. The pattern is so sleek, simple and stylish. While the curls are tight and beautiful. Hair like this is very chic but easy to wear. It will suit all women and it will look amazing for any occasion. You can recreate this or you can jazz it up with bold color like red.
15. Stylish Braids with Hair Rings
If you like the braided hairstyles with rings, then you need to see this next idea. The hair is styled into beautiful bohemian braids and silver hair rings have been added. Rings can be quite subtle but they just make the hair look more edgy and trendy. You can buy hair rings online in gold or silver. This accessorized look will be great for the summer and festivals.
16. Gorgeous Blonde Boho Braided Hair
Next, we have a braided hairstyle that will wow! Here we have super long braids with added blonde shades. The blond is a mix of tones and has been beautifully weaved into the black hair. Everything about this style is stunning and it is perfect for the ladies who want to stand out from the crowd. It will definitely glam up your look!
17. Chunky Bohemian Braids
If you want hair that is beautiful, stylish and easy to wear, this is perfect for you. The hair is styled into chunky bohemian braids. It is just a pretty and versatile style that will suit all women of all ages. You can try loose curls or tight curls with braids like these. Gold accessories would look amazing with this style, especially in warmer months.
18. Bohemian Braid Ponytail
The next hair idea features another ponytail. For this look, the hair is styled into high ponytail with loose curls. There is also a trendy zig zag pattern. We love the high ponytail with the pretty curls and edgy zig zags. It just has it all. This is another great style for the summer. The ponytail would look amazing in blonde too.
19. Stunning Feed in Braids with Curly Hair
A lot of these hairstyles have more braids than curls. This one swaps that idea around. Here we have hair that is braided on the top section, while the rest is left loose and curly. As you can see, there are more loose curls than braids and it creates such a stunning look. We love this hairstyle, it is so glam!
20. Boho Braids with a Trendy Pattern
Like to wear trendy braided patterns? If so, you need to see this next hair idea. The hair on the hair is braided into a zig zag pattern and the hair has beautiful tighter curls. The pattern really makes a statement and it makes the hair unique. Braided patterns are a great way to add your own personality to your hair.
21. Black and Blonde Braids
The last hair idea is beautiful and blonde. This hairstyle features gorgeous boho braids that are black with bright blonde weaved into them. The added blonde really makes a statement. You can recreate this bold and trendy look or you can use a different color. Other vibrant tones such as red, purple or even silver would look amazing with this braided style.
We hope you have found a beautiful bohemian braid hairstyle to try!