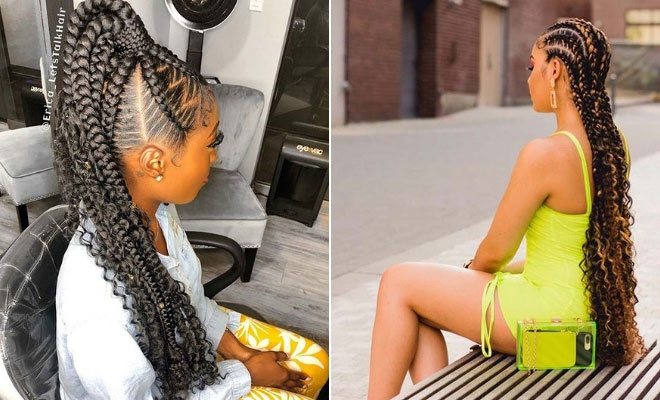 Instagram
Beauty
21 Bohemian Feed in Braids You Must See
By
|
Bohemian feed in braids are one of the must-have styles for women. This is for many reasons including how glam they look but also because they are practical. The hair looks full, curly and allows you to wear super long braids without the heavy weight. So, you get the best of both worlds – stunning curls and long and gorgeous braids. Today, we have 21 beautiful bohemian feed in braids to show you. You will love these braids if you don't already. There are blonde styles, classic braided hair ideas and more, so there is something to suit everyone. Take a look!
1. Beautiful Bohemian Braids
First up, we have this beautiful braided hairstyle. For this look, the hair is styled into bohemian feed in braids. There is also a trendy braided pattern on the head which features thin and thicker braids. This is a easy to wear hair idea that will suit everyone. Keep it simple like this or for a bolder look, you can try the style with a different hair color.
2. Ombre Bohemian Braid Idea
Speaking of trying new hair colors, this next idea features ombre hair. So, the boho braids start black and then blend into a warm and light brown tone. We love this look because it really makes the curly ends of the braids stand out. Plus, you can try a new hair color without a dramatic change which means ombre is great for trying out new colors. Recreate this look or you can try recreating the style with a bolder shade.
3. Chunky and Long Bohemian Braids
If you want hair that is easy to wear but statement making too, then this is for you. Here we have chunky bohemian feed in braids. These braids are super long and we love the braided pattern. The hair has about six larger braids with two tiny braids added to either side of the head. This pattern is so pretty and unique. With hair like this, you will stand out from the crowd in style!
4. Stunning Boho Braids
This version of the bohemian braids is one of our favorites. Here we have long and chunky braids with a simple and neat pattern. The hair is mostly braided with a small section of hair left in loose curls. Those edges look amazing too. This is just a stunning hairstyle that is pretty but also edgy. Hair like this versatile so will keep you looking stylish for any occasion.
5. Braided Half Up Style
Next, we have a cute half up hairstyle to show you. The hair is braided into chunky boho braids with an easy to wear pattern. Then a section of the braids are braided again to create a pretty half updo. The double braiding technique looks amazing and it gives the hair a relaxed and more casual vibe. Hair like this will be perfect for the summer.
6. Trendy Boho Braids
The next hairstyle is trendy and beautiful. This look features straight back bohemian feed in braids. The braids only have a small section of curly hair so it is great for those who want easy to manage curls. A simple and stylish look like this will suit all women of all ages. You can keep it simple like this or jazz it up with some hair accessories or maybe even a bolder hair color.
7. Caramel Blonde Feed Ins
Another beautiful hair color that you could try is caramel blonde and this next hair idea shows how to wear it in style. Here we have beautiful straight back braids that are a mix of black and caramel blonde. About midway, the hair is all caramel. This just shows another way to wear an ombre style. You can recreate this or go for caramel from root to tip.
8. Jumbo Goddess Feed in Braids
Feel like a Queen with goddess bohemian braids like these! The hair is styled into jumbo braids with lots of voluminous and loose curls. We love this because it shows how you can add more curls to your boho braids. With this hair you get the best of both worlds – lots of beautiful curls and eye-catching braids.
9. Glam Braided Hairstyle
This next hairstyle is very glam! Here we have chunky braids with smaller braids in between and the hair is beautifully long and curly at the ends of the braids. This is a stunning hair idea and you can dress up braids like these to suit any occasion. We think this hairstyle will look amazing with gold hair cuffs as it will give the hair a trendy and more luxury look.
10. Two Bohemian Feed In Braids
We love this next hairstyle, it is just stunning! Here we have two long boho braids with a smaller braided pattern on the head. The curls used for this style are quite subtle and can only be seen at the ends of the braids. If all that wasn't enough, the hair is also accessorized. A section of the braids has silver wraps and silver hair rings too. It is just a beautiful style and the silver accessories really glam up the hair.