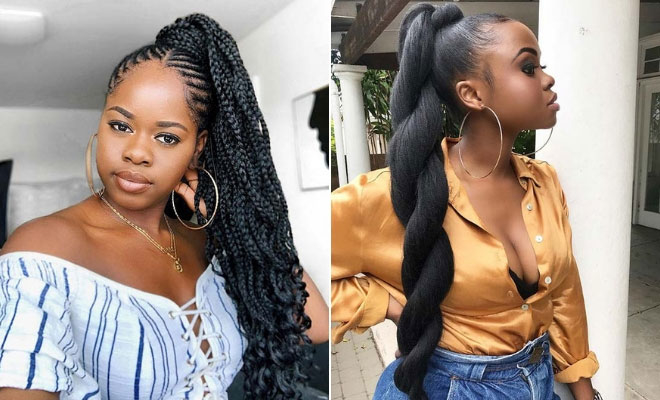 Instagram
Beauty
23 Cool Black Ponytail Hairstyles You Have to Try
By
|
11. Long Ponytail with Red Braids
Earlier in the post we mentioned that a ponytail would look beautiful in a red color. If you liked the sound of red hair, then you need to see this next hairstyle. Here we have a long ponytail with a simple braided pattern. The braided hair is also a stunning, rich and dark red shade. As you can see, the red color looks fabulous! Hair like this is perfect for the fall and winter because that red shade is a must-have for those seasons.
12. Braided Ponytail with Curls
The next ponytail is beautiful and chic. For this look, the braided hair is styled high and the ends of each braid are also curly. The subtle curls just give the hair a touch of elegance and style. A ponytail like this is easy to wear. If you want to recreate the look, then you can check out a tutorial on the page below, it does include a link to a drawstring crochet mesh base too.
13. Ponytail with Wave Braided Pattern
A way that you can make your ponytail look unique is by using different braided patterns. This next hairstyle is a great example. Here we have a long jumbo braid ponytail. The hair on the head is styled into a wave pattern. As you can see, the ponytail is simple but that pattern gives it a trendier vibe. You can recreate this or try your own gorgeous pattern.
14. Simple and Stylish Ponytail
Next, we have a simple and stylish ponytail. For this look, the hair is braided and styled into a high ponytail. There are some braids that are different thicknesses and each braid is curly at the end too. It is a beautiful and easy to wear style. The simplicity means it just looks effortlessly gorgeous. Recreate this or you can jazz up the style with some hair accessories. Either way, it will look amazing.
15. Low Curly Ponytail Idea
On the first page of the post we shown you a trendy ponytail with a criss cross design. If you loved that idea, then you need to see this one too. Here we have another criss cross ponytail. This time all of the hair is sleek and the criss cross section has been placed on the side of the head and there are no braids. It just shows how you can be inspired by hairstyle and how you can create a completely different look. We love this ponytail!
16. Low Weave Ponytail with Bangs
Another cute way to wear a ponytail is with bangs. Don't just take our word for it, take a look at this! Here we have a long and sleek ponytail with straight across bangs. As you can see, the lightweight bangs look so beautiful with the ponytail. They soften the style as ponytails can sometimes be a little harsh when they are very tight. Try this look or you can opt for side swept bangs instead.
17. Long Bubble Ponytail
The next hair idea features another amazing bubble ponytail. For this version of the ponytail, the hair is again very long but instead of sleek and straight, it is curly and full of volume. It shows how this ponytail can be worn with different hair types. We love this version of the ponytail. It is fun, cute and stylish. Recreate this or you can try a shorter length too.
18. Sleek Ponytail with Colorful Hair Elastics
Add a pop of color to your hair with a ponytail like this one. This ponytail features sleek and straight hair with two small side braids. The top section of hair is also styled into a box pattern with bright and bold hair elastics. The hair elastics are so fun and unique. You can recreate this style or use different colored elastics. Elastics can also be used with braids too.
19. High and Trendy Braided Ponytail
Next, we have another trendy ponytail. This time the ponytail is sky high and features braids in different thicknesses. Some are jumbo and some are very thin. We love this because the height and braid pattern just create such a stylish look. Keep it simpler and easy to wear like this or be bold and maybe try the ponytail in a bold color. This ponytail would look amazing with some beads or hair cuffs too.
20. Sleek and Curly Low Ponytail Idea
This next hairstyle is another one of our favorites! For this look, the hair is sleek on the head and styled into a low ponytail. Once the ponytail begins, the hair turns into stunning curls. We love the combination of the sleek and curly hair, it is so glam and statement making. A ponytail like this would be amazing for a night out or party, it is easy to wear and will wow everyone!
21. Elegant Ponytail
If you are looking for an elegant and pretty updo, then this could be perfect for you! Here we have a sky high ponytail that features stunning curls and loose curls at the front of the head. It is a chic and beautiful style that would be great for the prom, weddings and other special events. Try this style or you could have straight hair too.
22. High Ponytail with Voluminous Curls
Love the curly ponytails? If so, you need to see this next idea. This look features a high ponytail. The hair on the head is braided and the actual ponytail is loose and curly. It is a stunning and statement making style. You can recreate this or you can try the ponytail in a shorter length so it is easier to manage.
23. Stylish Twisted Ponytail
The last hair idea that we have to show you is stylish and easy to wear. Here we have a high ponytail and the hair is styled into twists with a trendy pattern on the head. As you can see, the twists look so elegant and chic. This is another versatile style that can be worn for any occasion. Keep it simple like this or maybe try the twists in a different color. You could add some loose curls too, that would look amazing.
We hope you have found a beautiful black ponytail hairstyle to try!