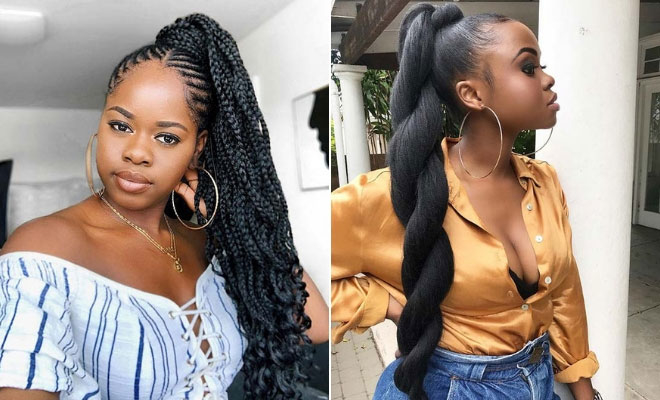 Instagram
Beauty
23 Cool Black Ponytail Hairstyles You Have to Try
By
|
Ponytails are a classic and they are one of the most popular hairstyles for women. This is for many reasons but we think that ponytails are easy to wear and they are versatile too. You can wear a ponytail anywhere from work to a party. It all depends on how you style it. To show that there are gorgeous different ways to wear a ponytail we have brought to you 23 black ponytail hairstyles you should try in 2020. There is a hair idea for everyone, you will have trouble deciding which one to try first!
1. Curly Black Ponytail with Loose Braids
First up, we have this gorgeous ponytail with loose braids at the sides. The ponytail is styled high on the head and the loose hair is beautifully curly too. Each braid is also accessorized with beads. It is a unique and trendy ponytail that will make you stand out from the crowd. You can recreate this or add in your own sense of style by maybe changing the color or the accessories.
2. Stylish Bubble Ponytail
Bubble ponytails look amazing and it is one of our favorite looks. This next hair idea shows how to wear the trend in style. Here we have a very long ponytail with nine bubble sections. The hairstyle is complete with a gold hair tie and a stylish clip too. It is a stunning style and the length of the ponytail really gives the hair that wow factor. You can view tutorials online for bubble ponytails.
3. Glam Low Ponytail with Curls
Glam up your look with a ponytail like this one! This ponytail starts sleek and then once the ponytail begins, the hair transforms into beautiful curls. There is also a wrap of hair around the base of the ponytail too. It is a gorgeous hair idea and it would be perfect for any occasion where you want to impress. 2.5 bundles of 14 and 16 inch Dommie Cole hair extensions were used to create this ponytail.
4. Trendsetting Shaved Hair and Braids
The next hairstyle is for the trendsetting ladies! Here we have a braided ponytail and the lower section of hair is shaved. As you can see, the result is so stylish. We love this shaved and braided combination. The braids are also a stunning blonde color and this shade really makes a statement. Hair like this is a must-have for those who want a complete hair makeover. Recreate this or you can try the hairstyle in a different color. Red would look amazing.
5. Long and Loose Weave Ponytail
If you would prefer a simpler style, then you should take a look at this. Here we have a long and loose ponytail. The ponytail is styled high on the head and the hair is straight with a slight curl. There is also a stylish wrap of hair around the base of the ponytail too. This is an easy to wear look and you can dress the hair up or down to suit any occasion. So, it is great for the busy ladies who just need a gorgeous style that can be worn with ease.
6. Multi Tone Braided Ponytail
Next, we have a multi tone ponytail idea. So, for this look, the hair is styled into a very high braided ponytail. The braids on the head feature a trendy pattern and the actual braids themselves are a mix of colors. Some are black and some have a dark and rich shade added to them too. As you can see, this multi tone look is so pretty and stylish. You can keep the color change subtle like this or add bolder color. Any color from silver to purple will look stunning.
7. Unique Black Ponytail Idea
Looking for a more unique hairstyle? If so, this could be perfect for you! Here we have a trendy ponytail that is sleek and long. There is a section of the hair on the head that is also braided. The braided area features two braids with criss cross braids in the center. We love this creative and statement making style. It is great for the ladies who want to try something a little different.
8.  Multi Braid Low Ponytail
This next hair idea is one of our favorites! This style features a long and low ponytail. The hair in the ponytail has been braided to create a multi braid look. So, this is not like your classic three strand braid, it looks like there is more than one. It is a very unique and beautiful style. This is easy to wear and it will suit everyone too.
9. High Ponytail with Thin Cornrow Braids
A lot of ponytails feature chunky braids but very thin braids can also be used to create stunning black ponytail hairstyles. Here is a stunning example of the style that you could create. This ponytail is styled very high on the head and all of the hair is braided into super thin braids. As you can see, this thickness creates an amazing hairstyle. It is just a beautiful version of the braided ponytail and it would look fabulous with ombre color too!
10. Twisted Weave Ponytail
Next, we have a stunning ponytail that will wow everyone! For this look, the hair is very long and the ponytail has been split into two sections. Both sections of the hair have then been loosely twisted together. This is a gorgeous hairstyle and it is another ponytail that can be worn for any occasion. It is stylish for every day but glam enough for parties and so on. We love this amazing twist look!