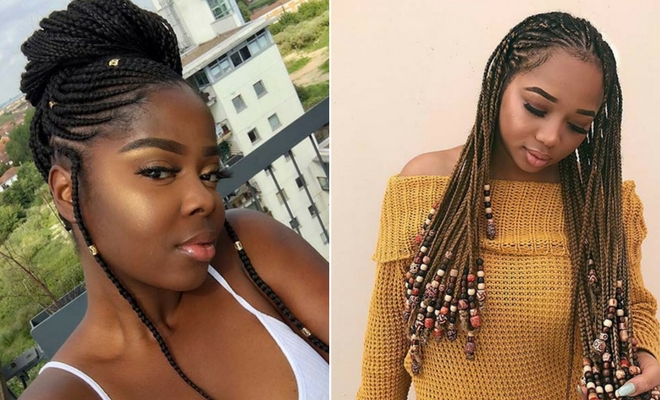 Instagram
Beauty
88 Best Black Braided Hairstyles to Copy in 2020
By
|
11. Fulani Inspired Braids
Fulani braids are one of the must-have looks for 2019. Our next pick shows how to wear these braids in style. The beads used on these braids are just stunning. You can recreate a similar look to this one or choose your own braid length and beads.
12. Multi Braided Cornrows
Next, we have a creative and unique hairstyle to show you. This hairdo is made up of multiple braiding styles. There is the center braid, double side braids and a braided design in-between. This is an awesome hairstyle and it would look amazing for the spring and the summer.
13. Blonde Feed In Braids
A great way to update your hair is by adding a new color. Our next hairstyle shows stylish feed-in braids with blonde through them. This is such a trendy braided style and it will suit everyone. You could even add some beads or braid cuffs.
14. Half-Up, Half-Down Box Braids
Can't decide between loose braids or a bun? If this sounds like you, this next idea could be the perfect solution. With this hairstyle you get the best of both. Half the braids are styled into a high bun while the rest is left loose. We love this trendy box braids look!
15. Feed In Cornrows
Braid cuffs really jazz up the simplest of braids. Don't just take our word for it, take a look at these braids. These thin feed in cornrows are in a funky design and have beautiful braid cuffs throughout. You can recreate a similar look but maybe try gold and silver cuffs for a unique and trendy style. We must say, this is one of the most gorgeous black braided hairstyles we have seen this season.
16. Blonde Braids to the Side
Our next hairstyle will give you a glam look fit for a celeb. The cornrows are braided into a stylish design and have blonde running through them. We love how the braids are on the side too. You could have long braids like featured or go for a shorter length.
17. Two Cornrows
If you like two braid cornrow styles, then this next hairstyle could be for you. The hairdo does not just show the two braids but it also has two small braids in the center too. By adding two super thin braids you are giving the classic double cornrow braids a modern update.
18. Stylish Patterned Cornrow Braids
You can create so many stylish designs with braids. Take a look at our next hairstyle, the braids cross over each other and result in a trendy look. You can use this image as inspiration and recreate something similar or your own unique creation.
19. Colored Braids
By adding different colors to your braids you can create a stylish statement making look. These next braids look amazing. The long braids start black and then change into purple and a light peach color. This color combination is gorgeous for summer, but you can use your own favourite shades.
20. Long Fulani Braids with Beads
Earlier in the post we featured a braided hairstyle with beads. This next pick is similar but instead of the beads being placed at the bottom of the hair, these beads have been put in different places. We love this look and you can recreate it with beads of your choice.