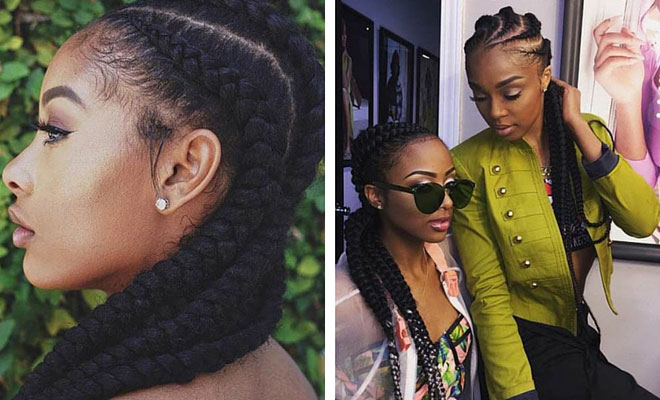 51 Best Ghana Braids Hairstyles
Ghana braids, like other braids, are known by a number of other names including Cherokee cornrows, pencil cornrows, invisible cornrows, and even banana braids. Fast becoming one of the most popular ways of wearing your weave for this year, the summer seems to show a hike in women opting for this sassy style, not just for the convenience factor but also for the protective benefits.
In case you needed any more persuading that this is your next go-to style, here are 51 best Ghana braids hairstyles we know you're going to love!
1.Simple Ghana Braids Style
There are more benefits to opting for these amazing Ghana braids hairstyles than just good looks and protective benefits too. If you play your cards right and take care of them properly, this is a style that will last for weeks and in some cases, several months. If you don't want a style that'll have you running to the salon every few weeks, Ghana braids are definitely the way forward.
2. Ombre Ghana Braids
Here's a look you may not have considered – ombre Ghana braids, a hairstyle that is both perfect for summer and super cool too. A really updated way of wearing these braided styles. Darker and working their way to light, with even a few reddish strands throw in for good measure, it's a super fierce look that we can't wait to try for ourselves.
3. Ghana Braids into a Bun
One of the easiest ways to deal with those loose strands at the nape of the neck is to do the simplest thing with it – wrap it all around and fasten with pins into the cutest little bun. The top of your hair is sorted – it's all brushed back and braided away from your face. This little low bun helps to sort out the rest on this super hot days when your hair is the last thing you'll want to deal with.
4. Blonde Ghana Braids
Have you ever wanted to go blonde? Well, Ghana braids hairstyles like this show you exactly how to do it. Going blonde when you're braiding or using extensions is the easiest way! There's no harsh lightening or bleaching treatments on your own natural hair, there's no dealing with the dryness or breakage afterwards. It's the best blonde idea you ever had!
5. Jumbo Cornrows
Not just a look that lasts the distance and looks great, Ghana braids hairstyles like these are great because they can be worn in thicker or thinner braids dependant on your preferences. The easiest way to enter the world of Ghana braids is with these jumbo beauties – easy, faster than with smaller braids, and much easier to take care of.
6. Black & White Ghana Braids
We immediately wanted to sing that old Michael Jackson song, Black or White, when we saw these fabulous braids and to be honest, there is something a little 90's throwback about the style and colour. The 90's are back. Haven't you spotted everyone wearing those tight plastic chokers around their necks again?
7. Friends who braid together, stay together.
Long braids are always in fashion, and for a look that Beyonce would be proud of, wear yours with some added length. Super long braids need to be worn at least once in your life. We wouldn't advocate them all the time however, the length can be very heavy and this will have a detrimental effect on your scalp. With repeated use of heavy extensions, you may find that you start to suffer with hair loss which may even end up being permanent.
8. Ghana Braids into an Elegant Updo
If you want to keep the hair up and away from your face for the majority of the summer,  a thick and twisted updo is a great idea. If you enjoy wearing your braids long and loose on the other hand, with the capability of styling them in the same way that you would style 'regular' hair, thinner braids are more than likely going to be the better option for you.
9. Ghana braids are also known as banana braids.
There has been some investigations into the history of Ghana braids and it is believed that they could date to as far back as 500BC which, as far as hairstyles go, is actually very impressive. It was Ancient Africans who rocked the look initially, with both sculptures and hieroglyphs depicting both men and women with braids in their hair, looking remarkably like the Ghana braids we're showing you here.
10. Ghana Cornrows
Straight-back Ghana braids hairstyles were the more traditional look back in the 'olden days'. The type and style would often depend on things such as ethnic background, social status, religion and even kinship.
11. Ghana Braids with a Pop of Caramel
For when blonde is a little too much, how about caramel? It's a lighter shade but without being too obvious, perfect for the women out there who are looking for something different but not too bright. The caramel hues have cleverly been braided into the Ghana braids hairstyle, barely noticeable but still noticeable at the same time. It's cute and we like it.
12. Ghana Braids with a Zig-Zag Parting
Zig-zag Ghana braids hairstyles like these were once reserved for slaves and to be more precise, a peaceful protest amongst slaves. The zig-zag nature was considered an act of defiance, and once upon a time, would have resulted in the hair being shaved off entirely. Luckily things have come a very long way since that day and we are all free to express ourselves however we see fit. Perhaps it's time to pay homage with some zig-zag Ghana braids of your very own?
13. Braids on Fleek!
Another great benefit of Ghana braids, and just another reason why you should take a closer look at this iconic style, is that you need to do virtually nothing to take care of them. There is no combing involved, no worrying, no muss and no fuss. Once they're in, they're in, and as long as you condition them and make sure you're not putting them under any undue stress, you'll find they'll be perfectly happy left to their own devices.
14. Colorful Ghana Braids Style
Did you see the unicorn hair trend? Well, you can even rock those stunning pastel shades when you're rocking Ghana braids too! This look is so pretty and colourful, we couldn't help but fall in love with it. Why not ask your stylist for something a little different this time? Who wants normal Ghana braids anyway?
15. Ghana Braids Updo
You may wish to amend the easy regime a little to get even more wear out of your new braids. Fashion, hair and beauty bloggers often recommend applying a root stimulator to your scalp.
16. Colored Ghana Braids
When your accessories are blinging with gold, it makes sense that your hair should too. The caramel and honey coloured tones, when braided together, almost look like streaks of gold and we won't lie, we think the look is pretty fabulous! Why not adorn your Ghana braids hairstyles with gold accessories if you're not brave enough to try gold braids… Although we definitely think you should.
17. Pop of Red & Braid Cuffs
Or for those days when just gold isn't enough, opt for gold and red, incorporating a third additional shade for added measure. When it comes to colour, the more the merrier, we say. How about you? Ready to rise to the challenge?
18. Gorgeous!
You don't need to wash your Ghana braids but if you want them to stay in tip-top condition, you may wish to consider using dry shampoo like many others have advised. Washing the braids isn't necessary but that doesn't mean they won't get dirty or smell a little funky from time to time. It helps to know how to keep them fresher for longer.
19. Long Ghana Braids
When you look a little closely at these braids, you'll see that they are very similar to regular cornrow styles but done on a bigger scale. The hair close to the scalp is braided, usually all the way down, before the bottoms of the braids are left long and loose. It's certainly an eye-catching look.
20. Side-Swept Ghana Braids
Although straight-back is the more traditional to wear these Ghana braids hairstyles, we can't help but fall a little in love with these side-swept ones… Okay, may not a little. Maybe a lot.
21. Pop of Caramel
We like the little strips of caramel you can see in these Ghana braids, a very slight and simple addition but one that changes the whole dimension of the style. We like that the colour flash doesn't go right the way to the end of the braids – another look you might consider?
22. Blonde Ghana Braids
Beyonce recently rocked the heck out of blonde Ghana braids in recent commercials, and coming down to her butt we must admit they do look damn fierce. These ones are slightly larger than the slimmer lovelies Queen Bee rocked but we still think they're awesome . How about you?
23. Beautiful Chunky Braids
If your hair is in dire need of a trim, or it's been damaged from over-colouring, over-styling, or even sun damage, braided styles such as these Ghana braids are a really great idea. The braids themselves will last for a fair while if you take care of them properly, and because of that, your own natural hair is given a well-deserved break, allowing it to be rejuvenated beneath.
24. Stunning Protective Style
Another great style that can be worn right through the ages, these Ghana braids are brilliantly worn adorned with various hair accessories. Traditionally, scarves are used to cover the hair, not only to make it look good but also to keep it protected, especially when sleeping. There are a number of other hair accessories you should take a peek at however, and just a few of the ones we would definitely recommend for your next Ghana braids hairstyles are hair beads and jewellery. They really stand out and we love them.
25. Thick and Thin Ghana Cornrows
A mix of thick and thin Ghana braids make for a great and unique hairstyle, a way to wear them that will really stand out from the crowd. It's also a great way of dealing with the situation when you're not sure what kind of look you're going for, and to get make sure every part of your scalp is covered, as such. Sometimes you may have a problem with the thinner baby hairs at the edge of the hairline and these small braids help to deal with that problem.
26. Simple and Neat Design
Depending on how well you take care of them, these Ghana braids will usually last somewhere in the region of two to four weeks, the length determinate on how well you take care of them. There are a number of reasons why they might not last quite as long and one of the biggest is that frizziness you often get when you DON'T sleep with a protective silky scarf over your head. Otherwise your hair is rubbing against the harsh material of your pillow case all night, pulling it in all directions which will inevitably ruin the style.
27. Eye-Catching Style
If you want to attempt Ghana braids hairstyles at home yourself, you can do and you can even do it with your own natural hair if it is long enough. Alternatively, Rasta Fri hair has been recommended by many women who rock this fabulous weave, and this is one of the cheapest and easiest types of hair to get your hands on.
28. Light Brown Ghana Braids
With a slightly off centre starting point, there's something very structurally beautiful about these Ghana braids, a slightly different take on the tradition straight-back style. It's a very simple yet great way of bringing a different finished look to the whole style and we won't lie, we think it's pretty genius ourselves.
29. Yay or Nay?
Although often compared to cornrows, the two looks are actually quite different, despite looking the same to the untrained eye. Ghana braids hairstyles start with thinner segments to the start of the braids, leading to a more natural approach. Cornrows, on the other hand, have thicker starts and tend to be the same thickness all the way down rather than fluctuating from thin to thick to thin again at the ends.
30. Side-Swept Ghana Braids
Focusing on that off-centre starting point again, this one offers a very deep starting point, right over to one side almost to the ear. If you love Ghana braids and want to wear them a little differently than usual (without changing too much), this is definitely the right way to go about it.
31. Stunning Jumbo Braids
For those ladies who want an easy look to take from the office right through to an evening event, Ghana braids are the perfect solution. You can wear them in an elegant updo to see you through the office day, before releasing them for a glamorous look to get you through the night.
32. Braided Ponytail
Looking for an easy to wear style that is trendy too? Then this next hair idea is for you. Here we have a braided ponytail. The ponytail sits high on the head and is worn to one side to show off the cool braided pattern underneath. It has been finished off with silver hair accessories too. It is a beautiful hairstyle that will look amazing on everyone.
33. Ghana Braids into Two Buns
Next, we have a hairstyle that will impress! These Ghana braids are styled into two high buns. There are also two braids left loose at the front and the hair has been finished off with gorgeous accessories. This is a stunning hairstyle that will make you stand out from the crowd. We love this look!
34. Braided Bob
One of the must-have hairstyles is a bob. Here we have a super stylish bob to show you. This one is asymmetric as one side is longer than the other. It also has chunky cornrows in a cool pattern and each braid is a light pink shade. The pink looks amazing and it will be perfect for the spring and summer. Recreate the whole style or try the bob in a color of your choice.
35. Ghana Braids into a Ponytail
Our next idea is another ponytail. The braids used for this ponytail are a little more bold because two different thicknesses have been used. By using multiple braids, you get a trendy and unique ponytail. A hairstyle like this can be worn for any occasion, from day to night. Choose long ponytail like featured or opt for a shorter one.
36. Braided Side Bun
You can make simple changes to your hair and create a whole new look. This hairstyle is a great example. Here we have Ghana braids that are styled into a bun. Instead of the classic bun, this one is worn to one side. Just by moving the bun to the side you have a trendy style you may not have worn before. It is a beautiful hairstyle that will suit everyone.
37. Long Ghana Braids
Next, we have amazing long braids to show you. These braids are chunky with a simple design and they are very long. The hairstyle is finished off with a trendy cord. It is an easy to wear look. You can recreate these braids or you could try them in a different color. Red braids would look amazing in this style.
38. Stylish High Ponytail
Love the braided ponytails? Then you need to see our next pick. Here we have a high braided ponytail with different braid thicknesses and two loose braids at the front. It is a chic and edgy style that will look amazing on anyone. You can recreate this ponytail or add some hair cuffs to glam up the look.
39. Edgy Feed In Ghana Braids
Our next hairstyle is very trendy. These are feed in Ghana braids with a simple and stylish design. This is a beautiful set of braids and they will suit everyone. Try a similar style to this or you can use smaller sections of hair which will create more braids. Either way, it will look gorgeous!
40. Cute Half-Up Bun
Another cool braided look you can try is a half-up bun. Half of the braids are left loose and half the braids are styled into a bun. It is a stylish look that gives you the best of both worlds, as you can have an updo and wear loose braids too. Recreate this look or opt for a different braided pattern. We love this hairstyle.
41. Cool Green Braids
Jazz up your braids and add some color. These Ghana braids are styled into a high ponytail with accessories. The hair also has a trendy green shade running through it. By adding a funky color, your hair will be bold and stand out from the crowd. You can try a similar green to this or choose a color of your choice.
42. Long Braided Ponytail
Next, we have another gorgeous ponytail to show you. The braids are simple and are put into a high ponytail. It is an easy to wear hairstyle and it will look beautiful on anyone. Keep the hair minimal or you can glam it up with hair accessories. You can also go for a shorter ponytail too.
43. Medium Length Braids
If you need a chic and elegant hairstyle that you can wear for any occasion, then this next pick is for you. The hair is styled into chunky Ghana braids that are medium length. It is just a simple and beautiful set of braids. We think these braids would look amazing in a bob style too, so this is something you could think about.
44. Short Braided Bob
Speaking of bobs, here is a cute bob that you need to see. This bob is about chin length and has stylish accessorized braids. It is a trendy look that will be perfect for the spring and summer. Hair like this is great for the ladies who need a change and want to try something new.
45. Glam Braided Bun
Our next idea is very glam! These braids are styled into a high bun. It is such a chic and elegant look that would be perfect for a special occasion. Wear hair like this to a party and you will definitely steal the limelight. This is another style that would look amazing in a different color too. Red or blonde would look fabulous.
46. Accessorized Ghana Braids
Bored of your hair and want a new style that will wow? Then this is for you! These Ghana braids are long and also have accessories. The braids are decorated with cords and beautiful hair cuffs. It is an amazing hairstyle that will give everyone hair envy. You can accessorize with any color cords and you can add as many cuffs as you like.
47. Cute Two Bun Hairstyle
Earlier in the post we shared a hairstyle that featured two buns. If you loved that style, then you may like this one too. Here we have another two bun hairstyle, but instead of high buns, these ones are low. As you can see, by styling the buns low you can create a completely different look. We love the different braid thicknesses too. This is an awesome hairstyle that will suit everyone.
48. Sky High Ponytail
Want a hairstyle that is fierce and glam? Then this is for you. Here we have a sky high ponytail. The ponytail features braids with different thicknesses and it has accessories too. This is a stunning hairstyle and it is perfect for someone who is in need of a fabulous new look. Recreate this style or you could try adding a funky color. Ombre would look amazing with a ponytail like this.
49. Stylish Long Braids
Next, we have a stylish braided look to show you. These Ghana braids are long and simple. There is also one blonde braid too. We love this style because the braid in a different color really makes an impact. You can recreate this or you can choose a different color for the one braid. Any color would look great!
50. High, Half-Up Bun
Earlier we featured a half-up bun. Here we have another version of the style. This bun is high on the head and the braids are chunky. It is a trendy look that will suit everyone. You can choose a similar style or you can try using thinner sections of hair which will create more braids. Either way, it will look gorgeous.
51. Trendy Patterned Braids
You can create so many cool patterns with braids. Here is a trendy example. Thin and thick braids have been used to create a super stylish pattern. Braids like these not only look great, but will also make your hair unique too. We love this look! You can use braids like these with ponytails, buns and more.
So… What did you think? Any of these Ghana braids hairstyles tickle your fancy? Be sure to come back and let us know which ones you tried for yourself! We can't wait to see these lovely styles on you lovely ladies!