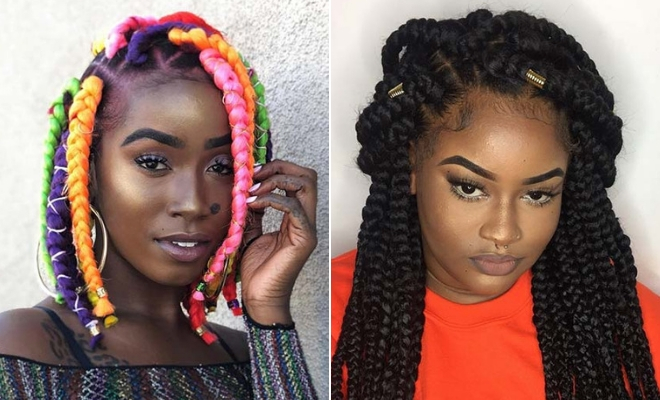 Instagram
Beauty
43 Big Box Braids Hairstyles for Black Hair
By
|
21. Warm Box Braids
When choosing colors for your hair, you don't have to have bright blondes or vibrant reds. You can go for something neutral like this. Here we have warm brown tone. This is a stunning color that will suit every skin tone and it will look beautiful on any braid length and thickness. It is perfect for the ladies who want a new color without being too bold.
22. Medium, Multi Tone Big Braids
Looking for a blonde box braid idea? Then you need to check out this next hairstyle. These box braids have a color combination of blonde, brown and black. The three colors compliment each other beautifully. This hair idea shows another stylish way you can add blonde to your hair. Any blonde shade will work on braids like these.
23. Vibrant Green Box Braids
The next box braid idea on our list are these vibrant green braids. We love these braids because they remind us of mermaids. This is a bold and trendy hair color. You can recreate this or add blue into the hair for a super stylish mermaid look.
24. Big Blonde Box Braids
Next, we have big blonde box braids. So, as you can see, the hairstyle features chunky and simple box braids that are stunning blonde shade. We love this blonde tone because it is warm and bright. You can recreate this or you can try a more statement making blonde such as platinum.
25. Jumbo Box Braid Updo
We love this next hair idea and it is another one of our favorites! Here we have jumbo box braids that are tied up into a high bun. The updo also features funky parts. If all that wasn't enough, the dark red hair color is just gorgeous. This is a stunning and stylish hair idea that will make you stand out from the crowd!
26. Gorgeous Side Swept Braids
This next hair idea is gorgeous and so pretty! For this look we have large box braids that are side swept so all of the braids are worn on one side. The braids also feature subtle accessories. This style is so easy to wear and it will suit everyone. Recreate this or we think a few blonde braids would look amazing with this style too.
27. Bold Jumbo Braids
If you love bold hairstyles, then this is for you. Here we have big box braids. There are also small braids added to the parts and the braids are black with a couple of blonde braids too. The color combo is so trendy and statement making and we love the use of small and chunky braids. This is an edgy and trendsetting style that demands attention.
28. Light Brown Box Braids
Maybe the bolder looks are not for you and you prefer something stylish but simple? If so, check these braids out. This hairstyle features a simple box braid pattern and style. The braids are also a light brown shade. This is such an easy to wear style and the color is stunning. Recreate this look or you can try the braids in a different color. Either way, your hair will look amazing.
29. Big Box Braids Long Bob
Looking for a short hairstyle? Then this is is for you. Here we have a long bob with big box braids. The hairstyle also features trendy triangle parts and one braid is decorated with a gold cord. This is such a stylish and cute hair idea. You can try a similar look or you can even try a shorter braid length.
30. Super Long Box Braids
The next hairstyle is perfect for those who prefer long hairstyles. For this look, the hair is styled into super long big box braids. The hairstyle is simple but it makes a statement because of the braid length. Hair like this is versatile and it can be dressed up or down to suit any occasion.