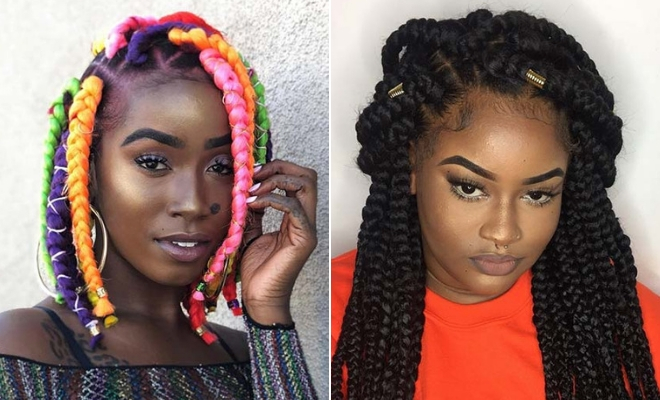 Instagram
Beauty
43 Big Box Braids Hairstyles for Black Hair
By
|
Box braids are beautiful and versatile. There are so many different looks that you can create. We love this protective style and have put together a list of 43 stunning big box braid hairstyles to get you inspired! You will find trendy bobs, vibrant colors and more. There is a hairstyle to suit everyone, the only problem you will have is deciding which braided look to try next!
1. Colorful, Big Box Braids Bob
The first awesome hair idea on our list of favourites are these amazing rainbow braids. The big box braids are in all different shades ranging from pink to green. This is a fun hairstyle that is perfect for the ladies who like to express their unique style. These braids are at a bob length but you can have them long or short, whatever you like best.
2. Long Big Box Braids
Next, we have a trendy hair idea to show you. The braids are long with large square sections which really makes the box style stand out. It is a very sleek and stylish look that will suit everyone. You can go for a natural color like featured or try different colors like red. Either way, you will have one gorgeous hairstyle.
3. Box Braided Bob
Braided bobs are a super stylish hairstyle! Don't just take our word for it, check out this box braid bob! The bob is quite simple but this makes it timeless and chic. Hair like this will look beautiful for any occasion and it will suit every face shape.
4. Bright Blonde Braids
Looking for a hairstyle that will give you a bold new look? If so, this hair idea is for you! Here we have big box braids in a bright and beautiful blonde shade. You can recreate this look or you can choose one of the many other shades of blonde. Warmer colors like honey look gorgeous as do the very light tones like platinum. There is a blonde shade to suit everyone, so give it a go!
5. Twisted Braids
There are so many different ways that you can style your box braids. One of our favourites are twists like these! The braids featured here are in a half-up, half-down style and the hair that is up has been put into beautiful twists that look like a crown. A hairstyle like this is perfect for a ladies who want to feel like a Queen everyday.
6. Big Braids with a Pop of Red
Our next hair idea shows how you can subtly add color to your hair. Here we have chunky box braids that have a warm tone running through them. As you can see, there is not much of the color but it really makes a difference to the hair. This is a great way to give your hair a stylish lift. We love this idea!
7. Bold Box Braids
Next, we have a bold and trendy hairstyle. These braids have been styled into sleek and statement making box sections and the braids are very long. A hairstyle like this is perfect for the ladies who like to stand out from the crowd. Recreate this look or try a bold hair color like red.
8. Big Purple Box Braids
If you do love bold hair colors, this next idea is for you. These box braids are a beautiful purple tone. This is such a fun and statement making color. You can have purple braids just like these or maybe try a purple braided bob, that would look so trendy.
9. Accessorized Big Box Braids
Show off your individual style by adding accessories to your braids. Here is an awesome example. These braids have been accessorized with cords and beads. There are so many different cords and beads available that the possible looks are endless. Have fun with this look and try wearing your favourite colors or try a funky corded pattern.
10. Half-Up, Half-Down Style
Our next idea is chic and stylish. Here we have long box braids that have been put into a half-up style. There are some beautiful braid cuffs too. This hairstyle is pretty and elegant. It will look amazing for any occasion and it will suit everyone.