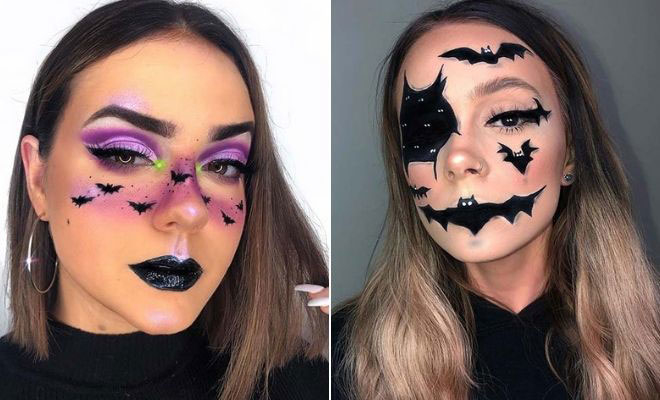 Instagram
Beauty
21 Bat Makeup Ideas for Halloween 2020
By
|
11. Purple and Black Makeup
Looking for something more cute and spooky? If so, this is perfect for you! For this look, the makeup artist has created a pretty purple eyeshadow blend. She has also used black lip color and she has created a purple section on her nose that is covered in bats. The colors are classic Halloween and the bats look creepy and cool.
12. Creepy Pulled Up Skin Illusion
This next idea is another one of our favorites and it is so creepy! The makeup artist has chosen simple makeup with bats painted on her face. It is on her body where the illusion is! As you can see, it looks like she has opened her skin and bats are flying out of it. This is such a spooky and unique idea. You can find tutorials online for creating the pulled back skin look.
Products used: ColorPop Main Squeeze Palette & Sol Palette, Illamasqu Inovke Eye Shadow, Snazaroo Paints, Mac Tropic Tonic Lipstick and Beauty Bay Identity Palette.
13. Bat Makeup Mask
Next, we have another spooky bat makeup idea. This time the artist has painted a bat on her face. The wings surround her eyes and the bat is on her nose. So, it is like a scary bat mask. Keep it simple and creepy like this or add some rich red lip color and fangs for a vampire bat look.
Products used: NYX Born To Glow foundation, grimasspain Aqua Colors, Makeup Revolution Bronzer and Radiance palette and Peggy Sage Lip liner, Lipstick & Blush Duo
14. Dark Makeup with Bats
If you like the dark colors associated with Halloween, then you will love this. The artist has used a gorgeous grey on her eyes with black liner. She also has a super dark color on her lips and she has painted bats on her face. This is a Gothic and stylish bat makeup look that is perfect for parties! We love the dark grey color palette.
15. Scary Bat Makeup
Want to give people a fright? If so, this is for you. Here we have a simple but scary makeup idea. She is wearing dark lip color with silver and dark purple eye makeup. The look is complete with black contact lenses and hand-painted bats that look like they are flying around her mouth. Everything about this is creepy from the contact lenses to the bats.
16. Bat Wing Liner
Love the bat wing liner? If so, check this out. The makeup artist has kept the look quite simple. Neutral eyeshadows have been used with matte and dark lip color. This makeup is complete with spooky bat wing liner. Something like this is great for those who want to be creepy without going over the top. You can find tutorials for bat wing eyeliner online.
17. Cute Orange Makeup Idea
Next, we have a cute makeup look. This one uses the classic black and orange Halloween color palette. The artist has used orange eyeshadow and black lip color. There is also an orange section on her cheeks and nose with black bats painted on it. This is a spooky and classic idea and it will look amazing for any Halloween event.
18. Spooky Illusion Bat Makeup
If you want to go all out this Halloween, then this is perfect for you! Here we have amazing bat illusion makeup. The artist has used black contact lenses and the face has been painted to look more like a real and creepy bat. This look is complete with bat wings and ears. It is an unique and scary idea that will wow everyone. They will get a fright for sure!
19. Purple Makeup with Bat Wings
Like the bat wing eyeliner ideas? If so, take a look at this. This is another version that features purple and neutral colors with black bat wing liner. The look is complete with dark lip color. This makeup is pretty, spooky and cute. It will suit everyone and any Halloween event.
20. Bat Eye Makeup
We love this next idea! This one only shows the eyes and the eyes are grey and smokey with small bats painted just above the crease of the eyelid. It is a dark, stylish and spooky makeup idea. You can pair this with any lip color but we would go with dark red to give you a scary vampire look. Maybe even add fangs.
Products used: Lotus Hair and Beauty Lashes in Minnie, Frankie Rose Cosmetics Millennium Eyeshadow Palette and ABH Dipbrow in Granite.
21. Vibrant Bat Makeup
The last makeup idea is vibrant, spooky and cute. The artist has created dark smokey eyes and has worn light and nude lip color. This makeup is complete with yellow swirls and black bats. It reminds us of bats flying around in the light of the moon. This is such an awesome and fun idea for Halloween.
Products used: ABH Carli Bybel Palette, Violet Voss Sugar Crystals Palette, Kat Von D Tattoo Liner, Maybelline Fit Me Concealer and Fit Me Powder in 110, Too Faced Chocolate Bronzer, Makeup Geek Cosmetics Blush in Spellbound and ABH Undressed Lip Set in Sand & Summer Vibes.
We hope you have found a spooky bat makeup idea to try!