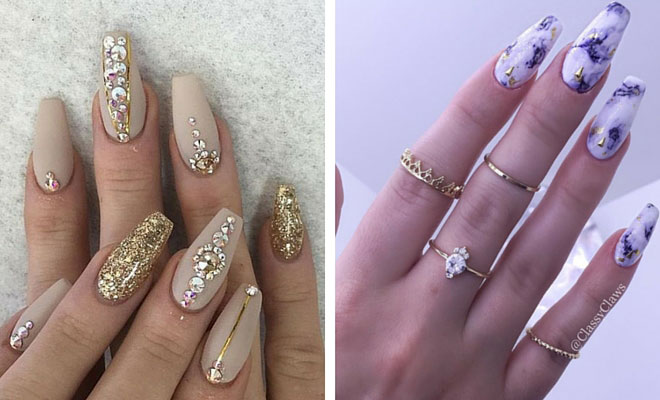 Instagram
Beauty
65 Fun Ways to Wear Ballerina Nails
By
|
11. Long, Pink and White Ballerina Nails
Pink and white are so cute together. Long ballerina nails are the best for showing off your nail design.  They stand out and with these two colours together, they look stunning.
12. Chrome and Matte Nails
Do you want shiny but love the matte effect too? Why not have both?  Chrome and matte nails are divine!  The chrome will draw attention to your nails and the matte will add the stylish and subtle side.
13. Glitter Dust Nails
Glitter dust is a must have this season! We all love a bit of glitter and these are amazing!
14. Lime Green Design for Summer
Do you love being the center of attention? With these lime green ballerina nails you will be just that!  Lime green is a fun and summery colour that will blow every one away.
15. Cool Mint Green Design
Cool mint is the perfect vibe for summer. Subtle yet effective, mint green is a gorgeous summer and fun colour to get you in the mood for any party.
16. Purple Matte & Broken Glass Nails
Dark and mysterious comes to mind with these sexy nails. Purple matte and a bit of glitz is all you need to create this effect.  Paint your nails a sexy dark purple and wait for them to dry.  Add a sparkle, glitzy nail polish to the nail tips alone and wait for them to dry.  Don't forget to add the matte top coat for the finish effect.
17. Black Matte Design
Black matte is so sexy and fun. Have fun with your black nail polish and matte top coat.
18. Long, Pink and Blue Ballerina Nails
Pastel colours are a beautiful choice to show off your ballerina nails, especially in spring. These pastel pink and blue shades are so pretty together.  Have an accent nail like the photo above to complete the look.
19. Black & Dark Blue Glitter Nails
Just because it's summer doesn't mean you have to stick to bright colours. Dark colours set the vibe and these are fierce!
20. Matte Neutral Nails with Rhinestones
Girly, feminine and sexy! These nails are screaming sexiness!