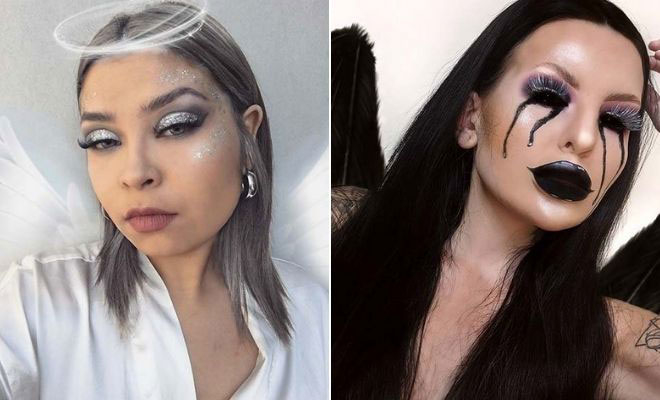 Instagram
Beauty
23 Best Angel Makeup Ideas for Halloween
By
|
11. Pretty Angel Face Makeup
This next angel idea is a unique and pretty one. So, this one uses elements of mermaid makeup and angel makeup combined. And we have to say we love the result. She has angel wings on the outer corners of her eye complete with rhinestones and sparkles. This is a fun and pretty look and it will make you stand out from the angelic crowd.
12. Devil and Angel Makeup
Love the illusion ideas? If so, take a look at this. For this look we have a beautiful blue angel eye and on the other side of the face there is a devilish illusion. It looks like the skin has been torn to reveal the devil underneath. This makeup is awesome, the colors are amazing and the contacts make the devil side look so scary.
13. Cloud and Angel Wing Design
Earlier in the post we featured a cloud and angel wing design. If you loved that, then you should see this one too. This is another version of the look. She has bolder angel wings with pretty clouds. It is a stunning makeup idea and it will look beautiful with a halo and angel wings.
14. Simple Angelic Makeup
Next, we have a simple and angelic look. She has natural looking makeup with silver eyeshadow. The makeup is worn with a flower crown and angel wings. It is a great makeup idea and it will suit everyone. This is perfect for any last minute Halloween parties. Keep it simple or you can add some extras such as glitter.
15. White and Gold Angel
If you want to wow everyone, then makeup like this will be perfect. She has a gold glitter eyeshadow blend with gold tears and stars. The look is complete with red lip color and a gold crown. We love the makeup and wig, it is amazing. Recreate a similar makeup look with the crown or you can wear a halo instead.
16. Glam Makeup Idea
The next angel idea is super glam! She has purple and silver eye makeup with silver brows. There are also white wings on her face complete with rhinestones and she has gems on her lips. This is a quirky and cute makeup idea and we love the glitzy gems. If you are going to a party where you will be eating and drinking, then we don't recommend the gems on the lips but recreate the rest.
Products used: Pixi Beauty H20 Skin Drink, Elf Poreless Putty Primer, Rimmel Match Perfect Foundation and Concealer, Primart Foundation and Contour Stick, Nars Orgasm Blush, Makeup Revoluion Highlighter Palettte, P Louse Vivid Violet Pastel Base, Peaches Makeup Fantasy Pigment, Snazaroo White Face Paint, Girls Attitude Lashes and NYX Madeline Butter Gloss.
17. Cute Angel Makeup
This next idea is cute but a little creepy as well. Her eyes are a nude shade with white eyeliner and she has gold underneath her eyes which look like tears. The actual eye makeup is pretty but the tears look a little spooky. After all, no one wants to see an angel cry. Overall, the makeup is perfect for Halloween.
18. Simple Makeup with Rhinestones
Next, we have a simple and glam idea. As you can see, her eyes are kept looking natural but she has a white eyeliner flick with pearls and rhinestones underneath. This is a low-key and beautiful idea. It will look amazing with angel wings and a halo. Recreate this or try the angel wing eyeliner design with the gems.
Products: Essence Cosmetics Micro Precise Eyebrow Pencil, Wet N Wild Beauty Photo Focus Eyeshadow Primer, Essence Eyeliner Pen in 02, CATRICE Glam & Doll Lashes and eyelash glue.
19. Blue Angel Makeup
The next makeup idea is another unique one. This time instead of the classic white and gold color palette, this angel has blue makeup instead. She has angel wing eyeliner with blue eyeshadow and blue lips. This is a statement making idea and if you add some contact lenses, it will be spooky for Halloween.
20. Scary Dark Angel
Love the fallen angel idea? If so, check this out. Here we have a dark angel and she has black contacts, black drips coming from her eyes and black lips. This is a very spooky and scary makeup idea. Pair with a black outfit and angel wings and you will have one creepy angel costume.
Products used: Morphe Fluidity Full Coverage, Morphe X James Charles Palette, NYX Born to Glow Foundation, Snazaroo Classic Face Paint, Makeup Obsession Mega Lightening Highlight and Makeup Revolution Halo Cut Crease Canvas.
21. Creepy and Unique Angel Idea
Looking for a unique angel idea? If so, this is for you. This makeup artist has used natural makeup with blue eyebrows and hair. The look is complete with white contacts. We love this because it is simple but statement making and unusual. Recreate this or add some extras such as gems or glitter.
Products used: Jeffree Star Cremated Palette, Celebrity Skin Liquid Lipstick & 24 Karat highlight palette, Flutter Lashes in Royalty and HoneyColor White Contacts.
22. Bold Angel Wing Makeup
This next makeup idea is bold and beautiful. For this look, she has soft lip color with bold white and gold makeup. The white section of the makeup looks like angel wings. This is a very glam version of an angel and it is perfect for those who want to dress up for Halloween but also look pretty.
23. Half Angel, Half Devil
The last makeup idea features another half and half look. So, one half looks like an angel while the other looks like a devil. This just shows another unique way to wear the half angel and devil look. We love the hair accessories and the horn, they just really make the makeup stand out.
We hope you have found a cool angel makeup idea to try!