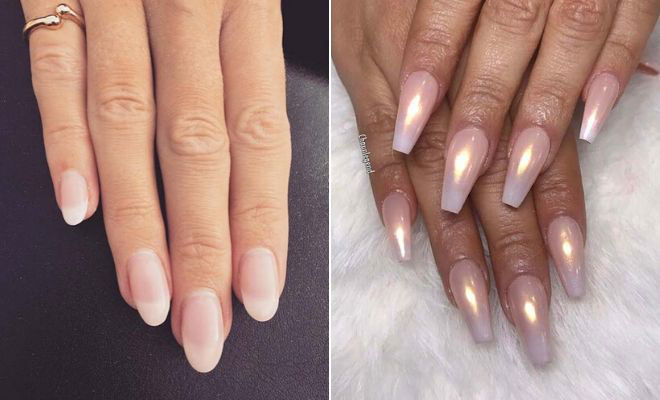 Instagram
Beauty
American Manicure Nails are The New Nail Trend
By
|
11. Chic Nail Design With a Pearl Effect
Another popular French mani design is French ombre. With this art, the same colors are used but the colors are blended together to create trendy ombre. The same can be done for an American mani. This time though you will use the more natural looking shades. Here is a super stylish example. This is an American ombre design with a pearl effect over the top. As you can see, it looks gorgeous and modern. Nails like these would be perfect for a party.
12. Glam Stiletto Nails
Next, we have another American mani with a blend of color between the base color and tip. These glam stiletto shaped nails have a soft white tip with a light nude shade. One nail on each hand is also decorated with rhinestones too. It is a stunning design and this can be worn for special events, nights out and even weddings. Recreate this look or try the same design but with a more visible tip.
13. Subtle American Manicure
Looking for a more subtle mani? Then this could be perfect. Here we have short nails with a nude base color and barely there white tips. It is a chic, stylish, elegant and easy to wear mani. Keep it simple and short like this or try the design on a longer shape. We love this manicure, it looks effortlessly beautiful.
14. Classic Mani With Nude Tips
Earlier in the post we featured an American manicure with nude tips. If you liked that idea, then you should take a look at this one too. Here we have a short version. The nails have a nude base color with natural nude tips. It is so stylish and elegant. Recreate this mani if you don't like long nails, but these nude colors will look amazing on longer nail shapes too.
15. Elegant and Trendy Nail Art
If you like modern and trendy nail art, then this idea is perfect for you. Again, the nails have the light base color with the round tips. Three nails have the classic look but two have unique white and sparkly nail art. We love this design and think it is so glam and statement making. You can recreate this mani or just use one design on all nails. For some, the white may be too bright but this mani would look just as amazing with a more off white.
16. Bold Accent Nail Idea
Another must-have look is to have a bold accent nail with your French mani. Well, you can do it with the American version too. Here is a statement making example. Most of the nails have the American nail art while one is red with sparkly stripes. The bold colors look stunning with the subtler American colors. Recreate this or choose your own vibrant accent nail.
17. Long Nails with Glitzy Embellishments
Want a mani that will wow? If so, this is for you! Here we have long nails with a very light base color and tips. Two nails have also been decorated with glitzy embellishments. As you can see, the gems and gold really glam up this mani. This is another nail design that would be perfect for an event where you want to dress to impress.
18. Short and Stylish Nails
Next, we have another short and cute look. This the time the nails are very short and easy to wear. Each one is painted with those low-key colors. It is a stylish and stunning mani. That is what we love about the American manicure design, it looks just as amazing on short nails as it does on long.
19. Chic Mani with a Floral Accent Nail
Love floral nail designs? If so, take a look at this. Here we have glam nails with a floral accent nail. The accent nail features two 3D flowers with gems. It is a beautiful and bold look. You can recreate this pretty floral mani or you can hand-paint the flowers or use flower stickers. Any color flower can be chosen.
20. Stunning and Simple Nails
The next nail design is so beautiful and stylish. Here we have mid length nails with a light pink base color and an ivory white tip color. This mani was created with Sally Hensen Maximum Growth Base Coat, Floramar Turkiye Nail Enamel in Snow White, Farmasi Nail Enamel no.12 and Essence Cosmetics Gel Look Top Coat.
21. Soft American Mani With Rhinestones
If you love the American ombre look, then this is for you. These nails feature a soft American ombre and one nail is also decorated with rhinestones. It is such a light, pretty and elegant look. This mani would be perfect for brides and bridesmaids. The ombre would look amazing with the rounder nail shapes too.
22. Cute Nail Idea
Next, we have a cute nail idea to show you. The nails have the beautiful and easy to wear tips. There is also one accent nail with a pretty black dragonfly design. You can recreate this kind of mani with a nail stencil or nail stickers which can be bought online. Recreate the dragonfly or choose an animal of your choice.
23. American Mani With Glitter and Chrome
The last nail idea that we have to show you is trendy, modern and statement making. Some nails have the classic American mani art and there are also two accent nails. One accent nail is sparkly and the other is covered in chrome. It is a fun, bold and unique mani. Try this if you want your nails to stand out from the crowd.
We hope you have been inspired by these nail ideas.