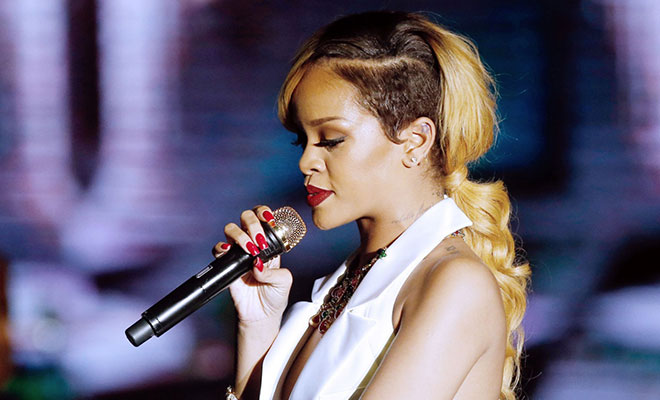 50 Mohawk Hairstyles for Black Women
Mohawk is a hairstyle that can set you apart from the crowd easily. This type of hairstyle isn't only a time-saving idea, but also a trendy one. Mohawks were often associated with the punks. Recently, it became one of the latest trends in hair styling in black and white women.
There are endless options on how to style your mohawk. If you need an inspiration for your new mohawk or you just want to upgrade your current one, check our suggestions and pick the one that suits you the best.
1. Classic Blonde Mohawk
If you want a brave, bold change, this hairstyle might be for you! Mohawk hairstyles are often considered edgy, however, big curls makes this hairdo ultra-feminine and sexy. Big curls can be styled with flat iron or curling hairstyler. This mohawk is a great style for any face shape.
2. Big Curly Updo Mohawk
Curly mohawks enjoy huge popularity due to their ability to look sensual and romantic but unique. This mohawk is ideal for women who have long hair and aren't ready to shave parts of their head. It's enough to bring your loose curls up and you have a chic and stylish hairdo for every occasion.
3. Short Blonde Braids Mohawk
This powerful, blonde mohawk requires short hair in the center. If you have longer hair on the side, there's no need to trim it. You can easily style the sides into big or small braids. Braids always look stylish and trendy.
4. Braids and Curls Mohawk
We absolutely love this braided and curled mohawk with volume in the center and front. This woman proved that braids, bun and natural curls can all fit into a mohawk. It's perfect for curly medium-length hair. Keep your scalp nourished with oils so it stays stimulated and hydrated while in this beautiful braided hairdo.
5. Curly Red Mohawk
How amazing is this red, curly mohawk? Both sides of the head are almost completely shaved and longer layered section of the hair is left in the center. This hairdo will look amazing on every woman with medium-length hair. For more edgy look, dye your hair into blonde or red color.
6. Center Braid Mohawk
This hairstyle isn't the usual mohawk we used to see. The top of the hair is a giant braid formed into a mohawk. The sides of your head need to be super-short in order to rock this hairdo. If you have the length – go for it!
7. Box Braids Mohawk
We are obsessed with this Jada Pinkett Smith's hairdo. If you want a change while wearing box braids, you can style them into a mohawk! Jada left her back part untouched but you can style it up for a full mohawk look.
8. Big Braid Mohawk
The extensions are an easy way to cheat on this attention-getting mohawk if you don't have enough length. Shaved sides aren't enough edgy for you? You can take a step further and add wild and funky designs into your hairstyle. This woman choose butterfly design to make her mohawk even more cool.
9. Long Straight Hair Mohawk
You don't have to have curly hair to rock an amazing mohawk! Girls with straight hair can have amazing mohawk, too! This woman added butterfly in her shaved area for that extra special touch. Long hair on the top allows you to experiment with more different mohawk hairdos. Cassie popularized this type of hairstyle and we absolutely love it!
10. Hot Red Mohawk
Rihanna has been changing her hairstyle on a regular basis (nearly as often as her outfits). She is one of those girls who can look amazing with every hairstyle. On this picture, she's rocking hot red mohawk with completely shaved head sides. This hairstyle would look amazing with curls, too. We love her brave, bold style!
11. Natural Curly Hair Mohawk
Mohawks and curls are a great stylish combination. Who could say no to this amazing hairdo above? It looks great on women with medium length hair and shaved sides. It's suitable for casual and formal occasions.
12. Teased Long Hair Mohawk
Women with longer hair can also rock an amazing mohawk. How? Just pull up your hair using hair spray and bobby pins. Make sure your hair has enough volume. This mohawk doesn't require too many skills and time. It's a perfect hairstyle for a night out.
13. Ponytail Mohawk
Jada Pinkett Smith is another celebrity who loves to wear various mohawk hairstyles. On this picture, she's wearing longer part of the hair in a pony tail while her sides are shaved and colored in blonde. Some people would think this hairstyle isn't appropriate for events but she looks great!
14. Braided Bantu Knots Mohawk
This braided mohawk is achieved by braiding cornrows at both sides of the head but leaving the center area unbraided. It's the easiest way to shape a mohawk hairstyle for natural hair. You can rock it with thin or large cornrows, whatever braid style suits you the best. This mohawk is shaped with Bantu knots.
15. Twist Braided Mohawk
Black women are gifted with pretty thick and curly hair. If you don't have time to style it every day, twisted mohawk can be a perfect choice. This hairstyle is all about twisting your hair on your head into a mohawk shape. This sophisticated mohawk is appropriate for weddings and proms. You can rock this hairstyle for days!
16. Cassie Bun Mohawk
A cool, eye-catching bun at back will definitely make your hair look super fab. This mohawk is for women with longer hair. The hairstyle looks casual but stylish. Just twist your hair in a bun and you're good to go. Pretty simple, right?
17. Medium Length Hair Mohawk
Fantastic way to a have a quick and simple mohawk for medium length hair. Sleek your sides vertically up and just leave the curls naturally. Fix them securely with bobby pins. Carefully camouflage them under the curls so they don't pop out. If your hair is shorter than pictured, you might not need these accessories, it's enough if you use a hairspray.
18. Black & Red Curls Mohawk
Picture above shows the perfect way to style your naturally super curly tresses. If you want to look cool and different, curly mohawk is a right hairdo for you! It' easy to style and maintain it. We love these black and red curls because they are romantic and loose, making her look extra pretty and stylish.
19. Long Hair Mohawk with Shaved Sides
Women with longer hair, here is the perfect example of sexy long hair mohawk. Pair it up with causal clothes and big gold jewelry for an extra cool look that will sweep onlookers of their feet. Cassie knows what she's doing and she looks flawless!
20. Short Hair Mohawk
Beautiful singer, Rihanna, has a beautiful oval face and this short mohawk suits her perfectly. She proved that mohawk can be paired with an elegant dress and still look very sophisticated. Two thumbs up for Rihanna's courage!
21. Blue Hair Mohawk
If you're in the market for a new funky mohawk to update your rebellious look, give a shot to this lovely blue hair mohawk! Totally cool, isn't it? You don't have to be a punk to rock a blue mohawk. Don't be afraid to be different and stylish!
22. Rihanna Black Curled Mohawk
Obviously, Rihanna has an amazing hairstylist. This short, black mohawk is breathtaking on her! She paired it with big statement earrings and minimal makeup. If you like it – give it a go! We know we definitely would.
23. Shaved Sides Mohawk
Here we see this lovely woman sporting a mohawk that is totally different from the norm. The sides of her head aren't just regularly shaved.  This trendy hairstyle will definitely draw attention.
24. Braided Mohawk Bun
This braided mohawk is an eye-catching hairdo! It features independent braids, twisted and blended together into a creative bun. We definitely love this style.
25. Curly Faux Mohawk
This type of hairdo is a great way of trying a legendary mohawk without any extreme measures. Sides of the hair are sleeked up and her spectacular curls are just left untouched. We really enjoy this effortless classy look!
26. Elegant Curly Mohawk Updo
If you're in a search for an elegant updo in a mohawk style, this hairdo might be an excellent idea! For many women, real mohawk is too extreme. Hairdo like this one is a great way to try on a faux version of a popular mohawk hairstyle, loved by Rihanna and other women around the world.
27. Side Braided Mohawk with Curls
If you hair doesn't grow fast enough and you're scared to shave it or cut it, you can always braid the sides. It looks pretty cool, too! Above is a picture of a very attractive woman rocking her faux mohawk. The center portion of the hair is just curled with hair styler. If you're in a hurry, you can always try it with your natural currly hair.
28. Color-treated Mohawk
This one is a longer mohawk with gorgeous color accents. It's edgy, pixie hairstyle styled into a mohawk. Messed up top and sleeked down side trees are a winning combination. Longer hair mohawk's can be styled on various ways – you can leave it straight, curl it or braid it.
29. Twisted Bantu Mohawk
Twisted hair is another interesting option for an amazing mohawk. The sides can be shaved, braided or twisted. This woman went for twisted method with twisted Bantu knots on the top. This hairstyle is one of a kind and very feminine!
30. Medium Length Blonde Mohawk
This mohawk is awesomely unique. It will help you accentuate your jawline and cheekbones. This hairstyle is easy to recreate, especially if you have medium length hair.
31. Curly Faux Mohawk
Very fun and sexy faux mohawk with a bunch of big curls piled on the top of the head. Cutting these luscious curls would be a crime, right?
32. Short Hair Inspired Mohawk
Curly tresses are styled upwards and cascading down towards the forehead. Creating this faux mohawk is easy and not very time-consuming. This hairstyle is a great choice for all short haired women who want to try something new.
33. Shaved Short Hair Mohawk
Big curls frame the top of the head with few sliced lines on the trimmed side of the head. Pretty cool if you ask us! If you decide to go for this hairstyle, make sure to consult with your hairstylist. All women don't have the same face shape so it's recommended to consult with your hairstylist before shaving parts of your hair.
34. Natural Curls Mohawk
Your hair is short but you would like to style a mohawk? Don't worry, we got you covered! Black women with short hair can easily style a mohawk. It's enough to shave or cut the sides of your head. The top part of the hair should be few inches longer.  On the picture above, the middle section of the hair is left unaltered, except for hair styling products to hold the curls in the place.
35. Spiky Mohawk
Spiky mohawk is accomplished by cutting hair slightly shorter on the edges and leaving longer, wispy parts on the top. Make sure to choose the proper cut and length that flatters your prominent features. It's perfect for women who doesn't have time to style their hair everyday.
36. Side Braided Curly Mohawk
This woman knows how to style and wear mohawk – it suits her flawlessly! Rows of tight braids are perfectly parallel and curly mohawk tresses are streaming out of them. This hairdo is ideal for medium to long curly hair.
37. Curly Highlighted Mohawk
This hairdo is extremely charming in its own particular way. It works best with a medium length but thick hair. Small detailed braids and highlights add a special touch to the whole hairdo. This mohawk will bring the beauty out of you!
38. Full Braided Mohawk
This stylish and elegant mohawk is braided with tightly braids on each side of the head. Top of the head is made of bigger braids. If you don't have long hair, you can always use hair extensions in your or a different color. This woman combined red and black colors and she looks amazing!
39. Side-Shaved Long Hair Mohawk
Cassie and Rihanna are queens of mohawk hairstyles! On this picture, Cassie wears long hair mohawk with real undershave. Leave the ends of the hair free like she or make a ponytail. This hairdo requires oval face shape, just like Cassie's.
40. Twisted and Braided Mohawk
This mohawk is taken to a whole new level. It's compacted into a trendy and flashy updo that exposes your ears, face and sexy neck line.  Braided hairstyles are perfect for hot summer heat.
41. Short and Curly Faux Mohawk
This mohawk is a simple, boyish cut. Top of the hair is backcombed and stiffed with hair styling products. Women with longer curls should use tiny bobby-pins to secure the curls to the head. If your hair is short or medium length, stronghold styling products will be enough.
42. Victory Roll Mohawk
Well, this mohawk isn't a real mohawk but looks unbelievably stunning! If you aren't ready to commit to the authentic mohawk and trim or shave your hair on the side, this gorgeous hairstyle can do the work. Unfortunately, women with this hairstyle won't be able to sleep on the back. Are you willing to sacrifice your sleep for a beautiful mohawk?
43. Medium Length Mohawk with Shaved Sides
Honey blonde hair color and mohawk are the perfect match! This hairstyle is similar to Rihanna's but with longer hair on the top. Stock up with hair spray if you choose this type of mohawk.
44. Blonde Teased Mohawk
Perfect mohawk for fresh and enthralling look. This type of hairdo will open up your face. Tease your hair to add enough volume in the middle of your head.
45. Curly Beach Mohawk
Look stylish on the beach, too! If you want a rocker chick look without commitment, you should try this faux mohawk.
46. Long Hair Roll Mohawk
If you have curly and long hair, you can play around and experiment with different mohawk hairstyles. Many would say that it's very difficult to style mohawk on a long hair. Wrong! This woman has proved the opposite. You can bring up your whole hair on the top and roll it up. Back of the hair should be secured with small bobby pins so nothing pops out.
47. Classy Wavy Mohawk
This mohawk features long curly tresses in blonde color. The sides are closely cut, not shaven.This is a hairstyle that mostly looks good on women with curly and thick hair. You will have to use quality hairspray to keep the curls in place.
48. Alicia Keys Glamorous Mohawk
Alicia Keys added some spice to her mohawk and made it appropriate for a red carpet. The back of her hair is under-braided moving towards the top of the head. This hairstyle will expose your cheekbones, facial outlines and neckline.
49. Twisted Braids Mohawk
This faux mohawk isn't only a hairdo, it's a work of art! Cornrows are perfectly distanced and all these numerous twists and curves create an extraordinary mohawk.  This hairdo is one of the most stylish and unique on our list. Do you agree?
50. Cassie Roll Mohawk
With this mohawk hairstyle, you will automatically stand out of the crowd. Cassie is a beautiful women with pretty facial outlines. She doesn't have problem with rocking this edgy hairstyle. Are you bold enough for this mohawk?