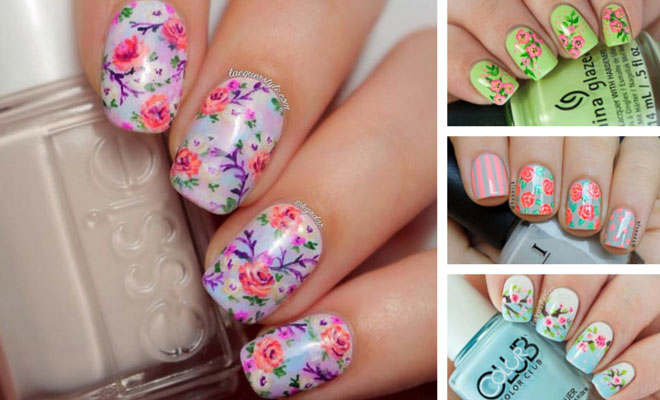 50 Flower Nail Designs for Spring
Say hello to spring by rocking flowers on your nails! Spring is  the most playful season of the year, so it's time to dress up our nails with bright colors and floral designs.
Stay on trend this spring with our list of 50 gorgeous  flower nail designs.  Choose your nail design to match your personality, mood, or the occasion. We have something for every style! Enjoy!
1. Gorgeous Cherry Blossom Nails
Welcome the spring in style with these gorgeous cherry blossom nails. The background color is by Color Club 'Take me to your Chateau'. This manicure looks like a work of art, right?
2. Purple Matte Flower Design
This nail design screams spring! Color combination is absolutely stunning. Matte finish can be achieved with Essie nail polish 'Matte about You' or OPI 'Matte Top Coat'.
3. Mixed Pattern Nail Design
Polka dots and stripes are foolproof nail design options. Not only they look good, but they are also easy to do. Neon hues are perfect for spring and summer, so make sure to include them on your nails. Base polish is OPI 'Skull & Glossbones'.
4. French Floral Tips
Tired of French manicure? Dress up your simple, nude nails with a subtle floral details at the tip.
5. Purple Tulip Accent Nail
You can have show-stopping nails even if you don't have skills for complex floral nail designs. A cute, purple tulip on your accent nail can do wonders.
6. Cool Flower Design
This lovely nail design incorporates three of the biggest trends of this season – pastels, negative space and flowers. Light blue nail polish is LVX 'Celeste'.
7. Pastel Flower Nail Design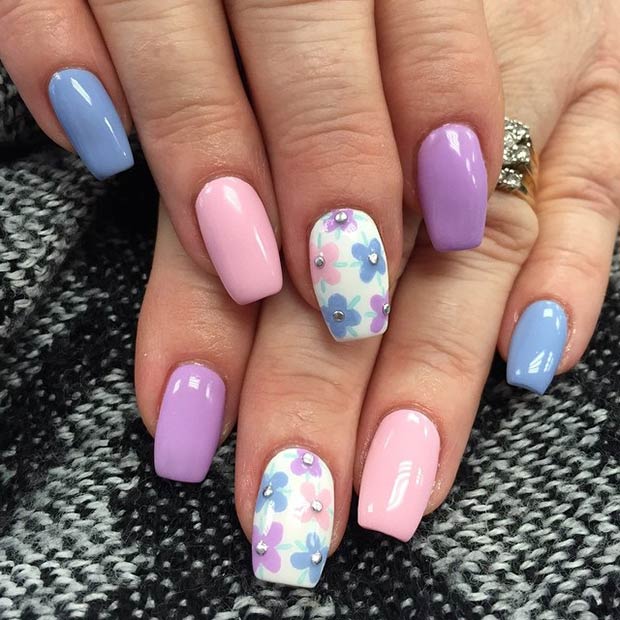 Pastels are a must-have for this spring. Simple pastel nails look so much better with a floral accent nail. This manicure idea is great option when you're too lazy to do all ten fingers.
8. Tropical Flowers Nails
These hibiscus flowers seems so real that you can almost smell them, right? Stunning!
9. Stripes + Glitter + Flowers
Stripes, glitter and pink flowers make a perfect spring manicure. Purple nail polish is China Glaze in the shade 'Lotus Begin'.
10. Purple Floral Design
They are so perfect that they almost look like nail stickers, right? But these are not stickers yet an actual nail design created with Essie nail polishes.  Base polish is in shade 'Urban Jungle'.
11. Peachy Matte Nail Design
We love these soft, peachy nails that are adorned with beautiful blooming flowers in the same color. So romantic!
12. White Nails + Colorful Flowers
Brighten up your white nail polish with these beautiful flowers in spring hues. White base is sure to make your flowers pop!
13. Light Blue Nails + Cherry Blossom
If you still haven't tried cherry blossom nail design, you're missing out! The design seems difficult, but actually it's pretty easy.
14. Matte Flower Design
Bright and colorful design that will definitely attract attention to your nails. Flowers can be easily created with a dotting tool. Nail polishes used for flowers are by China Glaze – 'Metro Pollen-tin', 'Lotus Begin' and 'At Vase Value'. The peachy nude base is by OPI 'Chilin' Like a Villian'. Flower hues are by
15. Light Pink + Mint
We love these pretty, romantic nails on a soft pink and green background. The green one is Claudia 'Honeydew' and the light pink is Essie 'Fiji'. Will you try to recreate this nail design?
16. Navy Blue Floral Design
This bold flower nail design features a navy blue base color and pretty flowers in pink and orange color. Base color is 'Queen B' by China Glaze.
17. Red Roses Matte Nail Design
Another gorgeous matte nail design! The roses are done with acrylic paint.
18. Purple Flowers + Negative Space Nails
What a gorgeous shade of purple! These flowers seems much more complicated than they actually are.
19. Pink & Gold Flower Design
A splash of gold glitter contrasts purple beautifully. Are you ready to plant a bouquet of gorgeous flowers on your nails? Make sure to include polka dots, too.
20. Neon Flower Nail Design
Add an elegant touch to your manicure by accenting your flowers with rhinestones. The thumb should have the same design as your ring finger.
21. Blue Nails + Cherry Blossom
The blue base makes an eye-catching pop of color for the pink cherry blossom flowers. As you can see, you can rock this nail design even if you have short nails.
22. Matte Yellow Nail Design
Simple yet so pretty! The yellow nail polish is LVX 'Lemondrop'. Try this look and let us know how it turns out.
23. Flower Accent Nail
The flower nail design was inspired by socks. Nail art inspiration is all around you! You can find it anywhere – in clothing pieces, furniture, nature, etc. Just make sure to look around.
24. Pink and Green Flower Nails
We want to try this look ASAP! This nail design is a nice break from all the roses and daises. The green base polish is China Glaze 'Be More Pacific'.
25. Pink and White, Matte Nails
Pink roses and silver studs are such a good match! If you want to recreate this nail design, here's a quick tutorial.
26. Flower Design for Short Nails
Keep the flowers at the base of your nail if you don't want to go overboard with the floral pattern.
27. Simple Flower Design
This flower manicure was inspired by Marc Jacob's perfume bottle. We love the colors and  little gold studs in the flowers. Lovely!
28. Peachy Stripes + Flowers
Stripes and flowers – an unbeatable combination! Lately, we've been seeing a lot of these vintage nail designs.
29. Polka Dot + Flowers Design
Nothing screams girly or cute more than pink flowers and soft hues, right? Once you try this nail design, you'll forget about your favorite nail salon!
30. Matte Floral Nail Design
Covering each nail with flowers sounds like a lot of job. Save time with this gorgeous, matte nail design in light pink and light blue hues.
31. Purple Flowers + Studs Design
Here's a cute nail design for all purple lovers! Base polish is OPI 'Don't Bossa Nova me Around'. Purple polish is also by OPI in shade 'A Grape Fit'. Are you bold enough to pair studs with flowers?
32. Nude Flower Design
New to nail art? You can get pretty spring nail design with just one floral nail. Keep it simple! Background color is by China Glaze 'Pink of Me'.
33. Light Pink and Purple Flowers
These flowers are so easy to do! Perfect nail design to welcome back the sun and warmth. The base shade is 'I Love Applause' by OPI.
34. Flower Tree Nail Design
We can get enough of these cherry blossom nail designs! You? This design is more complex than the other ones.
35. Neon Orange Polka Dot + Flowers
Why settle for nails with just flowers or nails with only polka dots? Combine them both for a perfect spring look. The base polish is China Glaze 'Sun of a Peach'.
36. Polka Dot + Gradient + Flowers Nails
We love the combination of gradient, colorful polka dots and little roses. Your manicure doesn't have to be uniformed to be pretty.
37. Light Pink Nails + Negative Space
Pastel pink hue and daises – what more could you want for spring mani? Gold studs make the flowers really pop.
38. Neon Glitter Nails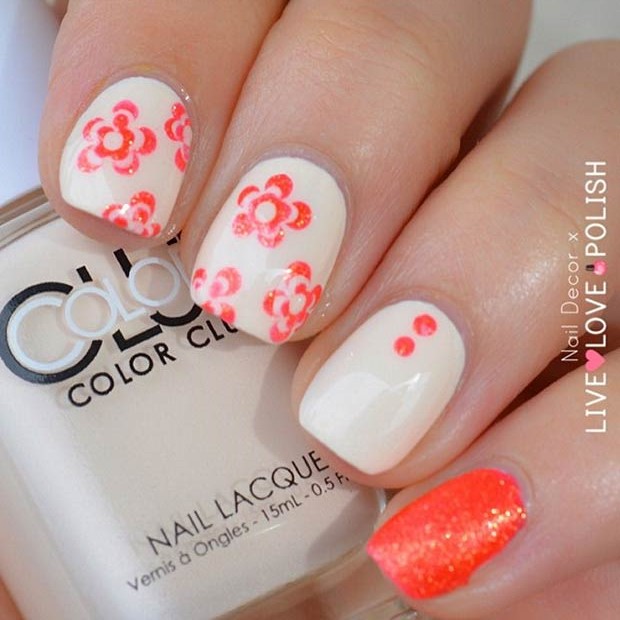 We are sure that any beginner could pull this look off. Also, this nail design comes handy when you don't have time for something more detailed. Love it!
39. Gold + Pastels + Flowers
When you team up flowers with pastels, you get the perfect spring mani! Yes, it's that simple! Base polish for floral nails is OPI 'Bubble Bath'.
40. Short Peachy Nails + Flowers
Pair your purple roses with vibrant peachy background to make them pop! The peach base is by Julie G '9 to 5'. Gorgeous hue that screams spring and summer.
41. Purple Flowers + Gold Studs
Gold studs keep this look fresh and unique. Just imagine how many pretty dresses you will get to wear with this lovely spring mani!
42. White and Purple Nail Design
Add bling to your floral nail design with some colorful glitters! White base allows you to use any color for the flowers. Be creative!
43. Yellow & Grey Flower Design
Grey nail polish isn't very spring-y but it looks perfect when paired with yellow. You would never expect to see these colors combined on one hand, right? The yellow nail polish is China glaze 'Lemon Fizz'.
44. Cute Flower Nail Design
Soft, romantic and beautiful… we don't have anything to add. The base nail polish is 'Essie' in shade 'Fiji'.
45. Pink & Purple Design
A purple background adds gorgeous contrast to cute pink roses with green leaves. So, what are you waiting for? Grab your polishes and have fun!
46. Flowers + Silver Glitter Design
Perfect girly nail design! Pink roses on a white background are always a good choice, especially if you add some glitter, too.
47. Flower Nails Pictorial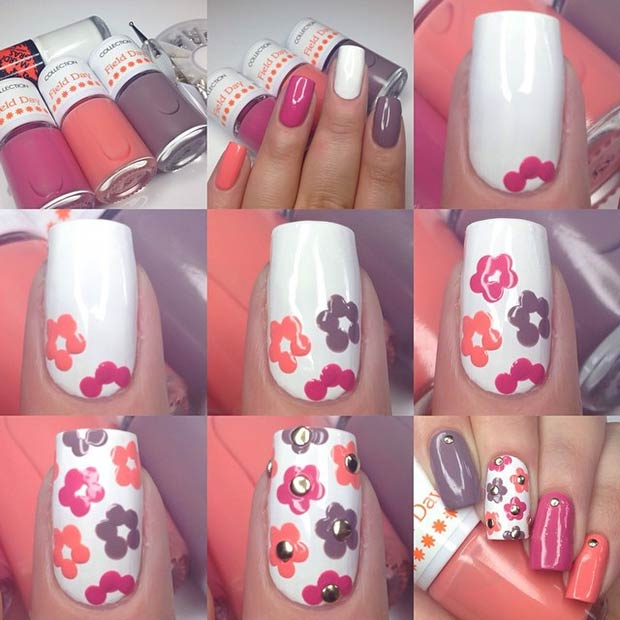 You don't have to go full floral – one accent nail is just fine. This tutorial/pictorial shows us how to easily achieve floral nail design that isn't average and boring!
48. Light Blue, Yellow and Pink Flowers
If you're in a rush, floral-ize only two nails! Not only will this tip save you time but also make your nail design even more unique. You're welcome!
49. Neon Pink + Polka Dot
The petals seem so realistic! We love the color combo. Neon base color is Island Girl 'Diamond Head Breeze'.
50. Retro Flower Nails
To recreate this retro nail design, you will need dotting tool and nail polishes in yellow, purple, pink, blue and light blue hue.
Last modified on November 12, 2018