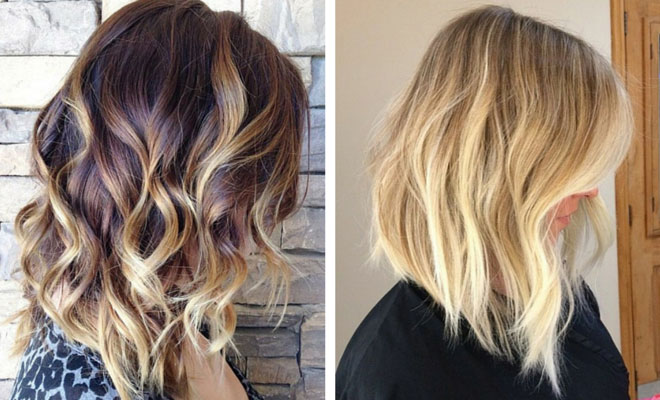 Instagram
Beauty
47 Hot Long Bob Haircuts and Hair Color Ideas
By
|
21. Black & Teal Lob
The black and teal hair trend has started with Kylie Jenner in 2014. Although Kylie changed her hair color, the trend is still here. This color combination really suits dark skinned women and is perfect choice for all mermaid wannabes.
22. Dark Brown Sombré
You can make your lob more interesting by playing with layers, texture and coloring. For some dimension to the style, accent your natural hair with caramel lowlights. They will enhance the layers and make the look soft and effortless.
23. Simple Curly Lob
Even the simplest bob hairstyles, without any highlights or ombré/sombré effects, look absolutely stunning! This hair length is so versatile and super easy to style. You can achieve this amazing curly style in about 7 minutes. Crazy!
24. Honey Blonde Sombré
The sombré effect will enhance any layering and natural texture in your cut. As shown, it's much more wearable and natural-looking than ombré. This cut and style is perfect for women with thick hair. Ready to make the chop?
25. Messy Lob + Blonde Balayage Highlights
Yes, you can sport the lob look even if you have thin hair. You can boost the volume and texture as you cleanse and condition your hair, or before/after styling it. A clever style will add the volume right away – volumizing shampoos and conditioners, hair sprays, dry shampoos, and root boost sprays are here for rescue!
26. Ash Blonde Sombré
Sombré technique is perfect for both blondes and brunettes. This lob is long enough to be pulled into a low messy bun or a braid. Not all short length cuts limit your styling options.
27. Caramel Babylights
Soft layers will give your lob personality and movement. This lob looks gorgeous curled, straight, up, down… you name it! The style is chic and super flattering thanks to warm highlights and loose curls.
28. Layered Golden Brown Lob
Lob cuts are easy to manage and style. Therefore, the lob is a perfect "mommy cut"  for all busy moms who don't have time to get ready in the morning. If you opt for this style, you'll be able to roll out of bed looking absolutely amazing!
29. Caramel Tones + Beach Waves
You can have these lovely curls without using any heat. First step is to lightly soak or spritz your hair with water and brush it out. Separate the hair into two sections. Take one section and twist it until it makes a knot. Secure the knot with bobby pins or a hair tie. Wait for 45 minutes, and – voilà – you've got perfect heat-less curls!
30. Texture + Blonde Balayage
Say goodbye to your flowing locks and opt for this cute and stylish cut! Shape of this lob is beautiful and classic, as well as hair color. This style will work on any face shape. Summer is a perfect time to brighten up your short locks!