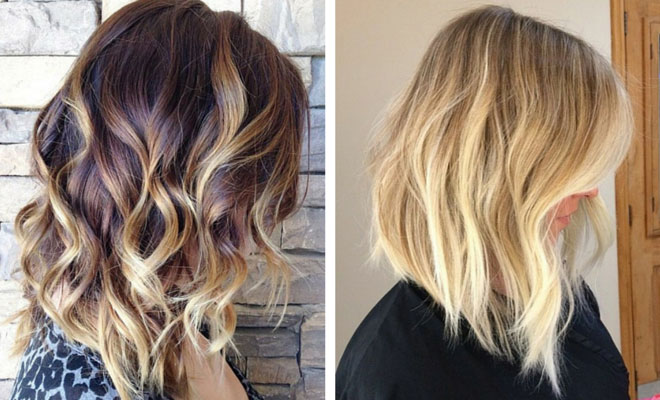 47 Hot Long Bob Haircuts and Hair Color Ideas
The long bob (or lob) is the most popular and chicest haircut of 2015. Don't believe it? Just check your Instagram. The style is definitely "the cut" of the year, and for good reason – it's versatile, easy to maintain and style. The lob has the perfect length  – it's long enough to be pulled into a ponytail, a braid or a bun.
Get inspiration for your next salon visit with these 47 amazing lob hairstyles and hair color ideas. They will make you join the lob club right away!
1. A-Line Lob with Blonde Highlights
The A-line lob is longer in the front, and shorter in the back. This cut is eternally fashionable, elegant and ideal for round faces. Don't you just love everything about this look? We definitely do.
2. Ash Blonde Sombré + Beach Waves
Sombre is the new ombre! So, what exactly is sombre, anyway? It's a coloring technique similar to ombre, but much softer and blended (subtle + ombre = sombre). Are you digging this trend? We're kinda loving it – bye bye ombré and hello sombré!
3. Reddish Brown Roots + Blonde Highlights
To achieve these blonde highlights, your ends need to be toned and bleach washed. It sounds like a lot of job, but the end result is absolutely amazing and worth the effort. The combination of blonde and reddish brown hair color make this hairstyle perfect for fall.
4. Caramel Highlights + Big Bouncy Curls
This haircut is easy to maintain and style. Caramel highlights are the perfect way to brighten up your dark brunette hair. They are so natural-looking, that you would almost swear the sun did them.
5. Red & Long Blunt Bob
This dark red hair with a copper balayage effect will give you power and sex appeal. Dull and boring bob styles are a big no no this season, so make sure yours has volume and texture. Start by applying a hair serum to the ends of your hair (never touch the roots). Next grab your favorite dry shampoo and lightly spray it around the crown. Create soft waves using a flat iron. Finish the look with some hair spray.
6. Straight Bob + Blonde Balayage
If you aren't feeling the textured wavy lob trend, this hairstyle is for you. Blonde balayage mimics the effect of the sun and brightens your face. The top of the hair is left dark, while the bottom and locks around the face are much more lighter. The style is a great choice for brunettes who want to experiment with lighter hair colors.
7. Blonde Bob
Some shades of blonde can look tacky and unnatural on dark skinned women. Therefore, it's important to figure out the undertone of your skin tone before you opt for this drastic change. Go with strawberry or honey blonde shades, and strictly avoid platinum blonde. We love the way the front pieces are styled, you?
8. Light Purple Bob
Have a bright and bubbly personality? Opt for this colorful style and stand out from the crowd. The style is perfect combination of timeless (bob) and modern (color) elegance. If you look closely, you can notice that the hairstyle features some light blue highlights, too. Stunning!
9. Blonde Ombré Bob
This cut and style offers lots of fullness and movement. The length is great if you want to still be able to style your hair in a ponytail. As you can see, ombré trend is still here which means you can opt for an extreme gradation without feeling unfashionable.
10. Highlights + Lowlights Bob
When you pair painted on highlights with lowlights, you get this effortlessly beautiful, natural-looking hairstyle. We think that the lighter highlights do a great job of accenting layers in this style. The look is suitable for all face shapes.
11. Messy Long Bob with Bangs
This cut and hair color makes for a perfect laid-back summer style. The hairstyle proves that bobs aren't just for women with straight hair. Soft layers, curls, and ash blonde hair color will make your facial features pop.
12. A-Line Blonde Sombré Bob
Here's another gorgeous look that includes sombré technique. Opt for it if you like the ombré effect but want something less dramatic. This style flatters most face shapes, just don't go too light.
13. Textured Lob + Warm Tones
This hair color looks dark and natural at the roots, while the bottom is light caramel colored with slight blending between. The look is an ideal choice for women seeking a low-maintenance hairstyle.
14. Brown Lob + Blonde Highlights
If you want to copycat this look, ask you colorist for a blonde foil or hand painted highlights around your face. Honey blonde, beige or caramel, are the best highlight colors for a brown hair color. Even just few small highlights around the face can take your look to a whole new level.
15. Straight A-Line, Burgundy Lob
A surefire way to make your cut stand out? Dye your hair burgundy. Straight A-line lob looks like you just chopped your hair half an hour ago. That being said, this is one of those cuts that needs to be touched up every four weeks.
16. Long Bob + Blonde Balayage
This cut and style is sure to amaze. Place the highlights at the bottom and around the face to give the hairstyle an unkempt and grown out look that's trendy this season. The closer your stick to your natural hair color, the more sun-bleached and relaxed your hair will look.
17. Straight Lob
This lob is sharp, crisp and super versatile. There are no split ends or fancy layers – just a clean and shoulder-length cut.  Straight lobs look good and elegant on anyone. The best part about this lob? It's beautiful, timeless and easy to style.
18. Blonde Lob with Dark Roots
This hairstyle is so breath-taking! It's modern, young and will cut down your blow-drying and styling time. To replicate this voluminous style, curl pieces of hair with a 2″ curling iron, and then use a flat iron to straighten the ends.
19. Sun-Kissed Long Bob
Dress up your lob with highlights and loose waves for an ultimate summer look. We predict that this hairstyle will be trendy for quite a while. If these ash blonde highlights are too light for you, opt for honey or caramel ones instead.
20. Lob + Caramel Blonde Ombré
Natural looking dye jobs are our favorite! Dark brown lob with a slow fade to caramel blonde will give you a few month break from your favorite hair salon. The style is perfect for all salon slackers out there.
21. Black & Teal Lob
The black and teal hair trend has started with Kylie Jenner in 2014. Although Kylie changed her hair color, the trend is still here. This color combination really suits dark skinned women and is perfect choice for all mermaid wannabes.
22. Dark Brown Sombré
You can make your lob more interesting by playing with layers, texture and coloring. For some dimension to the style, accent your natural hair with caramel lowlights. They will enhance the layers and make the look soft and effortless.
23. Simple Curly Lob
Even the simplest bob hairstyles, without any highlights or ombré/sombré effects, look absolutely stunning! This hair length is so versatile and super easy to style. You can achieve this amazing curly style in about 7 minutes. Crazy!
24. Honey Blonde Sombré
The sombré effect will enhance any layering and natural texture in your cut. As shown, it's much more wearable and natural-looking than ombré. This cut and style is perfect for women with thick hair. Ready to make the chop?
25. Messy Lob + Blonde Balayage Highlights
Yes, you can sport the lob look even if you have thin hair. You can boost the volume and texture as you cleanse and condition your hair, or before/after styling it. A clever style will add the volume right away – volumizing shampoos and conditioners, hair sprays, dry shampoos, and root boost sprays are here for rescue!
26. Ash Blonde Sombré
Sombré technique is perfect for both blondes and brunettes. This lob is long enough to be pulled into a low messy bun or a braid. Not all short length cuts limit your styling options.
27. Caramel Babylights
Soft layers will give your lob personality and movement. This lob looks gorgeous curled, straight, up, down… you name it! The style is chic and super flattering thanks to warm highlights and loose curls.
28. Layered Golden Brown Lob
Lob cuts are easy to manage and style. Therefore, the lob is a perfect "mommy cut"  for all busy moms who don't have time to get ready in the morning. If you opt for this style, you'll be able to roll out of bed looking absolutely amazing!
29. Caramel Tones + Beach Waves
You can have these lovely curls without using any heat. First step is to lightly soak or spritz your hair with water and brush it out. Separate the hair into two sections. Take one section and twist it until it makes a knot. Secure the knot with bobby pins or a hair tie. Wait for 45 minutes, and – voilà – you've got perfect heat-less curls!
30. Texture + Blonde Balayage
Say goodbye to your flowing locks and opt for this cute and stylish cut! Shape of this lob is beautiful and classic, as well as hair color. This style will work on any face shape. Summer is a perfect time to brighten up your short locks!
31. Curly A-Line Lob + Braid
If you cut your hair short, it doesn't mean you're committing to just one look. You can still style your hair. Braids are the easiest way to amp up your lob. French braid, dutch braid, fishtail braid, and crown braid are just some of the unique ways to style a lob. Don't be afraid to experiment!
32. Rich Brown Lob with a Pop of Honey Highlights
This hairstyle will make you look like a bombshell! Have your stylist add some honey highlights to your hair to brighten up the face. Layers give this stunning lob an illusion of a thicker hair.
33. Brownish Blonde Lob
These low ash blonde lowlights will make your skin look radiant. The style is an economical option because there's no need for constant touch-ups.
34. Reddish Brown Wavy Lob
This cut is perfect – not too short, not too long. You don't need a beach to achieve these soft waves. The trick is to twist big sections of the hair around a large curling iron, and hold it for just 2-3 seconds! Run through the fingers after you're done with the curling.
35. Dark Red Lob + Light Red Highlights
Deep burgundy hair color with fiery red highlights looks best on pale skin. This bold hair color will totally change your look and attitude. You can get creative with styling – curl it, flat-iron it, roll it or add a braid or two. Don't have time on your hands? Just let your red locks hang out and still look fabulous.
36. Honey Blonde Lob
Honey blonde hair color is really flattering on brown skin beauties, but choosing the right tone isn't easy. Ask your hairstylist for short layers at the front to open up your face. You can get these curls with hot rollers.
37. Ash Blonde Babylights Lob
This lob is effortlessly chic. If you like the ash blonde trend, try it out with some babylights. Adding this kind of highlights will make your hair look healthier and more radiant. The technique works best on blondes.
38. Straight A-Line Lob
This straight A-line lob doesn't have a tone of layers, waves or highlights but it's still just as stunning. With this style, there never is a hair out of place. Perfect haircut if you don't have time for styling!
39. Wavy Bob (Wob) + Babylights
Caramel, honey and soft gold babylights look so flattering on brunettes. Try babylights for a beautiful, natural-looking dye job. Ask for subtle layers to achieve this full, textured style.
40. Curly, Caramel Blonde Lob
If you have naturally curly hair, this style is for you. Naturally curly women are so lucky – they don't need to spend a minute styling their hair!
41. Reddish Brown Balayage Lob
Nothing will complement your look quite like a good hairstyle. The lob is a haircut that works on everyone, especially if you add some highlights to it.
42. Curly Lob + Light Blonde Lowlights
This hairstyle and hair color will make you want to cut your hair right away! Take this pic to your favorite hair salon and make it happen. You won't regret it (we promise)!
43. Voluminous Lob
Elegant? Yes. Boring? Absolutely not. The simplest styles are often the most stylish ones. To get this look, ask for a shoulder-length bob with layers that start at the chin.
44. Wavy Lob + Blonde Sombré
Still hesitating? This picture will make you trade in your long hair for a lob in no time! The combination of warm colors and soft waves is so hot right now.
45. Icy Blonde Wob
We absolutely love these tousled blonde tresses. The style is a perfect choice for any season – winter, summer, spring or fall.
46. Wob + Balayage Effect
Here are few reasons why you should consider chopping off your hair: shorter drying time, styling requires less time, the cut has the perfect length and is versatile, and last but not least, it's mom-friendly.
47. Straight Lob + Ombré Effect
Straight, curled or wavy – this ombré lob always looks jaw-dropping. We used to see ombre on long hair, but the technique on short hair is something completely different. The bottom highlights are more noticeable because they are falling on your shoulders.