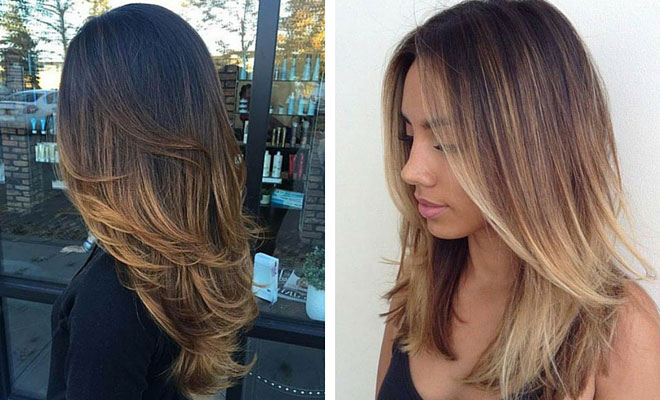 Instagram
Beauty
41 Hottest Balayage Hair Color Ideas for 2016
By
|
21. Red & Blonde Balayage Hair
One of the best things about balayage hair is that it gives you the option to play around with hair combinations you wouldn't normally have paired together. Blonde with orangey-red tones like this wouldn't look great in any other way but in this muted and well-blended balayage look, it is beyond beautiful.
22. Rose Gold Tone
If you're not bold enough to try a completely different and contrasting color for your new balayage style, you could just blend multi-tones of your existing color for a slightly more discreet effect. The variation of these shades are only slight, but it makes the world of difference when it comes to making your hair three-dimensional.
23. Copper & Blonde Balayage on Long Hair
Once you've finished with your balayage coloring, leave the hair to do what it wants to do. The style is all about natural lines and highlights so over-styling your hair afterwards is pretty pointless. Add a few waves with the help of your hairdryer and a large, round brush, but don't go too over the top. Give your hair a break.
24. Neutral Blonde Balayage
If you need an easy way to give your hair a break and stop all that bleaching, lightening and over-heating, the balayage hairstyle is perfect for you. You have the chance of growing your roots out naturally and is perfect for those colder, winter months. When the summer comes around, you go lighter again but for the winter, there's everything right about going back to your roots.
25. Silver Blonde
Silver hair was all the rage over the summer and winter of 2015 but the trend doesn't look set to end at any point soon. If you want the platinum blonde/silver look but without the hard work and hassle that goes with it, why not opt for a silvery-blonde balayage instead? The roots are always hard work when it comes to going silver or gray anyway… (Spoken from experience!)
26. Rose Gold Colormelt
This year, every girl wants a rose gold Michael Kors watch. Not just that, they want rose gold balayage hair too. Rose gold is so beautiful for this time of year and with more red-heads embracing their inner feistiness, going 'strawberry blonde' has never been so in-fashion.
27. Soft Rose Red Hair
Many of us won't ever have the luxury of saying we are a natural redhead but with this beautiful rose red balayage look, you can at least fake it for a while. Beautiful hues of browns and reds help to keep the look muted, well-blended and neutral, and makes the perfect base for any autumn or winter look.
28. The Colors of Fall
The colors of fall are best worn… Well, any time of the year really. This simple, elegant look is one that can easily be worn all-year round. Boho-braids for the summer will help to show off the multi textured shades and tones of your new balayage color, and in the winter, you can allow for richer, warmer hues. It's the perfect all-year-round style.
29. Natural Base + Caramel Lowlights
The good thing about the balayage hair style is that you can leave it for a few more weeks than you normally would in between salon visits. If you're a new mum or are just looking for a way to make your time and your money stretch a little further, this almost-ombre balayage look does just that.
30. Copper Caramel Hair
When you're attempting your own balayage style, try to avoid gel formulas of hair dye because these will run and smear around more than the creme formulas will. You don't need to be precise with a look like this but accidentally getting a blob of the contrasting shades in the wrong place will be noticeable and it will ruin the finished look. Thicker is better when it comes to the dye you use.