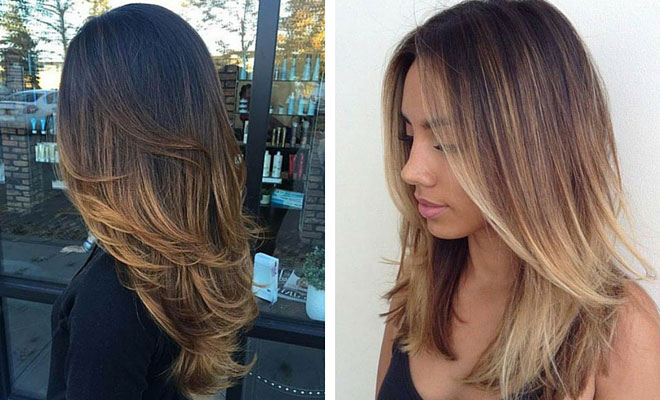 Instagram
Beauty
41 Hottest Balayage Hair Color Ideas for 2016
By
|
11. Copper Hair + Blonde Lowlights
Once upon a time, you'd only see blonde and copper together in the early 90's back when Ginger Spice used to rock it. It's become more popular these days however and this blonde and copper balayage look is great if you fancy taking a trip back to your younger years!
Great for mature hair and young hair alike, it's a great way to go back to your roots if you're a natural redhead too!
12. Gold Blonde Balayage on Dark Hair
Dark roots and blonde ends are not normally two things you'd associate with high-fashion but as this newest hair color design shows you, anything is possible. Even dark roots CAN be made to look great. Whether you're growing out your previous lighter blonde, or just want to add something new to your 'do, the dark and blonde balayage look is just perfect.
13. Violet Balayage
The style of balayage means that you can go as bright or as daring as you like. Although many women opt for a more natural effect, there's nothing to stop you adding a pop of color as shown in this dark to purple look. Not quite an ombre but almost, there's a lot of depth to this look and with the right wide-barrel curls, can give you a high-fashion glam style that'll get heads turning.
14. Caramel & Blonde Balayage
If you have thin or fine hair, the balayage look is great to help add volume and thickness. Because of the different shades and tones in the colors you're using, your hair will look revitalised afterwards. The light-catching shades will make you look as if you have much thicker hair.
15. Red Balayage
If you fancy giving red hair a shot but don't really want pillar-box red, why not opt for an orangey-red balayage instead? Combining different shades of the color will help it to look more natural if you don't really want 'crazy hair' which is what has made it so popular among women – there are a hundred ways to wear it, from natural to out-there.
16. Medium Length Hair + Copper Balayage
Fuss-free and flattering too, this copper balayage look shows you how you can rock the latest designer color styles even if you don't have long, luscious locks. Give your hair a break and leave those extensions out. Going back to basics is what it's all about with balayage designs.
17. Strawberry Blonde Balayage
Is it red? Is it ginger? Can you see pink in there too? It's a mix of all the colours of red and strawberry blonde and somehow, it just works. You get the opportunity to play around with much brighter colors with a look like ombre or balayage, and as this look shows, even redheads can benefit from a bit of multi-tonal color. It really makes your hair come alive!
18. Gold Caramel Highlights
If you want an easy start with the balayage look, start the colouring off further down. If you have longer hair, you can play around a little more with how you apply the color and as you can see here, even the lighter tones on the very ends of your hair can make a big difference. You can also do this easily yourself at home.
19. Bob + Balayage Highlights
Who said you couldn't do a balayage bob? Even super-short hair can benefit from this color sensation although be careful with how much of the color you're applying otherwise it'll just look like highlights and lowlights.
20. Dimensional Balayage Colormelt – Mochas and Caramels
Getting a look like this at home is really not difficult when you consider most of this would have been done free-hand. All you need is some gloves and the right color combinations, a friend to give you a hand, some grips to pin hair out the way, and plenty of petroleum jelly to place on your eyes and around your hairline to stop the dye from going all over the place. Put as much or as little of the contrasting color on as you wish but it might be easier to start with the very ends of your hair and build your way up gradually. Otherwise you could make the mistake of dying your entire head of hair a contrasting color…