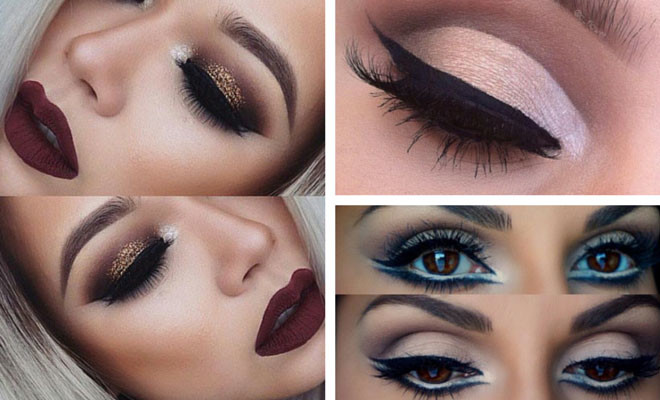 Beauty
40 Eye Makeup Looks for Brown Eyes
By
|
11. Red Glitter Eyes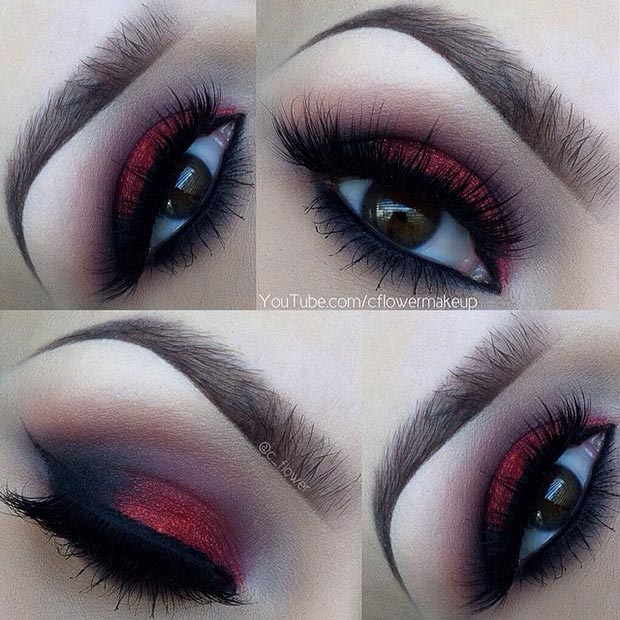 Instagram / c_flower
Red seems like one of the hardest colors to master when it comes to the eyes.  We not gonna lie, some red eyeshadows can be a bit tricky. This gorgeous color isn't only reserved for Halloween and you can easily pull it off without looking like you have an inflamed eye. Black and purple eyeshadows will help make the look a little safer.
12. Cut Crease + Rose Gold Glitter Pictorial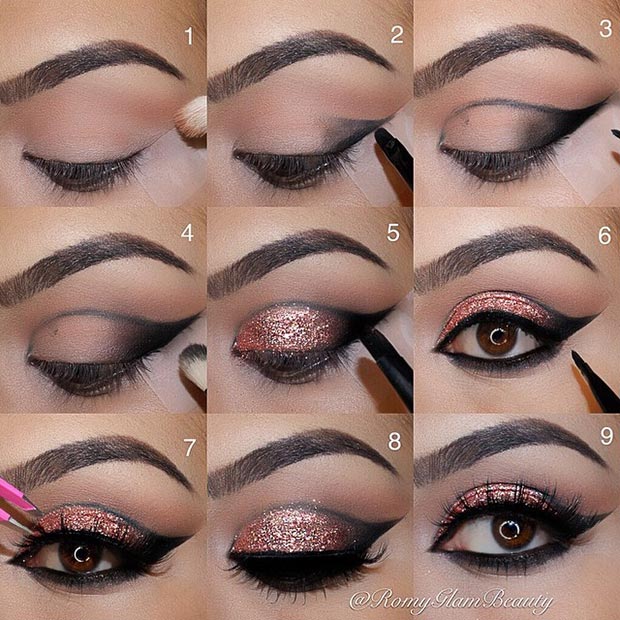 Instagram / RomyGlamBeauty
Get a bold, glamorous look following the step-by-step tutorial:
Step 1: For perfect edge and clean eye look, take a piece of tape and line it towards your temple (as pictured on the step one). Apply a light brown matte eyeshadow in the upper crease area with an eye shading brush.
Step 2: Start creating wing with a black matte eyeshadow. It's only a draft so it doesn't need to be perfect.
Step 3: Bring the black eyeshadow into the crease. With a black gel liner, precisely draw the wing.
Step 4: To create a gradual effect, add a dark matte brown eyeshadow to the outer corner of the lid.
Step 5: Apply rose gold glitter eyeshadow.
Step 6: Complete the wing with a black gel liner. Apply black eyeliner to the waterline and smudge it out.
Step 7: Apply falsies.
Step 8: Clean any individual pieces of glitter that landed above the winged eyeliner.
13. Black & Gold Eyes + Dark Matte Lips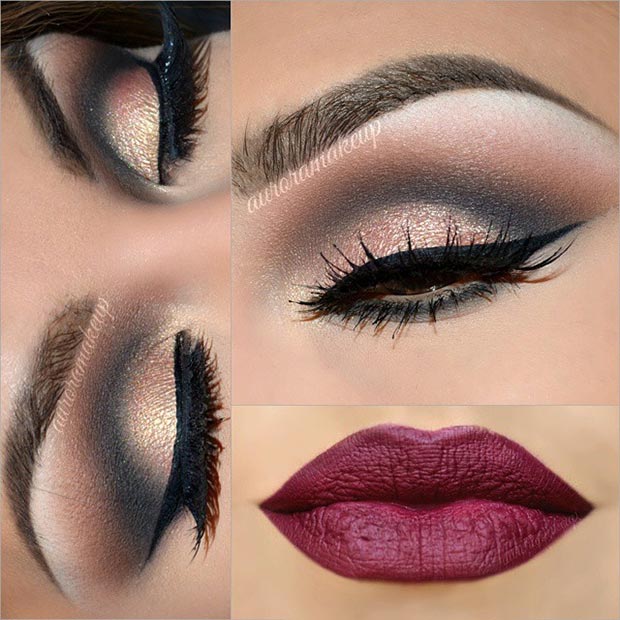 Instagram / auroramakeup
Gold eyeshadow will maximize and bring out the size of your eyes, while black will minimize and countour them. It seems that gold and black pair for a perfect makeup look for brown eyes. This lip color goes perfectly with eye makeup.
14. Dramatic Matte Cut Crease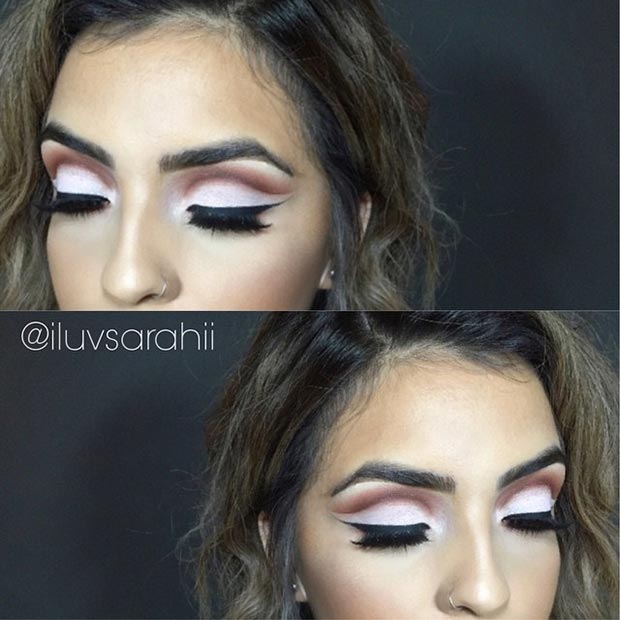 Instagram / iluvsarahii
This cut crease look isn't too hard to recreate and makes your eyes look sexier and bigger. The look was created using 'Semi-sweet Chocolate Bar' palette by Too Faced.
15. Matte Navy Blue Eyes Pictorial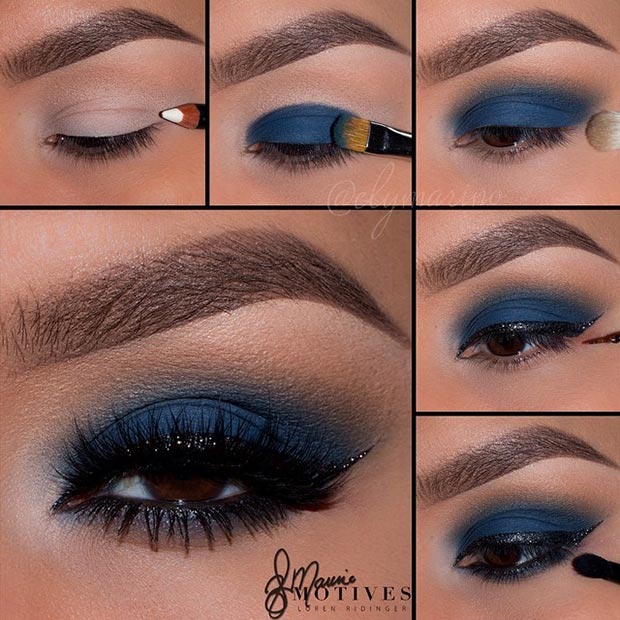 Instagram / elymarino
For a night out, try this matte blue look with glitter eyeliner. Always pair the blue eyeshadow with neutral colors such us tan, brown or grey. Neutral eyeshadows will offset the brightness in the blue.
Step 1: Apply matte brown eyeshadow into the crease. Smudge white eye liner onto the lid.
Step 2: Apply matte blue eyeshadow to the entire lid.
Step 3: Blend eyeshadows together with a fluffy blending brush. Soft any harsh edges with a light brown eyeshadow.
Step 4: Apply liquid, glitter eyeliner in black.
Step 5: Line the waterline with grey-ish eyeliner and smudge it slightly underneath the eyes. Highlight the inner corner of the eye. Finish the look with a pair of false eyelashes.
16. Cranberry Eyes without Eyeliner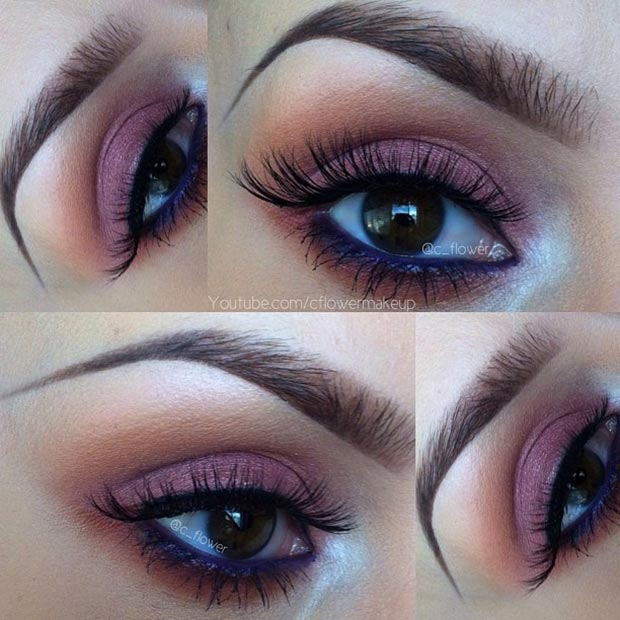 Instagram / c_flower
You've probably noticed that burgundy and cranberry eyes have taken over Pinterest and Instagram. As you can see, these colors look amazing on brown eyes! Another thing we like about this look is that it doesn't require eyeliner. Used products for the look are MAC Cranberry eyeshadow and Sigma Electrify eye liner.
17. Turquoise Inner Corner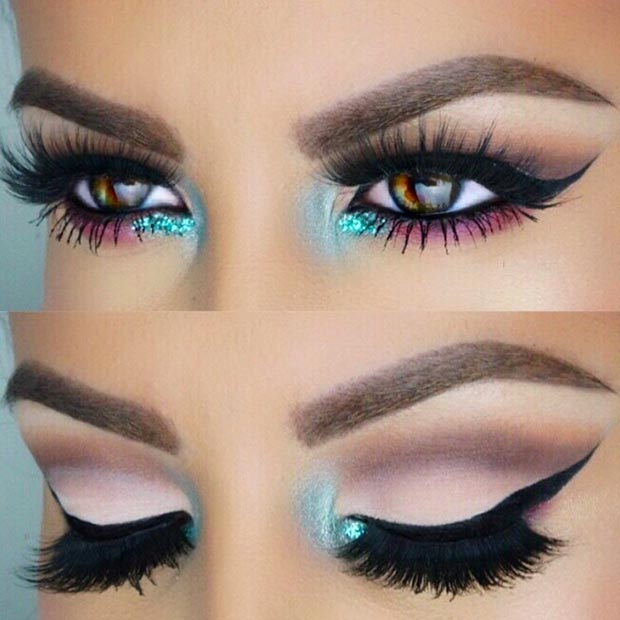 Instagram / amrezy
Make your brown eyes shine by highlighting the inner corner of your eye with a shimmery, turquoise eyeshadow. This makeup look is perfect for a summer night out. Would you agree?
18. Burgundy Glitter Eyes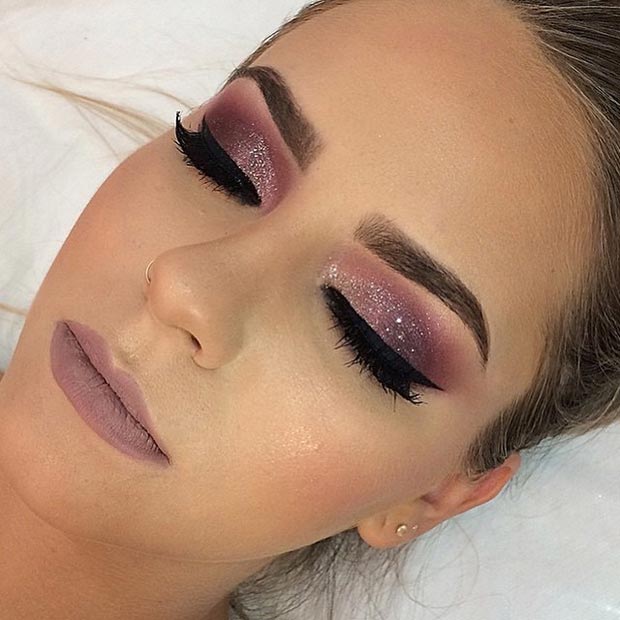 Instagram / franciannemakeup
Burgundy isn't only a hot lip trend, you can use it on your eyes, too! Top shimmery eye shadow will brighten up your brown eyes. Burgundy eyes will look great on just about anyone.  Don't hesitate to try this look!
 19. Dark Burgundy Smokey Eye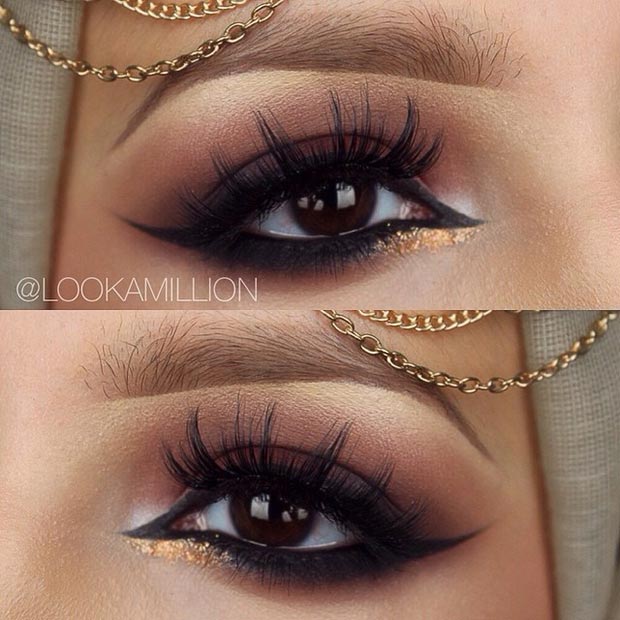 Instagram / lookamillion
To catch everyone's attention, try this gorgeous burgundy smokey eye with a pop of gold. The thing that makes this look trendy and sexy is the 'cat' eyeliner. This eyeliner frames the whole eye by adding a little V in the inside corner of the eye. The look was created using Melt Cosmetics eyeshadow stacks and 'Cat Eyes' palette by Too Faced.
20. Red Smokey Eye with a Pop of Gold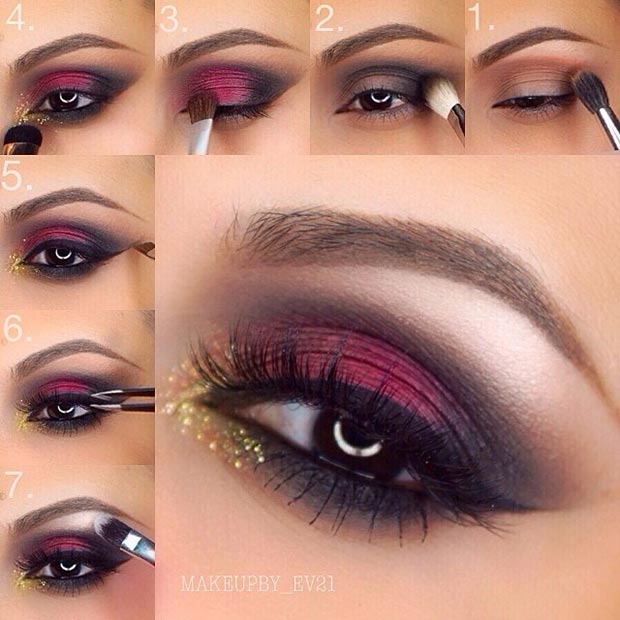 Instagram / makeupby_ev21
Step 1: Apply eye primer. Eye primer will help your makeup last longer. Make sure to blend it well. With a fluffy blending brush, apply peachy brown eyeshadow into the crease as a transition color. For the first step, makeup artist used 'Creme Brulee' eyeshadow by Makeup Geek Cosmetics.
Step 2: Apply black matte eyeshadow to the outer V and work it to the crease with a blending brush. Apply the same eyeshadow to your lower lash line, too.
Step 3: With a flat shader brush, apply cranberry/burgundy eyeshadow to the lid.
Step 4: Highlight the inner corner of the eye with a gold glitter eyeshadow.
Step 5: Wing your eyeliner.
Step 6: Apply false eyelashes. Eyelashes used in this tutorial are 'Eazy Duz It' by Luxy Lash.
Step 7: Highlight the brown bone.