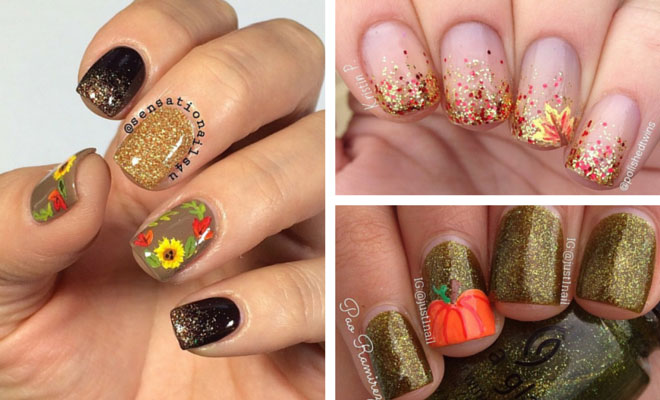 Beauty
35 Cool Nail Designs to Try This Fall
By
|
11. Fall Nail Tips
If you are a beginner, practice the leaf shapes on paper first.
12. Brown & Copper Glitter Design
Products used: SinfulColors "Leather Loose" (deep brown base), Glitter Lambs "Pumpkin Bread" (glitter over brown base), and Glitter Lambs "Pumpkin Spice" (ring finger).
13. Colorful Leaves
Feeling bold? Try this nail shape and design.
14. Sequins + Bright Leaves
The base nail polish is OPI DS "Classic". To recreate the leaves, use these products: Zoya "Nicole" (orange), Revlon "Autumn Spice" (brown), and Color Club (yellow).
15. Burgundy & Copper Design
A touch of copper never gets old. Products used: "Jane", "DeAnna", and "Logan" by Julep.
16. Fall Branches
A nude base will make your fall design really pop!
17. Falling Acorns
This acorn design will definitely put you in a fall-y mood. Products used: Love & Beauty "Beige" and Mentality "Matte Top Coat". To paint the acorns, use a nail art brush and acrylic paints.
18. Red & Yellow Leaves
Dark, vampy manicure is a must-try, especially in fall.
19. Burgundy Matte Nails
In fall, nail art addicts like to experiment with matte finishes. Products used: Essie "Set in Stones", "Swing Velvet" and matte topcoat.
20. Matte Copper Leaves
Products used: OPI "Black Onyx" (base) and Glam Polish "Radiance" (leaves), topped with OPI's matte top coat.