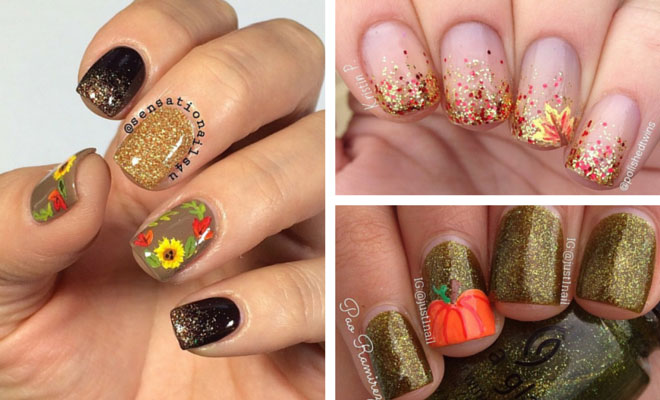 35 Cool Nail Designs to Try This Fall
Summer is going by so fast, but part of us is looking forward to all those little things that come with the autumn season: crunchy leaves, cozy sweaters, leather jackets, steamy beverages, and of course, pumpkin-flavored everything.
When it comes to nail trends, fall is all about going dark and bold. Darker shades of brown, green, purple, and red are popular choices for fall nail art. September 23 is almost here, so it's time to swap out our bright, summery nail colors for moodier ones. Our list will give you plenty of chic nail design ideas. Enjoy!
1. Dark Background + Colorful Leaves
This nail design makes us excited to see summer go!
2. Glitter Gradient Design
Update a boring nude base with a sparkly gradient effect. The glitter nail polish is SinfulColors in "Pumpkin Spice". The shade is very similar to China Glaze's "Electrify".
3. Copper Glitter Design
Products used: SinfulColors "Black on Black", Julep "Jane" and Sally Hansen "Invisible".
4. Glitter & Leaves
It's time to say bye-bye to your favorite summer hues! Products used: Picture Polish "Malt Teaser" and China Glaze "I'm not Lion". Use acrylic paint for leaves.
5. Gradient Nail Design
The neutral base is Loaded Lacquer in "No Shirt", the leaves were created using acrylic paint and topped with Seche Vite's dry fast top coat. The gradient effect is topped with China Glaze's "Golden Enchantment".
6. Pumpkin Accent Nail
To get the look, apply one coat of China Glaze's "Zombie Zest", then draw a pumpkin on your accent nail using acrylic paints.
7. Acorn Nail Design
There is no fall without acorns. The base nail polish is Revlon Parfumerie "Balsam Fir". The best part? It has an irresistible scent!
8. Colorful Leaves + White Background
Use a nail art brush and acrylic paint for leaves. The base nail polish is Essie in "Sand Tropez". Finish the look with OPI's matte top coat.
9. Sunflower Nail Design
Products used: OPI "Over the Taupe" (thumb and ring finger), OPI "Black Cherry Chutney" (index and pinkie finger) and China Glaze "I Herd That" (middle finger).
10. Sequins + Fall Tree
Pair a sparkly base with an autumn tree for an ultimate fall nail design. The base nail polish is Essie in "Hors d'Oeuvres".
11. Fall Nail Tips
If you are a beginner, practice the leaf shapes on paper first.
12. Brown & Copper Glitter Design
Products used: SinfulColors "Leather Loose" (deep brown base), Glitter Lambs "Pumpkin Bread" (glitter over brown base), and Glitter Lambs "Pumpkin Spice" (ring finger).
13. Colorful Leaves
Feeling bold? Try this nail shape and design.
14. Sequins + Bright Leaves
The base nail polish is OPI DS "Classic". To recreate the leaves, use these products: Zoya "Nicole" (orange), Revlon "Autumn Spice" (brown), and Color Club (yellow).
15. Burgundy & Copper Design
A touch of copper never gets old. Products used: "Jane", "DeAnna", and "Logan" by Julep.
16. Fall Branches
A nude base will make your fall design really pop!
17. Falling Acorns
This acorn design will definitely put you in a fall-y mood. Products used: Love & Beauty "Beige" and Mentality "Matte Top Coat". To paint the acorns, use a nail art brush and acrylic paints.
18. Red & Yellow Leaves
Dark, vampy manicure is a must-try, especially in fall.
19. Burgundy Matte Nails
In fall, nail art addicts like to experiment with matte finishes. Products used: Essie "Set in Stones", "Swing Velvet" and matte topcoat.
20. Matte Copper Leaves
Products used: OPI "Black Onyx" (base) and Glam Polish "Radiance" (leaves), topped with OPI's matte top coat.
21. Ombre Nail Design
To make this ombre effect, you will need a sponge. Wet the sponge and paint three stripes of nail polish (red, orange and yellow). Apply your base coat. Then put the sponge on your nail for 15 seconds. Repeat for each nail. Finish with top coat.
22. Fall Flowers
In the mood for flowers? Give this design a try!
23. Dark Red Nails + Gold Glitter
We're obsessed with this simple and elegant look! A dab of gold glitter can turn any basic manicure into a work of art. The gold glitter nail polish is Painted Polish in "#PSL".
24. Gold Leaves
Love this nail design? This tutorial  will show you how to recreate it:
25. Dark Matte Nail Design
This matte nail design is to dye for! Products used: Essie in "Shearling Darling" and "Shine of the Times".
26. Fall Branches + Sequins
Gold sparkles and colorful leaves are the perfect pairing for fall nail design. The gold glitter nail polish is China Glaze "Stellar".
27. Sparkly Fall Nails
Glitter gradients are super easy to do! Products used: OPI "Brilliant Idea" and Ciaté "Skinny Dip".
28. Fall Tree Accent Nail
This gorgeous nude crelly shade is Noodles Nail Polish in "Pumpkin Spice and Everything Nice".
29. Dark Purple & Gold Design
Products used: Barry M "Majesty" and Sally Hansen "Perfect Plum".
30. Fall Landscape
This nail design looks hard to create but it's actually pretty easy.
31. Orange, Green & Yellow Leaves
New to nail art? Use a toothpick to create the leaves.
32. Cute Fall Design
This nail design is so fun and unique – we love it! The base nail polish is OPI "My Vampire is Buff".
33. Fall Gradient Nails
Products used: Sally Hansen "Choc it Up", OPI "In my Back Pockets", and OPI "Don't Pretzel my Buttons".
34. Nude Nails + Leaves
Colorful leaves made these nude nails a whole lot cooler, right?
35. Sparkly Fall Nail Tips
This fall gradient design goes with everything! Products used: OPI "Are you Callin' Me a Lyre?" (base), Julep "Love" (glitter gradient), and Seche Vite (top coat). Paint the leaves using a detail brush.