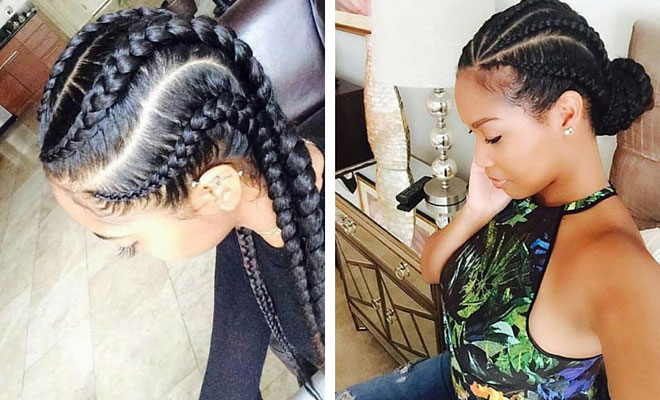 Instagram
Beauty
31 Stylish Ways to Rock Cornrows
By
|
11. Another Cute Way to Rock Big Cornrows
Why not make a feature of those in-between sections by adding some smaller, thinner featured braids to help bring the entire look together?
It seems like that uniformity is definitely on the way out and when you look at stylish ways to wear cornrows such as these, you can understand why. It adds a new layer of depth to the look, don't you think?
12. Ghana Braids
Ghana braids, just as the name would suggest, originated in Ghana, Africa, and is a firm favourite of many afro-haired women for it's ease of wear, versatility, and beautiful nature. It's a striking look that's for sure and when you see it, you can understand why it's so popular.
The idea is simple and much like a French braid – you continue to add hair to the braid until you get to the end and then you continue to braid before tying up. You could leave the braiding work at the base of the neck of course, and leave the remaining hair free. It's up to you but we like this neat hair design, getting all the hair back and cornrowed up.
13. Braided Mohawk (Cornrows + Crochet Hair)
We don't always want to wear our beautiful long hair down and that's where looks like this braided mohawk comes into play.
The crochet hair makes it easier to achieve that sculpted, almost-fluffy style while the cornrow braids help to give it a structured look, almost looking a little like an undercut which we also love by the way!
14. Elegant Cornrow Bun
Tying the hair back in a simple bun is a look that we all fall back on each and every day but when you have your cornrows leading into it, just like you can see here, there's a brand new level added to the look.
A five minute look easily jazzed up or down, it should be your go-to look for when you don't have time to mess around in the morning. Get ready and go, or just give yourself more time to get your brows on fleek!
15. Updo with Cornrows and Rope Twists
Who wouldn't love these stylish ways to wear cornrows especially when you get the option to play with fascinating looks such as this updo with cornrows and rope twists.
Bringing a little something different to the look, it's a way to wear the longer lengths of braided hair without them being an actual braid. You see – we told you there were so many ways you could wear them!
16. Unique Cornrow Design
For when you want pigtails but you want pigtails with a difference, why not look at this unique cornrow design?
Easy enough to do with a pair of helping hands, once this look is finished, you're good to go for a couple days, especially with the extra braided detailing. Who said just because you don't look at the back of your head, you didn't need to make a feature out of it?
17. Long and Big Cornrow Style
You'll need a few tools before you get started with your cornrows designs, especially if you're going for something intricate and somewhat complicated.
Make sure you have everything to hand before you get started otherwise you'll have a very frustrating time of things if you don't. You'll need a couple of combs, wide-tooth and fine-tooth as well as a bottle of good leave-in conditioner, kirby grips, hairbands and anything else you need to finish the look.
18. Big and Thin Cornrow Combination
Larger and smaller braids are the hardest to finish and design so remember that if you are a beginner looking for new and stylish ways to wear cornrows.
Start off with a medium-sized design like this one before moving on to more complicated and intricate ones. Learn as you go and you'll find things are a lot easier. Of course you do need to remember that larger braids will show up more sloppily if they're not done right than their smaller counterparts.
19. Cornrow Style for Natural Hair
You should never pull cornrows too tight because this can damage both the hair follicle and the scalp and over time and repeated tightening and pulling, can result in baldness with a condition called traction alopecia.
The more gentle you are with your cornrows, the longer they will last and the better condition your hair will stay in too. A great hairstyle is not worth damaging your hairline over. Not too much anyway…
20. Big and Chunky Look
Before you get started with beautiful and stylish ways to wear cornrows, make sure you have detangled your hair first to make the process much easier.
As much as this is a long and troublesome process for many, a good conditioning treatment will help things move along nicely, and it will also give you great conditioned hair to start with, forming the perfect base for your new cornrow styles.