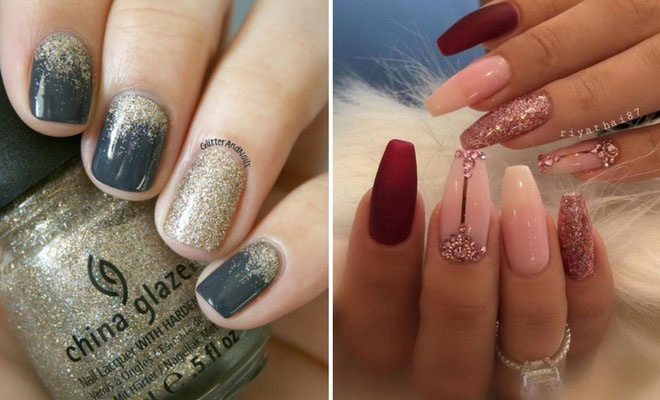 Instagram
Beauty
31 Snazzy New Year's Eve Nail Designs
By
|
11. Sparkly Gray Nails
Why not darken up your silver, making it more grey than shiny? You've got the light grey, and you've also got the light grey sparkly glitter. However, there's a slightly darker hue in there, giving it a different look entirely.
Another great look for both long nails and short nails alike, they're easy and simple, and you can do these ones yourself at home. You'll save a fortune from the regular nail salon trips!
12. Matte Burgundy & Gold
If you're trying to recreate these snazzy New Year's Eve nail designs at home but only have a few minutes to do it in, here's a trick that will help your mani dry quicker …
When the paint is just dry – tacky – submerge them in ice cold water. The water will cause the polish to harden, and it'll dry quicker too. Just make sure that you're not putting WET nails in the water. It'll ruin your mani.
13. Red and Gold Stiletto Nails
Another great tip that beauty professionals use when in a hurry is to give the nails a quick coating with spray oil. Yes, cooking oil in a spray. It helps to 'set' your new nail look, and at the same time, it'll also stop the paint from smudging all around the place.
We'd say that was a perfect tip to take away with you, especially if you need to get these snazzy New Year's Eve nail designs done quickly, and with minimal fuss.
14. Edgy Black Coffin Nails
One thing you may notice when wearing dark shades such as these is that they can often leave your nails looking yellow, especially once you've taken the paint off. The good news is that there are things you can do to avoid this from happening.
Soaking your nails after taking off a dark polish is important to try and prevent that staining, but lemon juice (or pushing the nail into a lemon) can also have the same effect because of the natural bleaching agents.
15. Easy Black and Gold Nails
Do you remember that sponge-ombre tip we told you about? Well, here's another way you could use it! This time, black and gold are the colours of choice, and when it comes to snazzy New Year's Eve nail designs, you can't get more snazzier than these!
If you find glitter nail polish a real pain in the backside to get rid of, try adding a coat of PVA glue before you add the glitter. It'll peel right off when you want it to, but it'll stay in place with a nice layer of top coat.
16. Red & Gold Combo
And if black and gold didn't quite float your boat, how do you feel about red and gold? Red is the colour of passion and love, and gold is … well, gold. Everyone loves gold, don't they? It screams luxury and expense.
These nails could easily be done on long nails, short nails, stiletto, oval, rounded, coffin, you name it. You could get carried away with the glitter on one nail too. Or more than that, in fact – they're YOUR nails!
17. Black and Dark Gold Nails
When applying glitter to your mani, dab it, don't brush it. When you dab, you have better control over where the glitter actually ends up, and you'll be more likely to get a decent coverage of your nail.
When you try to brush glitter on, it'll just smear around your nail, and you run the risk of ruining your undercoat if it hasn't dried fully yet. So remember kids – dab, don't rub!
18. Matte Black + Rose Gold Sequins
When it comes to getting your manicure just right, it's a much better idea to get a smooth finish by using multiple thin coats of your favourite polish, rather than one big one.
When you add a thick, gloopy layer of polish to your nails, it will take longer to dry, giving you more time to mess and smudge things up. It's also less likely to be smooth finishing, giving you a rough and uneven surface. That won't make your snazzy New Year's Eve nail designs look very good at all!
19. Easy DIY Design
This is one of the easiest tricks in the book, and it looks really classy and sophisticated too. Not bad for a stuck-on rhinestone embellishment right?
Once you have completed your mani, and your nails are dry, simply add a little something extra to the base of the nail, right in the middle. We love these gold circles, but you could opt for anything. You could even have themed embellishments – Christmas, champagne flute, etc.
20. Matte with a Pop of Gold
If you don't have nail foils or tape to hand, there is something else you can use to get those perfect tips. How about a band-aid? You simply place it over your nail, covering the areas you don't want to paint, covering the bits that are left exposed.
Then when the nail is dry, remove the band-aid, and you'll have perfect tips in whatever shade!