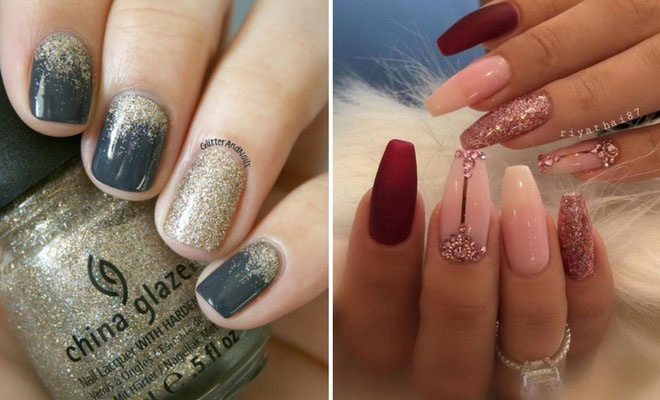 31 Snazzy New Year's Eve Nail Designs
So … what are you going to be wearing for NYE? Have you got your little black dress ready? Planned your snazziest heels? Planned out your hair? What about your nails? Just in case you were running a little low on inspiration, here are 31 snazzy New Year's Eve nail designs that we think are just perfect for the occasion!
1. Matte Black + Glitter
How do you feel about matte nails? How do you feel about glitter nails? Well, put them together and we think you've got the perfect design for NYE nails, no matter what dress or shoes you're pairing them with.
It just wouldn't be New Year's Eve without a little sparkle, and with these nails, you've got just the right amount of sparkle. We especially love the way a half n' half nail has been created. That one is our favourite!
2. Gold Glitter Ombre
If you want to keep your nails short and easier to manage and maintain this NYE, how about these snazzy New Year's Eve nail designs? It's a gold glitter ombre and we love it!
You can use a sponge to dab the gold glitter on the top of your base shade to help get that ombre effect. You could even switch up the grey for a different shade if you wanted to, or even change the colour of the glitter. It's easy, simple, and will take five minutes to do as you're walking out the door which, of course, makes it a definite winner!
3. White & Gold
These nails are beautiful! Perhaps a bit blinged-up for some, but if you want nails that are bold, bright and beautiful, these are definitely some to check out!
White is such a cool colour, and any shade that you place over the top of it will automatically pop when applied to that white backdrop. If you wanted to recreate these for your NY celebrations, simply use tape to mask the main bulk of the nail, leaving just the tip free, and then paint just that section in the contrasting glitter shade.
4. Matte Burgundy + Glitter
If you've already had your manicure but regretted the decision not to add some sparkle in the salon, just add it yourself at home. With one sweep of the brush you could easily recreate that straight line down the centre of the nail.
You could also add a base coat stripe of colour, and then add a glitter shade over the top if you wanted a contrasting look. There are so many ways you could customise these snazzy New Year's Eve nail designs to make them perfect for you and your look.
5. Gold Metallic Nails
If you want nails that look as good as this, you'll need to start with a good regime beforehand. Take away any old polish with remover, and then file down any bad or rough edges.
If you're opting for a matte shade, don't use a cuticle cream or lotion until after you've painted your nails and they have dried. Otherwise the oil will react to the matte and you won't get the look you're going for.
6. Pink Glitter Coffin Nails
Coffin nails were a big trend for this year, and they aren't showing any signs of going away soon. This is even more so the case when you appreciate that every celebrity is rocking them right now – from the Kardashians to news reporters, and everyone in between.
They might not be the most practical nails (especially if you've got kids), but they certainly look good. It is a special occasion after all!
7. Simple and Easy
The easiest way to spice up your mani is to add some glitter, and if you've only got the time to paint one nail, just paint one nail. It's as simple as that.
You don't want too much, but you just want something extra to make you feel in the NYE spirit, right? These nails are perfect – short, simple, subtle, and sassy!
8. Black and Gold
Nail decals are a great way to bring a new lease of life to your mani, and they take just seconds to apply to your nails. That's just one reason why we love them so much.
Decals come in super handy when you're no good at freehand painting, and you can also achieve more looks in a shorter space of time too. Just make sure you add a good top coat, and then let it dry, so it stays in place.
9. Eye-Catching Ombre Design
Using a sponge, you can easily create an ombre nail whether it's glitter you're trying to achieve it with, or a matte / glossy shade.
Apply some of your polish to the triangular makeup sponge and then dab on the nail. You can always remove bits that have gone too far down.
10. Neutral, Black & Gold
These nails are stunning, and they'll reflect the light beautifully so be prepared for all those compliments you're going to get! When you think about it, New Year's Eve is just one night of the year. If you can't go for a really bold and bright nail at NYE, when can you?
A more bronze-gold shade of glitter has been used here, and we're desperately in love with these snazzy New Year's Eve nail designs.
We just keep thinking about the glasses of champagne that those nails would go hand in hand with!
11. Sparkly Gray Nails
Why not darken up your silver, making it more grey than shiny? You've got the light grey, and you've also got the light grey sparkly glitter. However, there's a slightly darker hue in there, giving it a different look entirely.
Another great look for both long nails and short nails alike, they're easy and simple, and you can do these ones yourself at home. You'll save a fortune from the regular nail salon trips!
12. Matte Burgundy & Gold
If you're trying to recreate these snazzy New Year's Eve nail designs at home but only have a few minutes to do it in, here's a trick that will help your mani dry quicker …
When the paint is just dry – tacky – submerge them in ice cold water. The water will cause the polish to harden, and it'll dry quicker too. Just make sure that you're not putting WET nails in the water. It'll ruin your mani.
13. Red and Gold Stiletto Nails
Another great tip that beauty professionals use when in a hurry is to give the nails a quick coating with spray oil. Yes, cooking oil in a spray. It helps to 'set' your new nail look, and at the same time, it'll also stop the paint from smudging all around the place.
We'd say that was a perfect tip to take away with you, especially if you need to get these snazzy New Year's Eve nail designs done quickly, and with minimal fuss.
14. Edgy Black Coffin Nails
One thing you may notice when wearing dark shades such as these is that they can often leave your nails looking yellow, especially once you've taken the paint off. The good news is that there are things you can do to avoid this from happening.
Soaking your nails after taking off a dark polish is important to try and prevent that staining, but lemon juice (or pushing the nail into a lemon) can also have the same effect because of the natural bleaching agents.
15. Easy Black and Gold Nails
Do you remember that sponge-ombre tip we told you about? Well, here's another way you could use it! This time, black and gold are the colours of choice, and when it comes to snazzy New Year's Eve nail designs, you can't get more snazzier than these!
If you find glitter nail polish a real pain in the backside to get rid of, try adding a coat of PVA glue before you add the glitter. It'll peel right off when you want it to, but it'll stay in place with a nice layer of top coat.
16. Red & Gold Combo
And if black and gold didn't quite float your boat, how do you feel about red and gold? Red is the colour of passion and love, and gold is … well, gold. Everyone loves gold, don't they? It screams luxury and expense.
These nails could easily be done on long nails, short nails, stiletto, oval, rounded, coffin, you name it. You could get carried away with the glitter on one nail too. Or more than that, in fact – they're YOUR nails!
17. Black and Dark Gold Nails
When applying glitter to your mani, dab it, don't brush it. When you dab, you have better control over where the glitter actually ends up, and you'll be more likely to get a decent coverage of your nail.
When you try to brush glitter on, it'll just smear around your nail, and you run the risk of ruining your undercoat if it hasn't dried fully yet. So remember kids – dab, don't rub!
18. Matte Black + Rose Gold Sequins
When it comes to getting your manicure just right, it's a much better idea to get a smooth finish by using multiple thin coats of your favourite polish, rather than one big one.
When you add a thick, gloopy layer of polish to your nails, it will take longer to dry, giving you more time to mess and smudge things up. It's also less likely to be smooth finishing, giving you a rough and uneven surface. That won't make your snazzy New Year's Eve nail designs look very good at all!
19. Easy DIY Design
This is one of the easiest tricks in the book, and it looks really classy and sophisticated too. Not bad for a stuck-on rhinestone embellishment right?
Once you have completed your mani, and your nails are dry, simply add a little something extra to the base of the nail, right in the middle. We love these gold circles, but you could opt for anything. You could even have themed embellishments – Christmas, champagne flute, etc.
20. Matte with a Pop of Gold
If you don't have nail foils or tape to hand, there is something else you can use to get those perfect tips. How about a band-aid? You simply place it over your nail, covering the areas you don't want to paint, covering the bits that are left exposed.
Then when the nail is dry, remove the band-aid, and you'll have perfect tips in whatever shade!
21. Sparkly Coffin Design
Coffin nails are all the rage right now, and if you're looking for snazzy New Year's Eve nail designs, you won't get much more sparkling and dazzling than these. There's plenty of glitter and shimmer which automatically means we LOVE them!
Nail foils have been used to create that small design on the base of the middle nail, although you could go nuts with your design. Alternatively, leave things super simple (and beautiful) with those half and half, almost-ombre effect nails. We adore those!
22. Black & Rose Gold
This is a really simple idea, and one that won't actually take you that long to complete at home. Use a base coat, then your nude colour, and when that is completely dry, tape off the tips in a chevron pattern. Alternatively, use band-aids like we suggested earlier.
Paint the black gloss, and when that's dried, add your glitter over the top. Then remove the tape, add a top coat, and you'll be good to go. It shouldn't take much more than ten minutes or so.
23. The Perfect Gold Shade
Textured nails are a big deal right now, and this gold textured look is a great one. It's a little something different from the usual shiny / glittery nails you might normally look towards when on the hunt for snazzy New Year's Eve nail designs.
Again, to get a look like this, you'll want multiple fine coats rather than one big one. You'll need a super-smooth finish to get this one looking right, and you won't achieve that with thick and gloopy polish that'll make an age to dry.
24. Neutral + Gold Glitter
It's like an ombre, but rather then the sparkle being at the tips, it's been kept towards the base of the nail, a totally different look!
This just goes to show that the simplest of changes can completely transform the way your mani looks. Even something as simple as moving the glitter ombre form the top to the bottom can give you a brand new mani-idea.
25. Glittery Fireworks
These are so clever, we're a little bit on awe of them. To celebrate New Year's Eve the right way, you must have fireworks, and if you're not having them in the back garden, why not on your nails?
Using a fine tipped brush, sweep the glitter in firework-shaped lines. That's basically all this look is – clever sweeping with a thin brush dipped in silver glitter. So easy, so perfect, so awesome!
26. Rose Gold & Neutral Nails
Another fabulous look – tips and the base of the nail have been taken into account here, a beautiful spattering of rose gold glitter. In case you weren't aware, rose gold is a huge trend right now – hair, nails, make up …
You could hand-paint these, or use tape, but whatever you do, make sure you do it. These nails are awesome, and if you don't bag them, someone else will.
27. Matte Red
Matte nail polish can be quite hard to work with. Firstly, it won't work with anything oil-based so you can't use creams and lotion on your hands beforehand. Secondly, matte polishes never last as long as glossy ones. It's the perfect excuse to revamp your nails quicker!
This red shade is wonderful, but to make sure it lasts the difference, apply a red matte shade, and then go over the top of the nail with a matte top coat. Like a glossy one, but matte. It gives you an extra level of protection along with the matte red.
28. Perfect Last-Minute Design
Remember we told you to dab on glitter rather than brush it around your nail? With a look like this, dabbing is the way forward.
At least then you can make sure that you're covering all of the nail that you want to – very important for snazzy New Year's Eve nail designs.
29. Gold Glitter Chevron Design
Another one you'll need tape or foils for – gold glitter chevron nail designs. It's clever, can be customised with a wide range of both colours and finishes, and you can even add more bling in the form of embellishments.
We'd say that these were perfect for the New Year festivities and celebrations, wouldn't you?
30. Gold Sequins & Glitter
A gel polish will help you to get a super shiny look for your snazzy New Year's Eve nail designs, but these can be hard to get right at home. So many people make mistakes, such as missing out the cuticle oil, and not preparing for the mani beforehand.
If you have the chance, a salon appointment is always going to give you a better result than the one you do at home. This is usually because you just don't have the time (or effort) to dedicate to the cause. It's New Year after all – time to push the boat out?
31. Gold & Light Pink Coffin Nails
Although coffin nails are a big trend for right now, there are so many different styles, shapes, and lengths of nail design to pick from now, there's bound to be something that you can get along with.
If you find longer talons much harder to go about your day to day life with, try shorter, squarer-tipped nails, or ask in your salon what they think might be better for your lifestyle. Shorter is better and more practical, but longer looks prettier (for some). It's about weighing up those pros and cons.
So, what do you think? Which of these snazzy New Year's Eve nail designs are you obsessed with? We can't pick our favourite, but we do know that we love most of them. We can't wait of the celebrations to come around, and we hope you have a great New Year too!