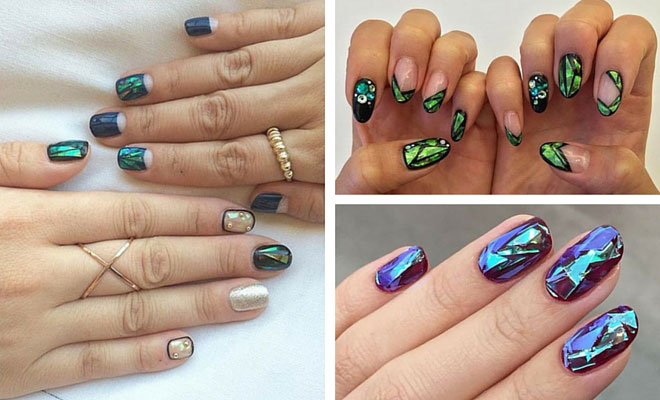 Beauty
31 Jaw-Dropping Broken-Glass Nail Designs
By
|
The hottest, latest trend in nail art, broken-glass nails, are so beautifully ornate that they are just perfect to help jazz up any outfit. You wear jewellery and other accessories to match your get-up so why wouldn't you pay as much attention to detail when it comes to your hands?
Don't panic though – broken-glass nails really aren't as scary as they sound. You don't need to actually affix pieces of broken glass to your hands. That would be dangerous (obviously!). Instead, the look focuses on using pieces of coloured and pearlescent cellophane to mimic the look of broken glass.
Just take a look at these 31 jaw-dropping broken-glass nail designs:
1.  Black & Green Design
To get the maximum effect from your broken-glass nails, try piecing contrasting colours together. The green you can see here really stands out from the darker, black back-drop whether it's on the full nail or just the tips. Black is such an easy colour to use so once you have that initial base coat, you could simple change the broken-glass effects to a different colour. Easy peasy!
2. Broken Glass Effect Nails
One of the easiest ways to change up the look with broken-glass nails is to layer up the pieces like you can see here. Simply keep piling on smaller chunks of the shiny cellophane until you have the desired look. Finish it off with a good top-coat to smooth things off.
3. Pink Sparkly Nails + 'Barely There' Shattered Glass
This is a nail design that doesn't need to look too 'out-there' which makes it perfect for everyone. All the gems and nail foils aside that you can see here, paler and pastel colours of broken-glass look great on pink or barely-there nails. You'd need to look a little closer to get the full effect but if you want something subtle and beautiful, a look like this is the one to go for.
4. Toe Nail Design
That's right – these nails are perfect for toe nails too! It can be quite fiddly to perfect this look on such a small surface area so why not copy this great idea and just make your biggest toe the feature nail and broken-glass away to your heart's content!
5. Half-Moon Broken Glass Nails
The half moon nail look has been popular for a while now and the good news is that it works perfectly with broken-glass nails too! It's super easy to do too. Rather than using the forms to paint just the tips of your nails, turn them the other way and use them to cover a half-moon shape at the base of your nail. It will leave that part of the nail neutral, almost giving you a reverse manicure of sorts. Add your broken-glass on top and you've killed two massive looks in one!
6. Broken Glass Nails + Lots of Jewellery = Perfect Look
While you're making a statement, make a REAL statement! Pair your beautiful, shiny and eye-catching broken-glass nails with jewellery – the more the better. Rings are such a big thing right now so layer them up or just add really chunky pieces. A funky nail look calls for funky jewellery and it looks divine, just like you can see here!
7. Golden Nail Design
We've focused a lot on using the broken-glass effect on painted nails, normally with a darker base coat. This look shows you how simple it really could be. The gold shards look so beautiful on top of the nude nails beneath. Plus, you won't need to worry about the base coat then leaving it to dry before adding broken-glass, top coat and then leaving it to dry again. If you want the super-shiny look, just add a clear base-coat to your nude nails before applying the pieces.
8. Broken Glass + Negative Space Mani
What do you think of this look? Negative space manicures have become increasingly popular over recent seasons and it appears to be going from strength to strength with new and unique ways to modify it popping up just like this broken-glass design.
Using tape or nail foils, simply tape off sections with straight lines like you can see here. Leaving part of the nail nude like this really adds a modern twist to otherwise boring nails. It also shows that you don't need super long talons to achieve the latest hot nail designs!
9. Classy & Elegant Design
Who said all your nails needed to match?
We're a big fan of unique nails with different designs and this classy and elegant look shows you how to achieve just that. The simple addition of a nail gem at the base of the nude nails stops it from looking too dull and with the gold broken-glass shards added to random nails, people will be looking at your hands for all the right reasons.
10. Minimal Design
If you're not a fan of fussy nails, this is a great one for you – the gold nail gems are optional obviously!
You can achieve a 'gem' look with broken-glass as you can see on the thumb. There is a bigger piece in the centre of the nail followed up with smaller, thinner pieces around the edge. Alternatively, go for thin, triangular slithers. This will actually help to elongate your nail… Just saying.