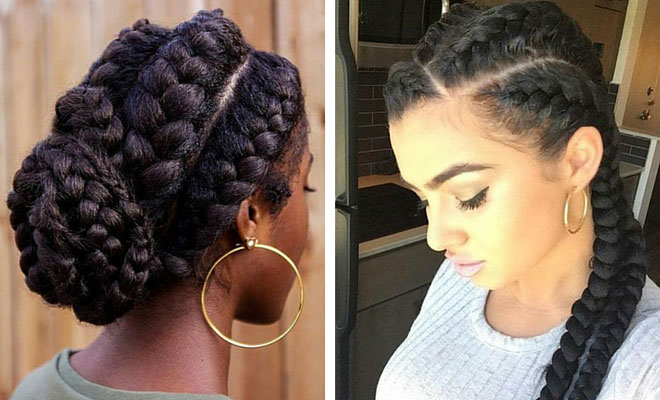 Instagram
Beauty
51 Goddess Braids Hairstyles for Black Women
By
|
21. Teyonah Parris's Goddess Braids
When looking at protecting styling solutions such as these goddess braids hairstyles, there are a few tricks you can use to keep your hair in good condition and in turn, keep your look looking fresher for longer. When braiding your hair, make sure that you are as gentle as possible around the edges, nape and center. You want the look to be tight but at the same time, you don't want to lose hair as a result of traction alopecia which can happen with too much tightening of the skin – with repeated braiding and cornrowing.
22. Simple and Easy Look
This is a look you could easily recreate at home and if you're no good at braiding, you could also get a friend to lend a hand… or two. Separating the hair into three sections, simple braid until you get to the bottom and then tie all three of the braids together to keep it back, or leave them loose if you want a sassier style. It's easy, takes just a few minutes once you get the hang of it, and will hold tight all day if you secure it in place.
23. Black & Red Goddess Braids
We absolutely love these black and red goddess braids to the point where we cannot get enough of them. Bold and bright they definitely are, and although this isn't a look for someone who wants to shy away, it's definitely one to be respected. You would normally see much darker reds on goddess braids hairstyles like this, but the bright pop of the bolshy rouge is enough to have us falling in lust. Maybe a special Valentine's Day treat?
24. Goddess Braids on Natural Hair
If you don't have extensions and are blessed enough with gorgeous long locks yourself, you can have goddess braids too and actually, this kind of protective styling, when done properly, can keep your hair in great condition. Lots of conditioner, lots of vitamins, all the right foods and plenty of water for hydration is how you achieve natural goddess braids like this one. You need to put in the hard work if you want long hair ladies! Trust us…
25. Stylish Protective Style
Just because you're 'protecting' doesn't mean it can't look great and we love this stylish look, a classic example of how you can maintain a great braided look and great conditioned hair at the same time. There's not a flicker of frizziness and the hair is glossing and lustrous. There's only one way to get this look – plenty of taking care of your hair and lots of oil to keep it in check too.
26. Cool Goddess Braid Design
Try to avoid playing with your goddess braid hairstyles too much as this will lead to instant frizziness, especially with the oil on your hands when it gets hotter. Too much brushing is just as bad so where possible, just leave your look to do its own thing. By all means keep it in check with a comb and your oil, but too much playing around with it will achieve quite the opposite of what you want.
27. Three Chunky Braids Design
A comb with a long handle is the best way to achieve these picture-perfect lines. Simple drag the tail through your hair where you want the partings and separations and the hair should naturally divide if you've brushed and conditioned it beforehand. Whether you want a zig-zag parting, a straight parting or a curved parting like this one, it only works when the lines are clean so make sure you get a couple of practice shots in before you get started.
28. Braided Low Bun
We love this low braided bun look, sophisticated, classy and elegant as well as smart, easy and cute. By twisting the bun around itself like this, it looks as if the bun has been cleverly woven in rather than just twirled around. Use grips to keep it all in place and you have the cutest, simplest look you could ask for.
29. Braided Top Knot
For those days when a low bun won't do, a braided top knot is the solution to all your hair dilemmas. In fact, when your hair is getting to the end of its life and you're in dire need of an appointment with your busy hairstylist, this is the go-to look for sure. It keeps everything away from the face, keeps things clean, and stops things from getting even more mussed up and frizzy. Plus it takes just a few minutes once those braids are already in check.
30. Five Braids into a Bun
The more braids the merrier we say, so what do you think about thus 'five braids into a bun' look? For when you don't want huge, thick braids, use more, smaller ones. You get the same look but with a bit more of a design, and you aren't stuck with the huge braids you didn't want to begin with.