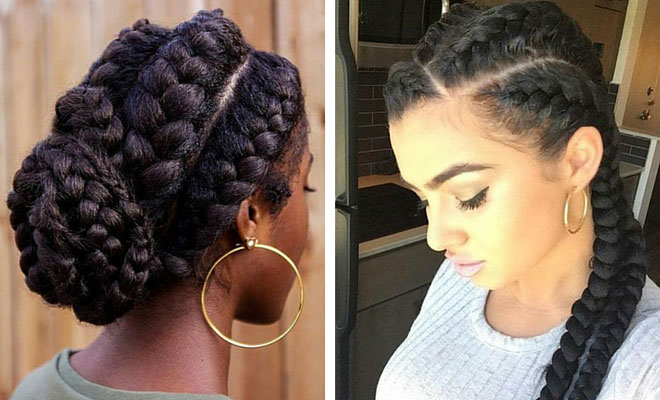 51 Goddess Braids Hairstyles for Black Women
Upon first glance you'd be forgiven for thinking these were just cornrows but before you carry on you should know these are not just new cornrow styles, these are goddess braid hairstyles. Those are something different…
Consider to be one of those go-to styles, easy to live with, low-maintenance, etc., it's a great design to pick when you're trying to give hair that's been over-treated or chemically treated, a break for a while.
Let's take a look:
1. Goddess Braids Chignon Hairstyle
What makes them different from cornrows? Well, these goddess braid hairstyles are completed with larger braids, more pronounced than their counterparts. They generally lie on top of the scalp and usually with a center-parting, heading towards the back and nape of the neck in a halo-style. You can add to that innocent nature but doing yours like this one, the goddess braids chignon hairstyle, by twisting the braids together into a low bun and pinning into place. You could even consider wrapping a scarf around your bun for an extra accessory.
2. Four Goddess Braids Style
Four? Why four? Why not is the question you should be asking. We love this four goddess braids style and we think you might just love it a little too. Make sure your lines are neat and sharp and you'll have a great time with this fun look. You can either leave the braids left loose down the back or design them up into a twist or bun design for those days you can't be bothered to rock it down. The choice is down to you, these goddess braids are so versatile!
3. Elegant Updo
For those occasions when only the very best will do, this elegant updo is a great design and if you wanted to bling it up a little more, you could even consider adding hair cuts to random strands with beautiful light reflecting metals and gems. If you're going to rock these goddess braid hairstyles, make sure you have great conditioned hair to start with. This will pull the hair quite tight and if it is already damaged, you may find that it leaks to further breakage and hair that just won't do as you say.
4. Purple and Blue Style
When you have a rocking 'do like this fabulous blue-haired beauty, you have every right to show it off and what better way to accentuate your style than with a brand new pop of color? You don't need to go for blue of course, there are plenty of options to choose from, but there's something about this purple, blue and black combo that makes us go a little weak at the knees. Boldly blue – we love it!
5. Goddess Fishtail Braid Updo
A fishtail braid works a little differently from a normal braid but in this goddess braid hairstyle, it looks pretty fabulous don't you think? A fishtail braid uses four strands as opposed to three, and you alternative strands between both sides in order to get that braid-lined effect. It's a bit tricky for a first-timer but after a couple of go's (and a few YouTube tutorials), it didn't take us long to pick up this new and funky braid technique.
6. Three Goddess Braids
We've seen four goddess braid hairstyles so it makes sense to show you a similar look but this time, with three braids instead. One braid, two braids, four, fifteen, it doesn't matter. Pick a number and ask your hairstylist to go with it. You're in control and there's no right or wrong when it comes to beautiful hair styles like these.
7. Braided to the Back
These braids have a number of different names associated with them from goddess braids hairstyles to halo crown, milk maid, goddess crown braids, and more. If you want a look like this that will stay in place for a while, you're better off doing it on two-day old hair where the hair isn't too oily or greasy but at the same time, not too dry, soft or fluffy like it can be when it's just washed.
8. Cute & Simple Design
Before you go for a stunning (but tight) look like this, make sure you undergo deep conditioning treatments for at least two weeks to ensure your hair is in good enough condition to withstand the tension and pressure about to be placed on it. The last thing you are going to want is further damage and breakage to your hair and although the look is considered low-maintenance and versatile, it still can cause some harm.
9. Caramel Brown Goddess Braids
We showed you purple and blue and if they weren't quite to your tastes, why not look at these goddess braid hairstyles with beautiful blends or caramel brown running through them. The contrast in color between light and dark here works very well and it helps to add more depth to a one-dimensional look. Everything about goddess braids screams with texture so it makes sense to add more with a pop of color too.
10. Curved Style
Ladylike and almost Greek-goddess in nature, what's not to love about this curved style, another of the great goddess braids hairstyles that are simple, easy and versatile to wear both day to day and night to night. When you ensure your hair is moisturised and strong prior to having your cornrows or braids put in with a style this like, your new hairstyle will last longer and you'll be less likely to suffer with that frizziness you can often find with afro hair in braids.
11. Two Toned Goddess Braids
A look that screams fierce both up and down, there's something about this two-toned goddess braids look that we LOVE, LOVE, LOVE! There's so many shades of blonde and almost silver in the lighter shades here, and when those bright hues are twisted into those goddess braids, every element of the color shines through. Plus – gold hair, gold jewelry, it all matches and we all love that!
12. Braided Chignon
The good news about afro hair is that it doesn't need washing quite as regularly as other hair but that's not to say you can braid it and leave it – there is still some maintenance to be undergone. If you wash more regularly than every week or two, you may find that your hair starts to lose its moisture so before having these goddess braid hairstyles put in, ensure that you give your hair a good break first.
13. Red Braids
If you thought the blue and purple looked great, and you fell in love with the dirty blonde goddess braids, you're going to have a fit when you see this look – stunning, beautiful, sexy red braids. It's like Jessica Rabbit got fierce and you know she'd love these red goddess braids if she ever sat down with a decent stylist. What do you think – would you rock red braids? We love them but what about you?
14. High Bun
Although considered to be 'protective styling' in the sense that the hairstyles themselves help to protect your hair (as long as you do), there is some work necessary to ensure you don't cause any damage when you switch between looks or have your braids taken out. When you first brush or style your hair after your braids have been taken out, don't worry too much. Generally you'll lose about 200 strands of hair per day so when you count that up over the weeks you've had your hair in your newest cool design, you can expect a lot of 'shedding'.
15. Edges on Fleek!
If you're going to go sharp, you might as well go full sharp and while you're there, what about you fall in love with those curly tendrils on the side like we have. There are always those baby strands that don't do as their told so why not make a little feature out of them? It looks great here!
16. Goddess Braids into a High Ponytail
A high pony is always in style and you can still achieve that high look with goddess braids if you have them done the right way. Ask your stylist to wind your beautiful new goddess braids around so you can flick them back into a high pony. Secure everything with a band, and even dress it up with a scarf or flower, and you have a look that's perfect for the up and coming summer heat and humidity.
17. Pop of Purple
When you think of playing around with color, you often think of something bright, bold and bolshy but as you can see from these goddess braid hairstyles, playing with color doesn't need to mean quite that. This pop of purple is barely-there but still adds a little something new to the look. The colors will be more noticeable the more you twist and braid your hair so it's down to you how obvious or noticeable you want it to be.
18. Two Goddess Braids Style
There are a number of home remedies out there you can use to rehydrate and repositories dry and damaged as well as over-styled hair. Before you look at goddess braids hairstyles for black women, why not look at what castor oil or coconut oil can do for your hair. Even for just a few minutes when used in a nourishing hair mask, these ingredients could boost the strength of your hair and even improve the skin on your scalp too.
19. Inward Goddess Braids
Rather than looking at creating your goddess braids so that they run from the front of your head to the back, why not twirl them around instead, creating this inward goddess braid look that's definitely different, unique and beautiful? There's no end to the ways you can twirl those braids around, and you can even use it to work in your advantage, playing up the parts of your head/face you like and hiding up those you don't!
20. Five Goddess Plaits
Goddess braids hairstyles are good for both long and short styles and to achieve the look, there are a number of tutorial online you could follow. The easiest way to complete this stunning braid style is to deep part and then crown part your hair when it was washed a couple of days ago, before braiding and criss-crossing the braids around. It's given the name halo crown for a reason! Make yours into a halo, regardless of how many plaits you like!
21. Teyonah Parris's Goddess Braids
When looking at protecting styling solutions such as these goddess braids hairstyles, there are a few tricks you can use to keep your hair in good condition and in turn, keep your look looking fresher for longer. When braiding your hair, make sure that you are as gentle as possible around the edges, nape and center. You want the look to be tight but at the same time, you don't want to lose hair as a result of traction alopecia which can happen with too much tightening of the skin – with repeated braiding and cornrowing.
22. Simple and Easy Look
This is a look you could easily recreate at home and if you're no good at braiding, you could also get a friend to lend a hand… or two. Separating the hair into three sections, simple braid until you get to the bottom and then tie all three of the braids together to keep it back, or leave them loose if you want a sassier style. It's easy, takes just a few minutes once you get the hang of it, and will hold tight all day if you secure it in place.
23. Black & Red Goddess Braids
We absolutely love these black and red goddess braids to the point where we cannot get enough of them. Bold and bright they definitely are, and although this isn't a look for someone who wants to shy away, it's definitely one to be respected. You would normally see much darker reds on goddess braids hairstyles like this, but the bright pop of the bolshy rouge is enough to have us falling in lust. Maybe a special Valentine's Day treat?
24. Goddess Braids on Natural Hair
If you don't have extensions and are blessed enough with gorgeous long locks yourself, you can have goddess braids too and actually, this kind of protective styling, when done properly, can keep your hair in great condition. Lots of conditioner, lots of vitamins, all the right foods and plenty of water for hydration is how you achieve natural goddess braids like this one. You need to put in the hard work if you want long hair ladies! Trust us…
25. Stylish Protective Style
Just because you're 'protecting' doesn't mean it can't look great and we love this stylish look, a classic example of how you can maintain a great braided look and great conditioned hair at the same time. There's not a flicker of frizziness and the hair is glossing and lustrous. There's only one way to get this look – plenty of taking care of your hair and lots of oil to keep it in check too.
26. Cool Goddess Braid Design
Try to avoid playing with your goddess braid hairstyles too much as this will lead to instant frizziness, especially with the oil on your hands when it gets hotter. Too much brushing is just as bad so where possible, just leave your look to do its own thing. By all means keep it in check with a comb and your oil, but too much playing around with it will achieve quite the opposite of what you want.
27. Three Chunky Braids Design
A comb with a long handle is the best way to achieve these picture-perfect lines. Simple drag the tail through your hair where you want the partings and separations and the hair should naturally divide if you've brushed and conditioned it beforehand. Whether you want a zig-zag parting, a straight parting or a curved parting like this one, it only works when the lines are clean so make sure you get a couple of practice shots in before you get started.
28. Braided Low Bun
We love this low braided bun look, sophisticated, classy and elegant as well as smart, easy and cute. By twisting the bun around itself like this, it looks as if the bun has been cleverly woven in rather than just twirled around. Use grips to keep it all in place and you have the cutest, simplest look you could ask for.
29. Braided Top Knot
For those days when a low bun won't do, a braided top knot is the solution to all your hair dilemmas. In fact, when your hair is getting to the end of its life and you're in dire need of an appointment with your busy hairstylist, this is the go-to look for sure. It keeps everything away from the face, keeps things clean, and stops things from getting even more mussed up and frizzy. Plus it takes just a few minutes once those braids are already in check.
30. Five Braids into a Bun
The more braids the merrier we say, so what do you think about thus 'five braids into a bun' look? For when you don't want huge, thick braids, use more, smaller ones. You get the same look but with a bit more of a design, and you aren't stuck with the huge braids you didn't want to begin with.
31. Two Goddess Plaits Style
Two plaits reminds us so much of our childhood so if you want a spring and summer hair 'do that'll be nostalgic for all the right reasons, you should check out this two goddess plait style, perfect for all that running around looking cute you fancy doing. Just remember to accessorise well with a pair of fabulous earrings, and keep your look in check with plenty of conditioner and oil.
32. Boho, Blonde Goddess Box Braids
Give your hair a summery, boho look with braids like these. The hair has been braided with multi tones of light and warm blonde. There are also curls at the end and some pretty accessories added too. This will be an amazing braided look for the summer and it will look super cool at other events like festivals, too.
33. Red Goddess Box Braids
Next, we have a bright and bold hair idea to show you. Here we have braids and curls in a beautiful, vibrant red tone. This red color is stunning and will stylishly transform your hair. You can try a similar red shade with a similar style or use the red on any braids of your choice.
34. Half-Up, Half-Down Braids
Looking for a trendy and cute way to style your braids? Then check out this next look. This hairstyle features gorgeous braids and curls where half have been tied up and the other half left loose. It is a pretty hairstyle that will suit anyone. You can have a hairstyle like this with any braids.
35. Long Goddess Locs
Our next idea features goddess locs with curly ends. Goddess locs are stunning and will give you a glam look every day. We love the added curls on the ends as it just gives the locs a stylish finishing touch. This is a beautiful hairstyle that will suit everyone. We love it!
36. Trendy 4 Goddess Braids
Next, we have edgy and trendy braids. The hair has been separated to create multiple braids resulting in a super cool look. You can recreate this hairstyle or try similar braids that are thinner so there are more of them. A funky color would look awesome too.
37. Crochet Goddess Locs
If you love the locs with curls, then you need to check out this hair idea. Here we have long locs with curly ends. The locs have been finished off with beautiful accessories. You can see that by adding accessories you get a stylish and unique look. Add beads, cuffs and more to make your hair stand out from the rest.
38. 4 Thick Goddess Braids + Thin Braids
Another way that you can make your hair look unique is by adding different thicknesses. This hairstyle is a great example. The hair has been braided into four thick braids and three thinner ones. This combo is super stylish. You can try this idea or come up with your own pattern and design.
39. Beautiful Goddess Locs with Curls
Our next idea is another loc look. For this idea the are beautiful locs surrounding by gorgeous curls. We love this one because the curls have been added to the ends but there is also curly hair around the locs, too. It is a pretty hair idea that will glam up your look every day!
40. Triangle Goddess Box Braids
Next, we have an accessorized braid idea. The hair has been put into very long braids and has been finished off beads and cords. It is a gorgeous braided hairstyle and will give everyone hair envy. Try and recreate the look or choose different beads and accessories to express your personal style.
41. Glam Goddess Braids
Want a glam hairstyle? Then this is for you. Here we have box braids that have been styled into a side part and finished off with accessories. It is a fierce style that demands attention. There are also some dark red braids which look gorgeous! You can try and recreate this look with or without the red braids, try to keep the accessories though.
42. Purple Goddess Braids
Brighten up your look and be bold with braids like these! These goddess braids are a pretty and light purple shade. There is also added curly hair and accessories too. This is such a funky and fun look. It would be the perfect choice for someone who is bored with their hair and wants a change. Try purple like this one or opt for lighter or darker purple.
43. Stylish Locs with Curly Brown Ends
Next, we have a pretty loc hairstyle. The locs are long and feature beautiful curls on the ends. It is a simple and easy to wear style that will keep you looking chic for any occasion. A hairstyle like this looks effortlessly stunning and will suit everyone.
44. Red Goddess Box Braids
Love the red braided looks? Then this hair idea is for you. Here we have beautiful red braids with curled ends. This red is a little darker and more toned down than the one we featured earlier but as you can see, it looks gorgeous. Red will suit anyone with any braids and any braid length.
45. Long Goddess Faux Locs
An easy way to glam up your hair is by styling it on the side. This next idea features locs and curls that have been swept to one side. As you can see, this gives the hair a stylish and beautiful look. You can style any long braids and locs this way.
46. Crochet Goddess Box Braids
Next, we have an elegant braided look to show you. The braids have a side part and each braid is neat and sleek. There is also long curly hair, too. This is a glam hairstyle and it will make you look chic no matter the occasion whether you are going to work or a night out.
47. Crochet Goddess Locs
Look like a goddess with our next hair idea. Here we have beautiful curly locs. We have featured sleek and straight locs and now it is time for curly ones. These locs are very long and are loosely curled. Hair like this would be a great choice if you have a special event coming up and need hair that will wow.
48. Big Goddess Braids
Our next hair idea is just amazing! Here we have braids that are styled into a cool swirl design. This is more than a hairstyle, it looks like a work of art. Hair like this is perfect for anyone who wants a unique look that stands out from the rest. These braids will look gorgeous in a color like red too.
49. Long Goddess Twists
Next, we have a trendy twist hairstyle. The hair is super long and features beautiful twists. Twists are easy to wear and will suit everyone. Choose twists like these for a chic everyday look or you can create a bolder hairstyle by choosing a different color. Either way, your hair will look amazing.
50. Accessorized Goddess Locs
Looking for a glam and accessorized hairstyle? Then check out our next idea. These goddess locs are worn on one side and are accessorized with gold cuffs and more. It is a gorgeous hairstyle that will make you look like a goddess for any occasion.
51. Black Box Braids with Copper Curls
Another cool way to jazz up your braids is with color and curls. Here we have sleek box braids with copper curls at the bottom. It results in a unique ombre style. This is a trendsetting idea and you can recreate it with any color curls.
And there you have them, the 51 goddess braids hairstyles you definitely need to think about for the up and coming seasons. Versatile, cool, fresh and fierce, what more could you possibly ask for?