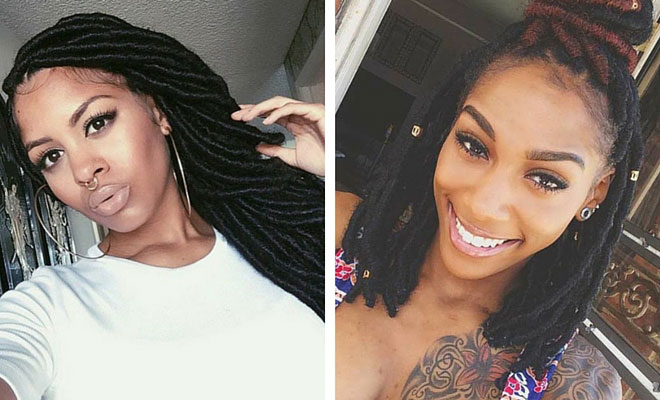 Beauty
31 Faux Loc Styles for African-American Women
By
|
11. Blonde Faux Locs
If you've always wanted those beautiful blonde locs that Beyonce keeps sporting, go do it! When you find the right shade of blonde for you, and it will change from skin shade to skin shade, you'll find that the look is easier to pull off when you first may have thought. Just look at this beautiful blonde!
12. Yarn Locs + Side Shave Design
There are a few benefits to be had from choosing yard locs and as well as being cheaper, you'll also find that you can play around with a lot more colors a lot easier! When done properly, you won't even be able to know you are rocking yard braids in most instances, and as always, the shaved sides are optional! It depends how brave you're feeling!
13. Two Toned Locs
Two-toned locs are a great way to show off the two sides of your personality so why not? You could go for more neutral, rustic tones like this dark reddy-brown and gold combination, or you could go a little bolder. It's a great way to reinvent your current style.
14. Curly Faux Locs
You can't talk about faux locs without having a mention for these beautiful, bouncing curls. A great way to glam things up and easy to wear, you could even leave your locs to curl overnight giving you more ways than ever to wear your new hair.
15. Pop of Green
Green isn't a color that many would have chosen when picking faux locs but just look at how beautifully this chick rocks it! You will need to find the right shade of green for you, and we'd always recommend going for a darker green rather than a brighter, toxic green, but it certainly brings a little something different to the table.
16. Braided Half Updo
For those lazy days where you need to do something very simple with your locs, this braided, half updo looks great and takes just moments to do. It's basically a french braid but with more strands of your locs. It looks great!
17. Side Braid
Another simple, great and easy to achieve look, this side-braid is so mermaid-looking, you'd be forgiven for automatically wanting to dye it pastel shades! The side-braid is casually cute and gives you the perfect opportunity to show off the different shades you're rocking.
18. High Bun
It's a very Queen Bee look and there's a reason for that… It looks amazing! For those days you just want to show off your makeup or those beautiful new earrings, the high-bun is perfect.
19. Two Toned Updo
The higher, the better with this two toned updo giving you another great way to show off the various shades or hues you're rocking in your locs. Pile it up as high as you dare but just make sure you have the attitude to match!
20. Purple & Yellow Style
How bold and daring are you feeling today? Bold and daring enough to try this vibrant, purple and yellow style? These are two of the richest colors and definitely have an air of class and sophistication about them, irrespective of how daring they first appear.