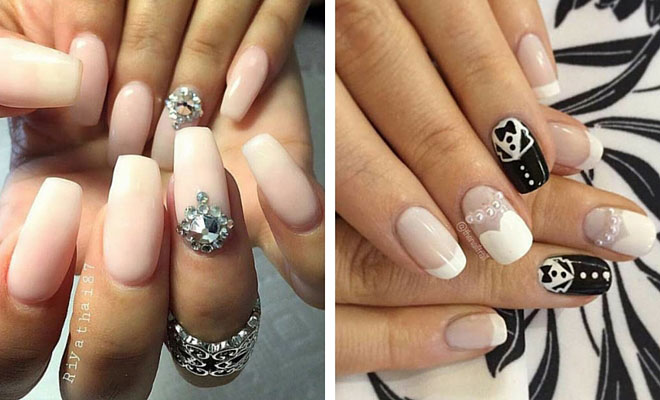 Beauty
31 Elegant Wedding Nail Art Designs
By
|
21. 'I Do' Accent Nail
What better way to say 'I Do' to the love of your life than by saying it on your nails too? It's just another quick and simple way of jazzing up a simple nude style, perfect for elegant wedding nail art designs.
If you can't do this freehand, don't be afraid to 'trace' your design first with a pencil and go over it with your black nail pen. You could even make the writing stand out even further by adding a pop of silver glitter.
22. Pedicure Idea for a Summer Wedding
We're back at it again with the toes and we have so much love for his summer wedding-ready pedicure idea.
Keep things nice and simple with the French pedicure, or add a few rhinestones to really make them stand out. Wedding or not, we're totally copying these toenails designs this summer.
23. White Nail Design
We're told never to mix silver and gold together but this white nail design shows you that sometimes, breaking the rules is not only fun, but it works too.
Keep things as simple as you'd like, or as bold and shiny as you dare. Add one rhinestone, a hundred, designs… Just remember everything looks better with that white backdrop.
24. French Tip with a Pop of Glitter
Playing around with glitter can be frightening because just the smallest amount too much can make the entire look appear tacky and cheap.
We think this is exactly the right amount of glitter, just a hint beneath that white tips. For simple, understated and elegant, these designs are perfection.
25. Glamorous Rhinestone Design
When it's your wedding dat you can get away with being a bit 'blingier' than you'd otherwise be. Go nuts with the rhinestones and add more than you'd normally dare.
As you can see here, when cleverly placed, not all rhinestone wedding nail designs are tacky.
26. Wedding Design Idea for Short Nails
Just because you have short nails doesn't mean you get to neglect them. Pay attention to your short nails with this elegant white based look.
It's negative space, pink and white, elegant and brilliant all at the same time. A winning combo if you ask us.
27. Simple Pink Nails
A pastel pink should be your fallback elegant wedding design. We know not everyone appreciates a good nude nail.
Think French manicure but with more of a pastel pop and you're on the right track.
28. Subtle Glitter Nails
Rounded nails are always considered the more traditional option so when it comes to your big day, go for a softer edge if you're used to a straighter, sharper tip.
If this is a little too rounded for you, go for squoval – it's square but oval.
29. Rhinestone Accent Nail
You could customise these elegant wedding nails to make them more personal to you and your big day. You could add a slick of coloured glitter to match your nails to your big day.
You could also play around with different coloured rhinestones too.
30. White Half Moon Design
White nails are quite difficult to wear without making them either look cheap or totally overdone. We love the white half moon design on these… Simple yet refreshingly modern all at the same time.
It's just like starting your white tips much further down the nail.
31. Neutral French Mani + 'I Do Accent' Nail
Taking things back to natural again and if you want simple and pretty elegant wedding nail art designs, this one must come out top. The tiniest hint of a white tip, a rhinestone here and there, and that beautiful 'I do'.
Its got everything you could need from wedding nails!
We hope these beautiful designs have given you plenty of inspiration for your wedding day nails. Just remember, elegant wedding nail art designs are best off started with a nude or pastel pink base so start from there and get creative!