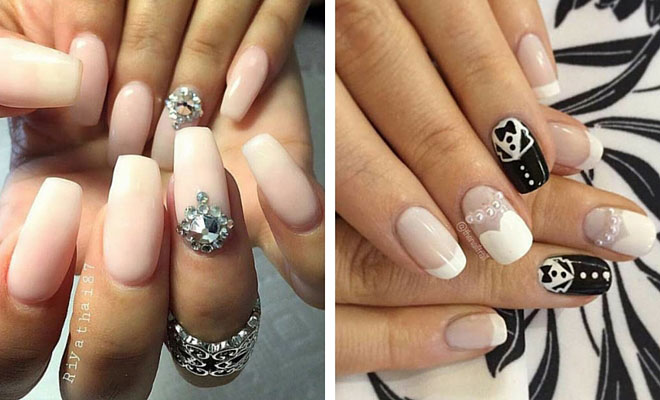 31 Elegant Wedding Nail Art Designs
When it comes to your big day, your wedding day, the little details really do matter and one of the most important little details is going to be your nails. Although your hands or, to be more specific, your nails are probably the very last thing on your mind when you're planning your big day, remember the photos that are likely to contain your hands… The ring shot, the signing of the book shot, the lovingly holding hands shot, the drinking champagne shot… Your nails are important.
So, to get things right, let's start with these delights – 31 elegant wedding nail art designs for any kind of wedding:
1. Elegant Design for Long Nails
We'll start with the basics, nudes are the easiest wedding day nails to have because they quite literally go with everything. It doesn't matter whether your bridesmaids are wearing pink, blue or fluorescent orange, nude nails will always match.
If all nude is just a little too nude for you, these gem embellishments really add a special extra something. Not too much, not too little, just right…
And absolutely perfect for photos!
2. Cute Bride & Groom Design
You have a bride and groom on the cake so why not have a bride and groom on your nails? It just makes perfect sense to us!
This works because there's just the one featured 'groom' nail on each hand. You could even just have the one – your ring finger – if you wanted to give it that little extra special meaning. It's down to you… It is YOUR big day after all.
3. Gold Glitter French Tip
Remember when we said that nude nails were perfect? This is another reason why. If you want elegant wedding nails, nude nails make for the perfect base.
We have a lot of love for the gold detailing adding to the very tips of these nails, and those gem decals help to make the design pop for all the right reasons.
4. Heart Tips
Your wedding day is a day of love and we absolutely, positively love these heart-tipped nails. The look has been accentuated with those heart-shaped white tips, and the embellishment outline is a heart too.
Your wedding day is meant to be all about love and hearts so these elegant wedding nails are just perfect!
5. Nude French Tip Design
Moving on from the nude nail (again!), these have been jazzed up in another simple way. Instead of opting for heart-shaped tips, why not try these simple square tips? It's a french manicure but with those decal additions, it's a french manicure with a difference.
The simplest changes can often make the biggest difference and just by changing the shape of the nail, you could create an entirely different look.
6. Classic French Tip + Rhinestone Accent Nail
Why not opt for a classic white French tip on your wedding day? If it's elegant wedding nail art designs you're looking for, look no further. This look solves all your problems.
Nail extensions can be clumsy for those who aren't used to them but these simple white tips work on even short nails. Just remember that you'll need your hands for a few things on your wedding day, ring accepting and champagne-drinking just being two of them. If you don't feel comfortable with long extensions, don't have them. Do what you want. It's your day.
7. French Tip + White Accent Nail with Pearls
Having a featured nail is very in-trend right now and we love these French tip with white accent nails with pearls. It's a simple addition to just one nail but one that makes a big impact. Didn't we tell you it was all about the little things? Well, this look proves it… Again.
Although it all looks very intricate, you can actually buy nail embellishments already in that shape so all you need to do is peel off and stick on. Just make sure you use a decent glue and when you're sure it's all dry, add some more glue to the edges with a toothpick. Once dry again, give the entire nail a quick coat with clear nail polish/top coat to keep it in check and make the gems look super shiny for all those photos.
8. Wedding Toe Nail Design
Just because you don't have your toes on show doesn't mean they don't deserve the wedding day treatment. Give your piggies a pamper and let your toenails get in on the getting-hitched action.
The look is simple French manicure but instead of a nude base, a pinkie one has been chosen to give the look a more pastel feel. It's a softer look and although makes the nails more obvious, does so in a very subtle way.
9. Peach & Dark Gold Design
If you don't want to go for nude nails, but you don't really want to go for a bright one either, peach nails are perfect. Do you know what works well with peach? Gold, that's what. Hence these beautiful elegant wedding nail art designs – peach and dark gold design.
You could go for just the one feature nail, or have them all done slightly differently. It's up to you, we can't decide which ones we prefer. We love those featured nails with embellishments. Which one is your favorite?
10. Pink Heart Design
This is a very clever way of using a nail design called negative space. It's basically using the nude, unpainted base of the nail as the feature design. Painted around a template rather than using a stencil, if that makes sense?
The other nail is not negative space but instead has been painted a shiny silver to accentuate that bling. Perfect ring finger nails if you ask us.
11. Ombre Wedding Nails
Ombre hair is very big right now and ombre nails are just as in-trend. If you want elegant wedding nail art designs with a slightly more modern twist, these are the kind you should look at.
The beautiful fade is barely noticeable but is striking and simple all at the same time. What's not to love about them? They would even work with multiple tip-shapes too… Pointed, square, coffin, and even you could even do this for short wedding nails too.
12. Sparkly Manicure
Forget the one feature nail, let's bling them all up. You only get married once, right?
You could add as many embellishments as you liked to these nails and they'd still look beautiful. That pinky-nude base just works perfectly too.
13. Simple Natural Wedding Nails
These are essentially engagement ring nails and we love them. We also happen to think they are perfect if you're looking for elegant wedding nail art designs too.
Nice and simple, the base of the nail has been left unpainted with the exception of a quick slick of clear gloss or varnish. Nail foils can be used to create the 'band' of the engagement ring, and gem embellishments can be used to create the diamond. They're actually pretty simple and would work on both long or short nails. You could have these as the base of your white tips with longer, French manicure nails too.
14. Nail Design Idea for a Winter Wedding
It's a great day for a white wedding… And if you're having a white wedding for more reasons than one, why not get the snow in on the action?
White is often one of the greatest choices for wedding nails because the color represents perfection, innocent and 'wholeness'. It's much the same reasoning behind the white dress too.
15. Nude Base + Silver Glitter Nails
If gems and bling aren't your thing, glitter is most definitely the way forward. When done in a way like this, it doesn't look tacky or over the top but more shimmering and splendid instead.
Glitter tips are a great choice and provide you with a simple way to enhance plain or nude nails to make them more suitable for a more elegant affair.
16. 'I Love You' Accent Nail
Because why not? It's a day of announcing your love to your partner and it's not like he won't be paying special attention to that finger a little later on. Why not give him something to smile about as he slips that ring over your finger. It'll make him smile at the very least.
On a day where it's easy to get carried away with the social-gathering-ness of it all, remember to love each other, if only for a few moments. Pay attention to the little things because it'll all be over in a blur and there's a good chance you won't remember most of it.
17. White & Silver Glitter Nail Design
Everything looks better on a white nail bed. Minor details are enhanced against the white tips and when it comes to elegant wedding nail art designs, white is a very obvious choice and for very good reason too.
There's the replica engagement ring that we spoke about before, and the look has been brought together brilliantly with a pop of glitter just as we suggested. You want your nails to sparkle as much as your ring and this is definitely the way to do it.
18. French Tip with a Pop of Gold
If your wedding is more gold than silver, this is a great way to incorporate a teeny-tiny bit into your nails. Just at the end of the nail tips, before the nude nail bed, there's a very thin line of gold and it just helps to make the look pop.
These rounded nails are a really classic, romantic shape. Perfect if you're looking for elegant wedding day nail designs.
19. Bride and Groom Toe Nail Design
We told you it was important to take care of your toes when looking at elegant wedding nail art designs, and if you've got a beachy wedding planned, or shoes where your toes will be on display, why not make a feature out of them? Your wedding is made up of all the little things. We've already established the little things are important.
We love the nail just next to the featured bride and groom – initials are a really great way to wedding-up your toenails. There's only a really space available so anything more complicated is going to get a little trickier.
20. French Tip + Sparkly Rhinestones
It's a day for diamonds so why wouldn't you have diamonds on your nails? Okay, so unless you're Kim Kardashian you probably can't afford actual diamonds on your nails but nail decals and embellishments like these work just as well.
If anyone asks, just tell them they're the real deal. It's your wedding day and you can lie if you want to!
21. 'I Do' Accent Nail
What better way to say 'I Do' to the love of your life than by saying it on your nails too? It's just another quick and simple way of jazzing up a simple nude style, perfect for elegant wedding nail art designs.
If you can't do this freehand, don't be afraid to 'trace' your design first with a pencil and go over it with your black nail pen. You could even make the writing stand out even further by adding a pop of silver glitter.
22. Pedicure Idea for a Summer Wedding
We're back at it again with the toes and we have so much love for his summer wedding-ready pedicure idea.
Keep things nice and simple with the French pedicure, or add a few rhinestones to really make them stand out. Wedding or not, we're totally copying these toenails designs this summer.
23. White Nail Design
We're told never to mix silver and gold together but this white nail design shows you that sometimes, breaking the rules is not only fun, but it works too.
Keep things as simple as you'd like, or as bold and shiny as you dare. Add one rhinestone, a hundred, designs… Just remember everything looks better with that white backdrop.
24. French Tip with a Pop of Glitter
Playing around with glitter can be frightening because just the smallest amount too much can make the entire look appear tacky and cheap.
We think this is exactly the right amount of glitter, just a hint beneath that white tips. For simple, understated and elegant, these designs are perfection.
25. Glamorous Rhinestone Design
When it's your wedding dat you can get away with being a bit 'blingier' than you'd otherwise be. Go nuts with the rhinestones and add more than you'd normally dare.
As you can see here, when cleverly placed, not all rhinestone wedding nail designs are tacky.
26. Wedding Design Idea for Short Nails
Just because you have short nails doesn't mean you get to neglect them. Pay attention to your short nails with this elegant white based look.
It's negative space, pink and white, elegant and brilliant all at the same time. A winning combo if you ask us.
27. Simple Pink Nails
A pastel pink should be your fallback elegant wedding design. We know not everyone appreciates a good nude nail.
Think French manicure but with more of a pastel pop and you're on the right track.
28. Subtle Glitter Nails
Rounded nails are always considered the more traditional option so when it comes to your big day, go for a softer edge if you're used to a straighter, sharper tip.
If this is a little too rounded for you, go for squoval – it's square but oval.
29. Rhinestone Accent Nail
You could customise these elegant wedding nails to make them more personal to you and your big day. You could add a slick of coloured glitter to match your nails to your big day.
You could also play around with different coloured rhinestones too.
30. White Half Moon Design
White nails are quite difficult to wear without making them either look cheap or totally overdone. We love the white half moon design on these… Simple yet refreshingly modern all at the same time.
It's just like starting your white tips much further down the nail.
31. Neutral French Mani + 'I Do Accent' Nail
Taking things back to natural again and if you want simple and pretty elegant wedding nail art designs, this one must come out top. The tiniest hint of a white tip, a rhinestone here and there, and that beautiful 'I do'.
Its got everything you could need from wedding nails!
We hope these beautiful designs have given you plenty of inspiration for your wedding day nails. Just remember, elegant wedding nail art designs are best off started with a nude or pastel pink base so start from there and get creative!