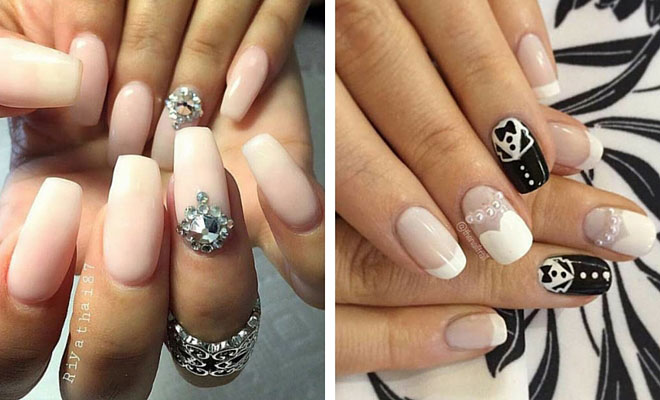 Beauty
31 Elegant Wedding Nail Art Designs
By
|
11. Ombre Wedding Nails
Ombre hair is very big right now and ombre nails are just as in-trend. If you want elegant wedding nail art designs with a slightly more modern twist, these are the kind you should look at.
The beautiful fade is barely noticeable but is striking and simple all at the same time. What's not to love about them? They would even work with multiple tip-shapes too… Pointed, square, coffin, and even you could even do this for short wedding nails too.
12. Sparkly Manicure
Forget the one feature nail, let's bling them all up. You only get married once, right?
You could add as many embellishments as you liked to these nails and they'd still look beautiful. That pinky-nude base just works perfectly too.
13. Simple Natural Wedding Nails
These are essentially engagement ring nails and we love them. We also happen to think they are perfect if you're looking for elegant wedding nail art designs too.
Nice and simple, the base of the nail has been left unpainted with the exception of a quick slick of clear gloss or varnish. Nail foils can be used to create the 'band' of the engagement ring, and gem embellishments can be used to create the diamond. They're actually pretty simple and would work on both long or short nails. You could have these as the base of your white tips with longer, French manicure nails too.
14. Nail Design Idea for a Winter Wedding
It's a great day for a white wedding… And if you're having a white wedding for more reasons than one, why not get the snow in on the action?
White is often one of the greatest choices for wedding nails because the color represents perfection, innocent and 'wholeness'. It's much the same reasoning behind the white dress too.
15. Nude Base + Silver Glitter Nails
If gems and bling aren't your thing, glitter is most definitely the way forward. When done in a way like this, it doesn't look tacky or over the top but more shimmering and splendid instead.
Glitter tips are a great choice and provide you with a simple way to enhance plain or nude nails to make them more suitable for a more elegant affair.
16. 'I Love You' Accent Nail
Because why not? It's a day of announcing your love to your partner and it's not like he won't be paying special attention to that finger a little later on. Why not give him something to smile about as he slips that ring over your finger. It'll make him smile at the very least.
On a day where it's easy to get carried away with the social-gathering-ness of it all, remember to love each other, if only for a few moments. Pay attention to the little things because it'll all be over in a blur and there's a good chance you won't remember most of it.
17. White & Silver Glitter Nail Design
Everything looks better on a white nail bed. Minor details are enhanced against the white tips and when it comes to elegant wedding nail art designs, white is a very obvious choice and for very good reason too.
There's the replica engagement ring that we spoke about before, and the look has been brought together brilliantly with a pop of glitter just as we suggested. You want your nails to sparkle as much as your ring and this is definitely the way to do it.
18. French Tip with a Pop of Gold
If your wedding is more gold than silver, this is a great way to incorporate a teeny-tiny bit into your nails. Just at the end of the nail tips, before the nude nail bed, there's a very thin line of gold and it just helps to make the look pop.
These rounded nails are a really classic, romantic shape. Perfect if you're looking for elegant wedding day nail designs.
19. Bride and Groom Toe Nail Design
We told you it was important to take care of your toes when looking at elegant wedding nail art designs, and if you've got a beachy wedding planned, or shoes where your toes will be on display, why not make a feature out of them? Your wedding is made up of all the little things. We've already established the little things are important.
We love the nail just next to the featured bride and groom – initials are a really great way to wedding-up your toenails. There's only a really space available so anything more complicated is going to get a little trickier.
20. French Tip + Sparkly Rhinestones
It's a day for diamonds so why wouldn't you have diamonds on your nails? Okay, so unless you're Kim Kardashian you probably can't afford actual diamonds on your nails but nail decals and embellishments like these work just as well.
If anyone asks, just tell them they're the real deal. It's your wedding day and you can lie if you want to!