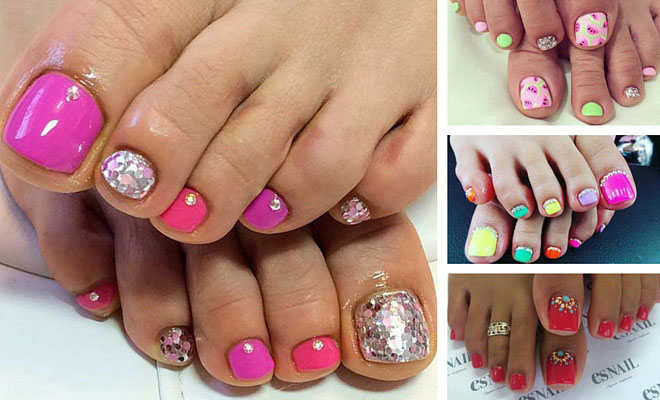 Beauty
31 Easy Pedicure Designs for Spring
By
|
11. Matching Pastel Pedicure & Manicure
For spring, we're feeling a French pedicure with a twist! Pastel colors are so fun, especially if you pair them with gold. Gold tips make the pastel colors stand out even more.
12. Red Pedicure with Rhinestones
One of the best ways to accent your spring outfit is with an elegant and feminine pedicure. Just don't get carried away with your nail art rhinestones and beads – sometimes, less is more.
13. Skinny French Pedicure
A classic French pedi will never go out of style. Make sure to give this look a try.
14. Easy, Simple and Beautiful
This simple pedicure design is one of the easiest and best to start with for spring 2016. Simply paint four toenails in a white shade, two in a light blue, and the last four in a sparkly silver shade. If this pedi is too simple for your taste, you can always add some rhinestones or other nail art embellishments. Be creative!
15. White Pedicure with Colorful Rhinestones
Colorful rhinestones and silver details create a trendy and unique pedicure design against white background. We love everything about this look!
16. Elegant Gray Pedicure
If you want something elegant with a tasteful dose of bling, this gray and silver pedicure is the perfect design for you! For this pedi, you'll need a shimmery gray nail polish, nail art glue, and some rhinestones and silver stripes. Easy-peasy!
17. Black Broken Glass Design
Broken or shattered glass nails are the latest, and one of the baddest nail art trends for spring 2016.  If you're feeling this trend, check out our other article (31 Jaw-Dropping Broken-Glass Nail Designs) for more inspiration.
18. Burgundy & Gold Design
How cute are these daises against the burgundy background? In spring, you can never go wrong with a flower pedicure.
19. Simple Pastel Design
Don't want to commit to just one color? Paint your toenails in a variety of pastel colors and accent them with gold studs.
20. Green & Yellow Flower Design
We love this combo of green, yellow and gold glitter – perfect for warmer weather. That flower accent toenail is to die for!