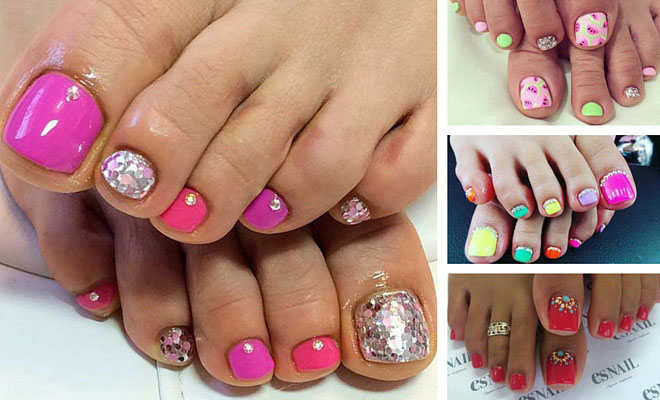 Beauty
31 Easy Pedicure Designs for Spring
By
|
Spring and warmer weather is upon us and we couldn't be more excited! With the warmer weather comes bright colors, light dresses and the need to update our pedicure routine. Let's face it, nobody has perfectly pedicured feet during the winter because no one can see them! Well, besides us obviously.
It's almost sandal season and we think it's time to take our pedicure on the next level. Agree? Treat yourself (and your toes) with some of these beautiful pedicure designs today! Remember – the shinier, the better!
1. Pastel Hues & Rhinestones
Pretty and feminine toe nails are always in trend! Pastel pink and blue combo is sure to draw attention to your feet, especially if you spice it up with some added bling.
2. Cute Watermelon Design
This spring make sure your toes are cute, bright and ready for the sunlight! Pastels + watermelons = spring and summer nail perfection.
3. Bright Floral Design
This flower pedicure design is sure to make your toes stand out.
4. Pink Toes + Pearl Rhinestones
Sparkly beads and rhinestones have ability to turn a simple pink pedicure into a master piece.  These white pearl beads look amazing against the pink background, right?
5. Pink, Neon Flowers
We love this cute flower design – it's clean and simple but also eye-catching. The cute pink flowers can be easily made using a dotting tool (or a toothpick)!
6. Colorful Toes + Rhinestones
Can't make up your mind between a few colors? Don't. Try them all at once! Spring calls for bright and colorful hues, so why not give this pedi a try?
7. Sparkly Golden Design
We love how simple yet detailed this pedicure design is. Shades of gold and nude pink are big this spring.
8. Polka Dot Design
This grey and navy design is so fresh and fun, plus it's super easy to copy! Polka dots will always be in style. Create them using a dotting tool, toothpick or bobby pin.
9. Vibrant Green & Pink Design
If you're in the mood for something fun and bright, give this green and pink pedicure a try! What an easy way to spice up your toes, right?
10. Pink Glitter Design
We're obsessed with this simple yet breathtaking pedicure! This color combo is sure to make your toenails pop.
11. Matching Pastel Pedicure & Manicure
For spring, we're feeling a French pedicure with a twist! Pastel colors are so fun, especially if you pair them with gold. Gold tips make the pastel colors stand out even more.
12. Red Pedicure with Rhinestones
One of the best ways to accent your spring outfit is with an elegant and feminine pedicure. Just don't get carried away with your nail art rhinestones and beads – sometimes, less is more.
13. Skinny French Pedicure
A classic French pedi will never go out of style. Make sure to give this look a try.
14. Easy, Simple and Beautiful
This simple pedicure design is one of the easiest and best to start with for spring 2016. Simply paint four toenails in a white shade, two in a light blue, and the last four in a sparkly silver shade. If this pedi is too simple for your taste, you can always add some rhinestones or other nail art embellishments. Be creative!
15. White Pedicure with Colorful Rhinestones
Colorful rhinestones and silver details create a trendy and unique pedicure design against white background. We love everything about this look!
16. Elegant Gray Pedicure
If you want something elegant with a tasteful dose of bling, this gray and silver pedicure is the perfect design for you! For this pedi, you'll need a shimmery gray nail polish, nail art glue, and some rhinestones and silver stripes. Easy-peasy!
17. Black Broken Glass Design
Broken or shattered glass nails are the latest, and one of the baddest nail art trends for spring 2016.  If you're feeling this trend, check out our other article (31 Jaw-Dropping Broken-Glass Nail Designs) for more inspiration.
18. Burgundy & Gold Design
How cute are these daises against the burgundy background? In spring, you can never go wrong with a flower pedicure.
19. Simple Pastel Design
Don't want to commit to just one color? Paint your toenails in a variety of pastel colors and accent them with gold studs.
20. Green & Yellow Flower Design
We love this combo of green, yellow and gold glitter – perfect for warmer weather. That flower accent toenail is to die for!
21. Simple Pedi with Rhinestones
Want your toe nails to get noticed? Adorn them with rhinestones!
22. Stripes + Golden Rhinestones
In spring and summer, boring nail designs and hues are a big no-no. Make your pedicure pop with some tiny gold studs.
23. Blue Flower Design
Flower accent nails are fun and easy for spring. Plus, you can't go wrong with flowers during this warm and sunny season. By only painting the flowers on one toenail rather than all of them, you're making your life easier.
24. Pastel Purple Design
One of the hottest accessories for spring 2016 are: bright, cute, and well-kept toenails. Sunny days are the perfect time to break out all your favorite pastel and neon polishes.
25. Pink, Half Moon Pedicure
If you're looking to dress up your toe nails, why not try a trendy half-moon design?
26. Colorful Design with Golden Beads
In spring, colorful pastel toenails make you instantly fashionable!
27. Tribal Pedicure Design
Turn heads with this amazing tribal-inspired pedicure. This one will surely find its place on our to-do list this spring.
28. Simple Pedicure with Rhinestones
Clean, perfectly pedicured pastel nails are a must-try look for spring. Jazz them up with an eye-catching, rhinestone embellishment for that extra va-va-voom.
29. Pink Pedicure with Rhinestones
Gold glitter accent nails are a fun and easy way to add some subtle sparkle to your mani/pedi. Simply paint each toenail in a hot pink shade and apply two rows of rhinestones on your big toes. Yes, it's that simple!
30. Sparkly Flower Design
This cute flower pedicure design will have everyone asking where you got your nails done. If they only knew…
31. Mint and Golden Pedicure Design
Is there a better color combination for the spring? We certainly don't think so. To re-create this design, simply pair your favorite mint polish with some strategically placed rhinestones and golden nail art jewelry.