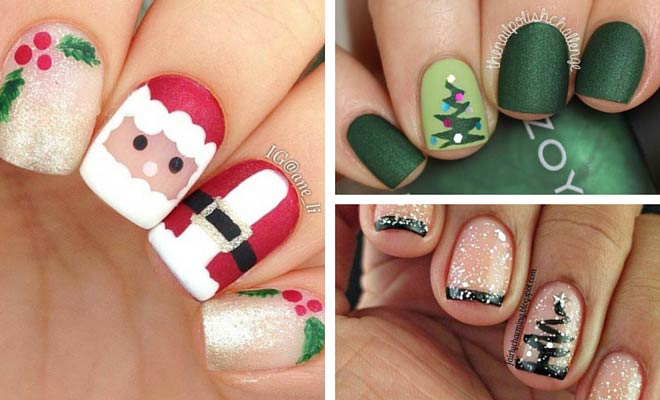 Instagram
Beauty
81 Christmas Nail Art Designs & Ideas for 2020
By
|
61. Sparkly Red and Gold Nails
Next, we have a nail design that will wow during the holiday season. Three of the visible nails are sparkly and one is simply red. The glitter nails are red and gold and there is a mixture of the two as well. This is another amazing, festive look. It would be perfect for Christmas parties and it is a must-have for those who love Christmas, glitter and bright colors.
62. Festive Holly Nails
The next nail idea is another very festive one. This time, some nails are red, green and there is Christmassy nail art which includes candy canes and holly. We love the colors and the nail art, it is such a cute and bold look for Christmas. You can hand-paint holly which there are tutorials for online or you can buy nail stickers.
63. Red Christmas Nails
If you want a manicure that celebrates the festive season but you would prefer not to wear candy canes and other designs like that, then this idea could be perfect for you. Here we have stylish coffin shaped nails and each one is painted in a rich red shade. Different textures have been used on the nails and these include glossy, matte and glitter. As you can see, all these textures create such a chic and glam mani. Nails like these would be perfect for Christmas parties and for nights out during the holiday season.
64. Santa Inspired Manicure
Next, we have a nail design inspired by Santa himself. Three nails are a beautiful red shade, one nail is sparkly and gold and the last nail has cute nail art based on Santa's suit. It is a festive and unique idea. You can hand-paint the Santa nail art and there are easy to follow tutorials online. Recreate this or you can add even more Santa nail art by maybe painting his face on another nail.
65. Red Festive Nail Art
This next nail idea is another one of our favorites. Four nails are red with festive white nail art and one nail is gold. The white art is different on each nail and includes a Christmas sweater design, snowflakes and peppermint candy art. All was hand drawn and you can find tutorials online that will show you how to create similar looks.
66. Christmas Coffin Nails
If you love the candy cane nail designs, then you need to see this one too. For this look, some nails are red, there is one stunning snowflake nail, next we have a sparkly nail and finally the last nail features a white and red candy cane pattern. We love this design because it combines different Christmas favorites such as the snowflake and candy. It is a gorgeous mani and it would be perfect for Christmas day.
67. Cute Reindeer Nails
Bring cute to Christmas with nails like these! All of the nails are nude but they feature different nail art. One nail has two red rhinestones, next we have a gold snowflake, then an adorable reindeer and finally red stripes. It is a fun and unique mani and it is very festive and chic too. You can buy reindeer nail stickers online and you can stick a red gem on its nose to recreate a similar reindeer to the one below.
68. Red Glitter with Christmas Baubles
Next, we have another bauble nail design. This time, some nails are sparkly red and two nails are white with stunning red baubles. We love this version because it looks like the baubles are hanging off the Christmas tree as there are green branches. It is a beautiful design and it is perfect for the festive season. You can recreate this look or try a different colored bauble, maybe one that is similar to the ones on your actual Christmas tree.
69. Red Coffin Nails for Christmas
Looking for a chic and glam Christmas mani? Then this is for you! Only four nails are visible and two are glossy red and two are nude with red tips. The rich red shade and the nude color compliment each other perfectly. There is also a little Christmassy sparkle added to the tips too. This is a stunning and stylish design that is easy to wear. We would use glossy red on the thumb nail also.
70. Disney Inspired Christmas Nails
This next nail idea is a must-have for Disney fans! Each nail has a different design but most of them include Mickey Mouse's head. The Mickey design has been used with snowflakes, cute ho-ho-ho art and more. This is a fun and unique manicure. Recreate the whole look or just one of the designs for all nails.