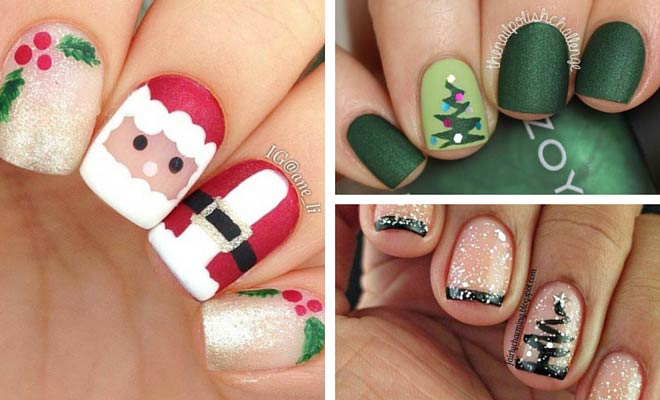 Instagram
Beauty
81 Christmas Nail Art Designs & Ideas for 2020
By
|
51. Festive Snowflake Nails
The last Christmas nail idea we have to share with you is this festive snowflake look. There is a different design on each nail. One has a snowflake, the next has polka dots, then a Christmas jumper design and finally a red nail. This is such a stylish idea! Recreate the whole look or use one or two of the designs.
52. Candy Cane Christmas Nails
Candy canes are so festive and next we have a nail design inspired by the sweet Christmas treats. Two nails are red, one is white with red stripes and the last nail is sparkly with two candy canes. It is a beautiful, fun and Christmassy nail design. You can check out what products were used to create these nails on the page below so you can try the look yourself!
53. Festive Polka Dots
If you are looking for a chic manicure, then this idea is for you. Three nails are sparkly green and the other two are white with Christmas colored polka dots. The colors are amazing and the polka dots are festive and very stylish. You can see what nail polishes were used on the page below. Neat polka dots can be recreated with a dotting tool which can be bought online.
54. Glam Nail Design with Christmas Baubles
It wouldn't be Christmas without baubles and this next nail idea features bauble nail art! Some nails are matte red, one nail is silver and the other nails are white with beautiful baubles. This is a glam and Christmassy nail design that would look amazing for Christmas day. You can buy bauble nail stickers online so you can create a similar design.
55. Cute Santa Nail Design
If you love Christmas, then you need to check out these nails! Three nails are red with a white snow design, one features Santa and the last nail has Rudolph nail art. It it ticks all the Christmas boxes and it is a must-have for those who enjoy everything about the holiday season. To recreate the look, you can hand-paint the nail art or you can buy similar nail stickers online.
56. Christmas Tree Nail Design
Are the red, green and other festive colors not for you? If so, this nail design could be perfect. This manicure uses bright blue and silver rather then the classic Christmassy colors. Three nails are blue and one is silver. Each nail is also decorated with rhinestones and these designs include a Christmas tree and a bow. It is is a glitzy and fun idea. This look was created with OPI Gelato On My Mind and Champagne For Breakfast.
57. Bold and Unique Christmas Nail Art
This next nail design is perfect for those who love to go all out at Christmas! Each nail is decorated with all things festive. The designs include glitter, candy cane stripes, Santa nail art and much more. We love this mani, it is one our favorites and it is definitely one we would like to wear this Christmas day! Recreate the whole look or you can try just one of the designs.
58. Glitzy and Glam Festive Nails
Next, we have a glitzy and glamorous nail idea. Three nails are green and sparkly, one features silver glitter and the other has a stylish zig zag design. Festive and chic nails like these will be perfect for Christmas parties and for the special day. Try the green look or you could recreate the design in red and gold too.
59. Stylish Matte Nails with a Rhinestone Christmas Tree
Matte nail colors are still a must-have look and next we have a festive version to show you. Almost every nail is painted in a different matte color and one nail features a rhinestone Christmas tree. We love the Christmas tree because it is so unique and glam. You can recreate a similar tree with gold studs which can be bought online and you can stick them on with nail glue.
60. White Glitter Nails + Stripe Accent Nails
Love the striped nail designs? If so, this could be the perfect festive mani for you! Most of the nails are painted white with added sparkle on the tips. There is an accent nail too which is white with red and green stripes. This is a cute and vibrant look that will suit any Christmassy event, from a party to a family dinner. You can hand-paint stripes or use nail tape or a stencil.