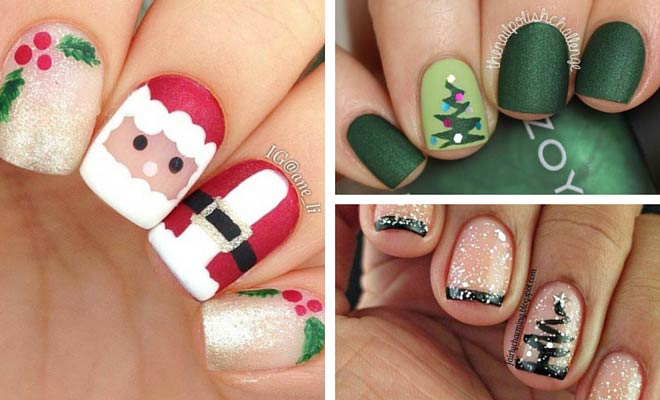 Instagram
Beauty
81 Christmas Nail Art Designs & Ideas for 2020
By
|
31. Green Glitter Gradient
Normally the focus is on the tips when you add a bit of glitter to your nails for Christmas but with this look, things are somewhat reversed. Rather than adding a contrasting color glitter on the tips, add it to the base. It's like ombre nails but much more festive looking!
32. Candy Cane Heart Nails
Candy cane nail art is very popular at Christmas and here is another cool nail idea inspired by the sweet treat. These nails feature a festive, dark green color with a candy cane accent nail. The accent nail has two small candy canes that make a cute little heart. You can create this look at home with similar nail polish colors while the candy canes can be created with stencils or stickers.
33. Chic Snowflake Nail Design
Looking for chic festive nails? Then these could be for you! Here we have matte black nails with beautiful silver snowflakes. This is a gorgeous nail idea that will look amazing for Christmas parties. A design like this will suit all nail lengths and shapes.
34. Bold Blue Snowflake Nails
Make a statement this Christmas with nails like these. Here we have bold blue nails with glitter and snowflake accent nails. This is a fun and festive idea, perfect for the exciting time of year. You can recreate this look with similar color polishes and a snowflake stencil or sticker. Also, you can try other colors like red or green, too.
35. Sparkly Silver Santa Nail Idea
Santa's suit is usually red but he has had a glam makeover for this next nail look. These nails are an amazing sparkly silver with two Santa accent nails. One design is his face and the other his suit. This is a cool nail idea that combines the magic and sparkle of Christmas with one of it's iconic characters.
36. Glam Gold Christmas Nails
Bring a touch of glamour to your look this holiday season with these nails. The nails are white with beautiful gold glitter designs. We love the little Christmas tree, it is so cute and festive. You can create a similar tree to this with tape and there are tutorials online to help you out.
37. Festive Holly Nails
Next, we have a very festive look! Here we have dark green nails with two accent nails. One is gold glitter and the other has Christmassy holly. It is a cute, vibrant and stylish look that can be worn for any occasion during the holiday season. Recreate the whole look or try just the green and the holly.
38. Christmas Wreath Nail Idea
A traditional Christmas decoration is a wreath and these nails have been inspired by them. The nails are dark green and gold with a stunning accent nail. On the accent nail, there is a beautiful green wreath with a glam gold bow. You can paint a Christmas wreath or buy 3D versions to stick on your nails.
39. Cute Snowman Nails
We couldn't have Christmas nail art without showing you snowman nails! Here we have festive, red nails with a snowman accent nail. The snowman is very cute and Christmassy. You can use snowman art like this with any nail color.
40. Adorable Deer, Winter Nails
Deer are another iconic character for Christmas. These nails have been inspired by these cute animals and feature an adorable deer. You can recreate this pretty blue and white look or use the deer on festive colors like red. This nail design would look cute with some glitter, too.