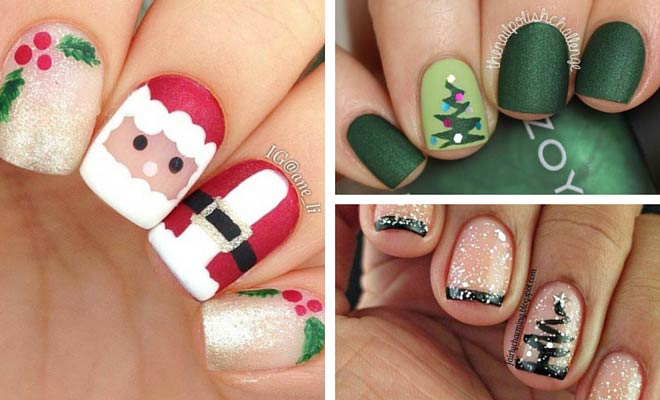 Instagram
Beauty
81 Christmas Nail Art Designs & Ideas for 2020
By
|
21. Easy Tutorial
If you need to dry your nails quickly, which you often will with layered designs such as this triangle Christmas-tree look, have a bowl of freezing cold water to hand. After you've applied each layer of polish, blow them dry for a couple of minutes and then completely submerge them in the water to harden them quicker!
22. White & Red French Manicure
It's a French manicure but just festively done! A simple red and white combo matches the festive theme perfectly and the look is given a perfectionist finish with the silver nail foil strip. It's simple yet very effective… Great to wear with beautiful red lips too!
23. Christmas Puddings
Christmas wouldn't be Christmas without a Christmas pudding so why not add a sweet-touch to your nails this year? A simply brown and white combo is easily completed with the little hint of mistletoe and what's even better is that these are EASILY done by hand. You might not get it right first time but with a bit of practice, this will take you only a few minutes to complete.
24. Creative Design
Don't be afraid to go a little outside of the lines when it comes to your Christmas nails this year. Let the kids grab a brush and lend a hand, or have a bash at it yourself. Looks just like this one are easily achieved with a bit of practice, and doing them at home could save you a small fortune over going to the salon.
25. Christmas Baubles Design
If you have peeling or dry nails, you may find that super-glossy looks like these festive bauble-inspired nails are hard to achieve. Before applying any polish or falsies, make sure you're taking care of the nails themselves. Use an acetone-free remover as much as possible, and always give your nails time to breathe every now and again between manicures. Last but certainly not least, massage in cuticle cream. Your nails instantly look better when you have good cuticles.
26. Ginger Bread Nails
On first thought, brown might not be a color you would normally associate with Christmas but when you add a featured gold-glitter nail, you have a look that actually looks pretty festive, don't you think? The gingerbread men features add a little bit of cute-factor but just the matte brown nails alone with the one gold feature nail would be festive enough. These nails almost look good enough to eat!
27. Gold Reindeer's
Did you know that appropriate storage of your nail polishes is essential for making them last? Ideally you should keep them in the fridge or at the very least, in a cool and dry place. If they are kept in a warm place, or in the path of direct sunlight, the color or shade can alter and you may even find they go thick and stodgy.
28. Sparkly Red & Gold Design
Gold glitter instantly Christmasses-up any look so this is one of those bottles I would always suggest you have to hand. Plus gold glitter goes with practically every other colour you can think of. You don't even need to necessarily 'keep within the lines' for this one, making it easy to do at home. Using an old, thin lip brush (or angled liner brush), you can create the straight lines without the worry of using tape.
29. Reindeer Accent Nail
Here's a little tip for all those leftover bottles of almost-dry nail polish you have at home. Rather than throw them out, give them a new lease of life by dropping a little bit of nail polish remover into the bottom. It helps you get a couple more uses out of the old, dry nail polish you had left over from last Christmas!
30. Red & Green Festive Design
What's wrong with a bit of classic painting? Think of your nail like a blank canvas and get as creative as you look. The detail on this featured Christmas tree nail is pretty amazing and with the right artist, could be anything festive you wanted it to be. Look at your favourite Christmas cards and get those designs painted on your nails instead!