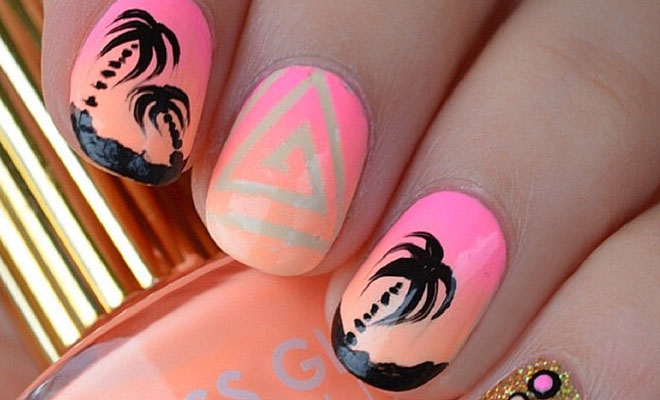 Beauty
30 Eye-Catching Summer Nail Art Designs
By
|
As the weather heats up, drinks become colder, clothes become skimpier and  nail designs become more and more brighter.
This time of the year is all about fun so our collection features nails in vibrant, neon shades paired with some interesting prints and patterns.
Your nails are still not ready for summer? Your better check our list of 30 eye-catching nail art designs. Hurry! Summer is right around the corner!
1. Peachy Matte Nails
There's nothing like a stunning but simple manicure right in time for hot summer days. Peachy hues look great against a summer tan. Nail polish used for the base color is Trust Fund Beauty 'Big Spender'.
2. Neon, Matte Tribal Nails
Warm and sunny days are the perfect time to experiment with different patterns and bright hues. It seems the matte nail trend is still sticking around. Hooray!
3. Neons & Black Palms Nails
This gorgeous manicure will surely find its place on our "to-do" list this summer. Nail polishes used to create this look are: Color Club 'Modern Pink', Floss Gloss  'Pony' and 'Biscuits', and Live Love Polish 'Stun'.
4. Blue and Pink Nails
Add a pop of color to your manicure with the Eighty4's 'Love Dust' nail polish. The background nail polish is by the same brand in the shade 'Powder Puff'. This nail design is perfect for women who can't keep a steady hand.
5. Gold Sequins + Neons
The more nail polishes you use for this look, the better your watercolor flowers will look. Nail polishes used for this look are: Urban Outfitters 'Tiny Shorts' topped with Glisten & Glow 'HK Girl Top Coat'. The gold sequin nail polish is Glitter Lambs'.
6. Neon Pink and Silver Nails
Liven up a basic pink manicure with rhinestones and silver stripes. The pink nail polish is China Glaze's  'Neon & On & On', and the silver one is Color Club 'Harp on It'.
7. Different Patterns Nails
Mix cute patterns and prints, like chevrons and flowers, for an ultimate girly-girl manicure. The design might be time-consuming, but it's so worth it!
8. Neon Stripes and Triangles Nails
You don't have to be a nail art pro to rock this manicure! The design is super easy and super summery. Used nail polishes: China Glaze 'Bottoms Up', 'Son of a Peach' and 'I'm not a Lion', and Essie 'Brooch the Subject'.
9. Pink and White Nails with Gold Studs
Gold studs are this season's must-have. Not only they are bad-ass looking, but also will make your nails really pop. The pink nail polish is China Glaze's 'Shocking Pink' and the white one is OPI's 'Samoan Sand'.
10. Neon Ombre Effect + Gold Glitter
You gotta love this color combination – it screams summer! The gold glitter polish is Sally Hansen's 'Golden Rule' topped with the 'Twinkle Toes-ty' polish. The ombre effect was created using a no name white nail polish, JulieG's '9 to 5' and China Glaze's 'Flip Flop Fantasy'.