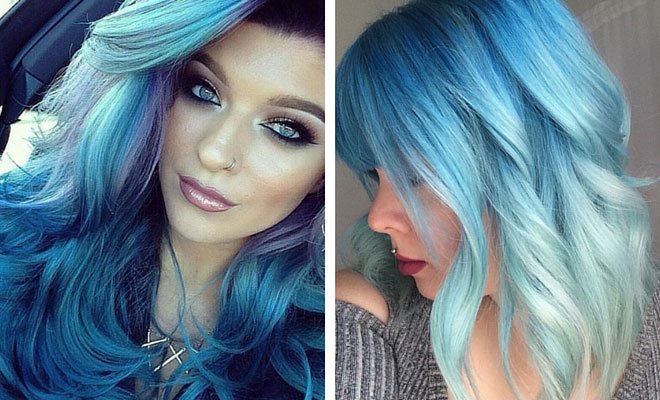 Instagram
Beauty
29 Blue Hair Color Ideas for Daring Women
By
|
21. Curly Dark Blue Hair
This hair is traffic-stopping. That's all we can say!
22. Black Hair + Electric Teal Tips
This fun take on dark-to-teal is one of our favorite looks! The style is a perfect way to experiment with bold colors without fully committing. To create it, the hairstylist used Pravana hair colors.
23. Light Blue to Dark Blue Ombre
Step up your style game with this light blue to dark blue ombré.
24. Dark Blue Twists
Protective styles allow African American women to experiment with blue hues without permanently dyeing their natural hair. Twists and braids are not only fashionable, but effective as well. Protective styling should never be boring so go bold or go home!
25. Blonde to Blue Ombre
How cool does these blue shades look in blonde hair?
26. Curly Light Blue Hair
Looking for a colorful but low-maintenance color routine? Give this curly style a try! Thanks to its washed-out look, the style is easy to maintain. No more trips to your favorite salon every few weeks.
27. Black and Dark Blue Hair
Who says blue hair can't be sophisticated? Half updos look even better in dark shades of blue. The look is super fun and girly.
28. Dark Blue Lob
This gorgeous woman knows that dark blue hair also calls for a vibrant makeup. So, make sure to pair yours with a bold red smokey eye and classic red lips.
29. Blue Ombre on Long Hair
Live out your childhood dream of becoming a mermaid with this amazing dark blue to light blue ombré look. You don't need a magic wand to get this look, only a good colorist.
Which one would you rock? Tell us in the comments below!