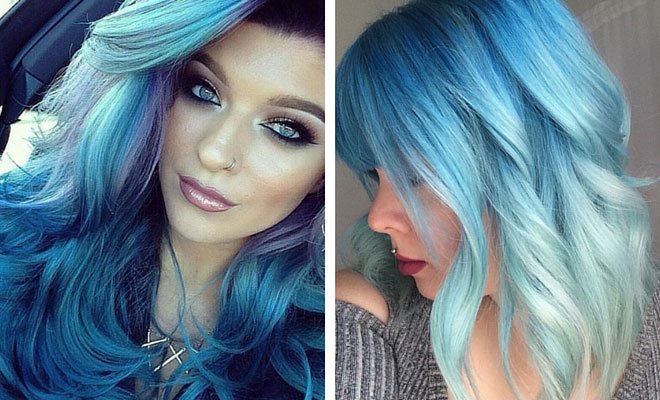 29 Blue Hair Color Ideas for Daring Women
Thanks to the rainbow hair trend, a growing number of women are dyeing their locks in fun, bright hair colors. Pastel pinks, light violets, and fierce reds can be seen all over social media. Also, more and more women are opting for blue and they actually look awesome!
Pictures below will make you ditch the normal hair colors for all sorts of fabulous blue shades. Don't blame us if you end up dyeing your hair blue. You've been warned!
1. Blue Ombre Long Bob
This stunning ombre hair makes us go blue right away. It's obvious that blue hair isn't just for punkers and cartoon characters anymore, women of all ages are trying out this bold hair trend.
2. Blue & Light Purple Hair
Seriously, who knew blue could be so sexy, right? Aside from looking insanely hot and unique, a blue hair with hints of light purple will make you look like a mermaid.
3. Blue Natural Hair
Add a playful pop of color to your natural strands with this gorgeous shade of blue. Colorful hair on African American women is super dope!
4. Ice Blue Ombre
We're kinda obsessed with this hair color! The color combination is fit for a snow queen. This complex shade of dark hair with hints of dark grey, light grey and light blue is truly one of a kind.
5. Black Hair with Light Blue Tips
These fun, light blue tips are a great way to spice up your long tresses. The look is a unique and modern twist on ombre. We think that her romantic curls look even better in this gorgeous shade of blue.
6. Blue and Grey Hair
This hair color combination is fun and fabulous! We must admit that her hair makes us want to experiment with multicolored strands. I'm blue da ba dee da ba die…
7. Dark Blue and Teal Highlights
Opt for dark blue and teal highlights if you want to test-drive the blue look before dyeing your whole hair. This color combination is perfect for women with natural dark hair.
8. Dark Blue to Light Blue Ombre
Products used to create this stunning mermaid look are Joico along with Rusk and Kenra. This type of color isn't easy to maintain. The style can get costly and time-consuming.
9. Black Hair with Ombre Blue Tips
Keep your hair organic at the root and experiment with different shades of blue at the ends. When done right, the look can be subtle, chic and rebellious at the same time!
10. Black to Dark Blue Hair
The best part about having blue hair? It's an effortless accessory. No matter what you wear, your hair will make your look pop. Have some fun and match your lipstick with your hair.
11. Blonde to Dark Blue Ombre
You can't go wrong with this blonde-to-blue ombré look. Blue makes curls look super chic and unique.
12. Dark Blue Hair + Bouncy Curls
Make a bold statement with this all blue hair. The look is sure to turn some heads!
13. Purple to Blue Ombre
Unleash your inner mermaid with this jaw-dropping purple and blue look. We think this is one of the most gorgeous color combos ever!
14. Dark Blue Hair with Teal Tips
Teal highlights will make your blue locks stand out even more. The look is bold, vibrant and beautiful. We love everything about it!
15. Dark Blue Protective Style
There's no denying that this blue protective style is pretty badass. The style will give you a break from hair styling for few weeks.
16. Dark Blue Hair + Light Blue and Ash Blonde Tips
Dark blue at the roots and faded at the ends – an ultimate formula for mermaid hair. The combination of light and dark blues is always a win-win.
17. Pastel Blue Hair
Natural blonde hair is the perfect base for this gorgeous pastel blue shade. The look is a fun way to step out from the crowd.
18. Dark Blue Hair + Green Tips
Check out this fabulous blend of blues and greens. The placement of green highlights is amazing!
19. Dark Blue to Black and Grey Ombre
Why choose one color when you can have three? Fading from a dark black to a light grey, with hints of dark blue at the top, the look is the most unique twist on a mermaid hair that we've ever seen.
20. Teal Blue Tips on Long Hair
This woman's color begins with her natural dark hue that fades into two gorgeous shades of blue at the tips. No matter of your race and skin complexion, there is a shade of blue for you.
21. Curly Dark Blue Hair
This hair is traffic-stopping. That's all we can say!
22. Black Hair + Electric Teal Tips
This fun take on dark-to-teal is one of our favorite looks! The style is a perfect way to experiment with bold colors without fully committing. To create it, the hairstylist used Pravana hair colors.
23. Light Blue to Dark Blue Ombre
Step up your style game with this light blue to dark blue ombré.
24. Dark Blue Twists
Protective styles allow African American women to experiment with blue hues without permanently dyeing their natural hair. Twists and braids are not only fashionable, but effective as well. Protective styling should never be boring so go bold or go home!
25. Blonde to Blue Ombre
How cool does these blue shades look in blonde hair?
26. Curly Light Blue Hair
Looking for a colorful but low-maintenance color routine? Give this curly style a try! Thanks to its washed-out look, the style is easy to maintain. No more trips to your favorite salon every few weeks.
27. Black and Dark Blue Hair
Who says blue hair can't be sophisticated? Half updos look even better in dark shades of blue. The look is super fun and girly.
28. Dark Blue Lob
This gorgeous woman knows that dark blue hair also calls for a vibrant makeup. So, make sure to pair yours with a bold red smokey eye and classic red lips.
29. Blue Ombre on Long Hair
Live out your childhood dream of becoming a mermaid with this amazing dark blue to light blue ombré look. You don't need a magic wand to get this look, only a good colorist.
Which one would you rock? Tell us in the comments below!