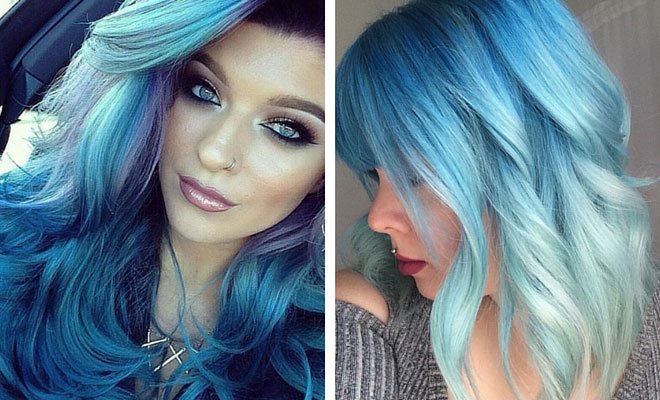 Instagram
Beauty
29 Blue Hair Color Ideas for Daring Women
By
|
11. Blonde to Dark Blue Ombre
You can't go wrong with this blonde-to-blue ombré look. Blue makes curls look super chic and unique.
12. Dark Blue Hair + Bouncy Curls
Make a bold statement with this all blue hair. The look is sure to turn some heads!
13. Purple to Blue Ombre
Unleash your inner mermaid with this jaw-dropping purple and blue look. We think this is one of the most gorgeous color combos ever!
14. Dark Blue Hair with Teal Tips
Teal highlights will make your blue locks stand out even more. The look is bold, vibrant and beautiful. We love everything about it!
15. Dark Blue Protective Style
There's no denying that this blue protective style is pretty badass. The style will give you a break from hair styling for few weeks.
16. Dark Blue Hair + Light Blue and Ash Blonde Tips
Dark blue at the roots and faded at the ends – an ultimate formula for mermaid hair. The combination of light and dark blues is always a win-win.
17. Pastel Blue Hair
Natural blonde hair is the perfect base for this gorgeous pastel blue shade. The look is a fun way to step out from the crowd.
18. Dark Blue Hair + Green Tips
Check out this fabulous blend of blues and greens. The placement of green highlights is amazing!
19. Dark Blue to Black and Grey Ombre
Why choose one color when you can have three? Fading from a dark black to a light grey, with hints of dark blue at the top, the look is the most unique twist on a mermaid hair that we've ever seen.
20. Teal Blue Tips on Long Hair
This woman's color begins with her natural dark hue that fades into two gorgeous shades of blue at the tips. No matter of your race and skin complexion, there is a shade of blue for you.