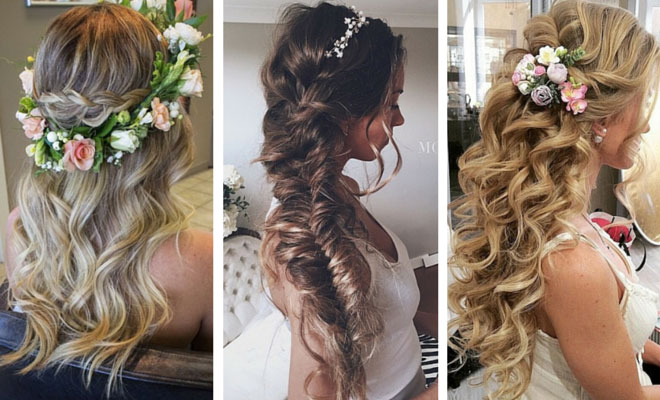 28 Trendy Wedding Hairstyles for Chic Brides
Saying "I DO" is way easier with a fabulous dress and stunning hair, right? Every bride wants to find the perfect hairstyle for her big day but unfortunately that's not the easiest task. The hunt for a dreamy look often ends unsuccessfully.
To make it easier for you, we've collected 28 trendy styles that will surely inspire your own wedding hairstyle. From classic up-dos to romantic down-dos – we have them all!
1. Curly Half Updo with Flowers
Big and bouncy curls are a simple yet stunning bridal style. This hairstyle will cover your bare shoulder so it's an ideal choice for a strapless wedding dress. Add a cluster of flowers to your luscious curls for a lovely, romantic touch.
2. Messy Half Updo + Hair Accessory
A messy half updo + delicate headpiece = an effortlessly beautiful bridal hairstyle. If you're blessed with long, healthy hair, opt for bigger headpieces. A sparkly, elegant hair accessory can be an icing on the cake.
3. Side-Swept Hairstyle
Sleek side-swept curls will perfectly compliment a single-shoulder gown or an asymmetrical neckline. Old Hollywood waves are a classic wedding hairstyle that's even prettier when it's accented with a classic French braid and a rhinestone comb. The bridal comb adds an elegant and glamorous touch to this simple bridal style.
4. Braided Updo with Hair Accessory
Big, messy French braids pinned into an updo make for a great boho bridal style. Braided hairstyles will never go out of style because they are so romantic and versatile. We love the addition of the flower hair comb to this lovely bride's updo. If your wedding is in spring or summer, you can replace the hair comb with fresh flowers.
5. Elegant & Voluminous Bun
This elegant and voluminous bun is every woman's dream updo. Messy curls formed into a bun make this hairstyle interesting and unique yet still extremely sophisticated. For an extra 'wow' effect, use hair jewelry. The updo is perfect for any type of wedding gown.
6. Soft Waves + Flower Crown
Floral hair pieces are just jaw-dropping, right? These days, more and more brides are opting for fresh blooms in their hair. But can we blame them? This flower crown is absolutely stunning! A flower crown or a single flower can add such uniqueness and prettiness to your wedding hairstyle so make sure to give it a try!
7. Retro Waves on Medium Length Hair
Opt for retro waves to let your dress do the talking. This hairstyle is an ideal choice for brides with medium length hair. A simple, minimalist hairstyle can be as much breathtaking as Cinderella's top bun. Remember, less can be more, even for your big day.
8. Low Bun
Simple yet elegant low bun is another favorite updo among brides-to-be. Opt for this updo if you're a summertime bride. Not only will it make you look fab, it'll also keep you cool from the summer heat. Amp up the volume with a teased crown and add a rustic headpiece for the ultimate finishing touch.
9. Braided Low Bun + Gold Hair Accessory
This charming braided bun is a stylish choice for brides seeking timeless elegance and romance. Unusual accessories, like this gold headpiece, will make your bridal hairstyle one-of-a-kind. There are lots of variations on this look, you can add in a fishtail braid, you can pull some strands out and curl them, or replace the headpiece with fresh flowers.
10. Curly Ponytail with an Accent Braid and Flowers
Looking for an effortless look? Give this cute style a try! A messy ponytail with an accent braid is anything but dull. The hairstyle is perfect for a romantic bride and a garden wedding. For an angelic look, accent the braid with sprigs of baby's breath. So simple, yet so beautiful!
11. Messy, Side Swept Fishtail Braid
Perfectly imperfect looks are our favorite. Messy curls and a fishtail braid are an ultra-romantic choice for a bride with long hair. Teased crown is the perfect (and easy) way to add volume and glamour to the look. Finish the hairstyle with a sparkling headpiece to dazzle your future husband and guests.
12. Messy Bun Updo + Tiara
The updo is a gorgeous choice for the bride that wants to feel like a princess on her big day. Messy curls gently twisted and pinned into a bun make for an extremely feminine but relaxed look. There is no better way to update a classic updo than with a sparkly tiara or crown, right?
13. Elegant, Loose Braid for Long Hair
A wedding hair doesn't need to be perfectly done, as this loose braid style proves. This effortlessly beautiful hairstyle will make you look and feel absolutely gorgeous all day long. Tuck a small rhinestone headpiece into your bridal hairstyle to capture the attention of everyone in the room.
14. Simple, Loose Waves
Long retro waves side swept to the side make our heart skip a bit. This timeless, sophisticated hairstyle will make you feel like a million bucks! The style works best on medium to long lengths and is super easy to create. If the hairstyle is too simple for your taste, you can accent it with a big flower on the back of your head.
15. Curly Updo with Flowers
This curly and messy updo is elegant, playful and romantic at the same time. Spice up your bridal hairstyle with a unique flower headpiece, like this bride did. Adding flowers or other similar hair accessories to your hair can create a beautiful, fairy-tale look. If you opt for flowers, make sure they match your bouquet or wedding theme.
16. Old Hollywood Waves Updo
Searching for a vintage style with a modern twist? Then this updo is for you. Hair pulled back into a bun draws attention to the shoulders and makes the most of your features. This hairstyle radiates elegance and sophistication. We love everything about this look!
17. Messy Fishtail Halo Braid with Flowers
This messy fishtail halo braid with flowers is leaving us speechless. The hairstyle is every boho bride's dream come true. Fishtail braids, face-framing tendrils, and gorgeous pink flowers make this unique hairstyle still wedding-appropriate.
18. Soft Curls + Wedding Wreath
If you want a more natural and simple look for the most important day in your life, then this is the style for you. Loose, flowing waves with some volume at crown is effortlessly beautiful style that's anything but boring. A simple bridal wreath has the power to pull the entire look together.
19. Low Chignon with a Rose
A flat hair on your big day is a big no no, so we recommend this polished look. We love the simplicity of this cute updo. The hairstyle has all the elements of a classic wedding updo but with a chic, playful upgrade. The addition of a fresh rose is so unique and romantic.
20. Low Bouffant Bun
The low bouffant bun is a hairstyle fit for every kind of bride. A pair of bridal chandelier earrings is a must-have with this updo. The bigger, the better. This whole look is just to die for, don't you think?
21. Faux Hawk Updo
Feeling bold for your wedding? Turning heads will be easy with this edgy wedding updo. Not many women would opt for this look, but we think it's absolutely unique and modern. To soften it up, embellish your bridal-do with flowers or sparkling hair accessories. The style is ideal for a spring or summer wedding.
22. Braided Halo Half Updo
Regardless of your wedding location and theme, this pretty half updo is a perfect choice. Braids, retro waves, and a stunning rhinestone hairpiece will turn you into a charming fairy. The style has a real classic, yet modern feel to it.
23. Low Ponytail Bouffant
Another simple but still beautiful hairstyle for our young and modern brides-to-be. This smooth and sophisticated style definitely has the wow factor that most brides are seeking for. Opt for a gold bridal headpiece only if you have dark hair.
24. Braided Low Bun with Flowers
Is there anything more romantic than a braided bun adorned with a cluster of fresh flowers? We don't think so. Braids and flowers are the perfect match for a summer wedding. The best part about this style? You can actually do it yourself. Amazing!
25. Curls, Flowers & Bouffant Style
Now this is a dreamy bridal hairstyle, right? This look will definitely embrace your inner goddess. We think it's a must-add to your Pinterest board.
26. Romantic Low Bun Bouffant
A flower headpiece makes a beautiful addition to a messy updo. Bridal hair accessories aren't just an addition to your wedding look, they are something more. After the wedding, you will be left with a tangible memory of your wedding that you can share with your future children or even grandchildren.
27. Low Updo
If you like elegant updos with volume, you're gonna love this look! The style screams "wedding"! Finish the look with a pair of sparkling earrings or a tiara.
28. Cute Braided Updo
This gorgeous braided updo is sure to amaze. The hairstyle looks good from every angle, and that's exactly what you need when walking down the aisle. The look could also work for a bridesmaid.