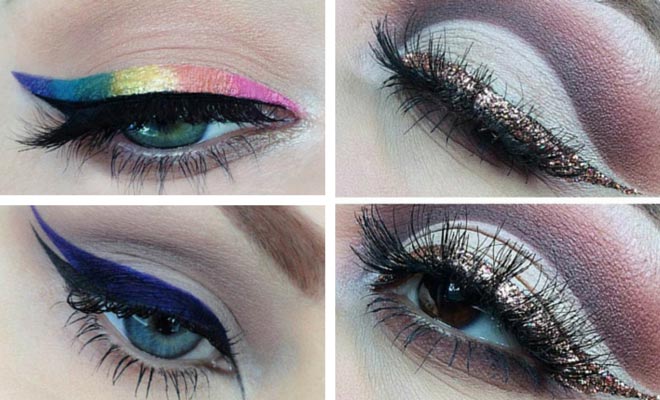 Beauty
27 Amazing Eyeliner Ideas You Need To Try
By
|
11. Black & Silver Glitter Eyeliner
For sparkling and dazzling eyes, we recommend this look. Thick eyeliner is very hot right now and who doesn't love glitter, right? We dare you to try it!
12. Black Eyeliner with a Pop of White
A pop of white eyeliner can really spice up your eye-look. The look seems as the perfect choice for music festivals. So, make sure to incorporate white lines and dots into your eye-makeup for the next Coachella.
13. Blue Winged Eyeliner
Make your eyes pop with a blue winged eyeliner. Blue is one of the most flattering makeup colors for brown eyes. Blue eyeshadows can be tricky to pull off, so rather opt for a blue eyeliner.
We just love the contrast between royal blue shade and brown eyes. Stunning!
14. Purple Winged Eyeliner
Feeling a bit adventurous? Give this look a try! When using bright and colorful colors as your eyeshadow, it's important to blend everything nicely.  This color combo works best for brown eyes. This look will turn heads, that's for sure!
15. Black and Turquoise Eyeliner
Bold and electric makeup is a perfect choice for women who want to stand out from the crowd. Unfortunately, electric eyeshadows are hard to pull off and you can easily end up with a look of an '80s prom queen. Instead, try the trend by investing in a few vibrant eyeliners. You won't regret it!
16. Gold Sequin Eyeliner
Here's another version of a black and gold eyeliner. The contrast between them is absolutely gorgeous. Two little lines in right colors can transform your makeup look in a big way! What's best about it is that you don't need any makeup skills to rock this look.
17. Colorful Eyeliner
This might not be your everyday makeup look but you must admit that it's absolutely gorgeous!
18. Neon Orange Eyeliner
For a standout cat-eye, fill in your eyeliner with a neon orange color (or any other vibrant color). This look is a great "go-to" for summer and spring. Also, it's one of the few looks that's actually  appropriate for night and day.
19. Double Winged Black & Purple Eyeliner
Double winged eyeliner is a versatile look. You can experiment with different shapes and colors. We don't know about you, but we'll definitely give it a try.
20. Eyeliner Cut Crease
Frame the part of you crease for an absolutely fierce look. Would you wear this for a night out?