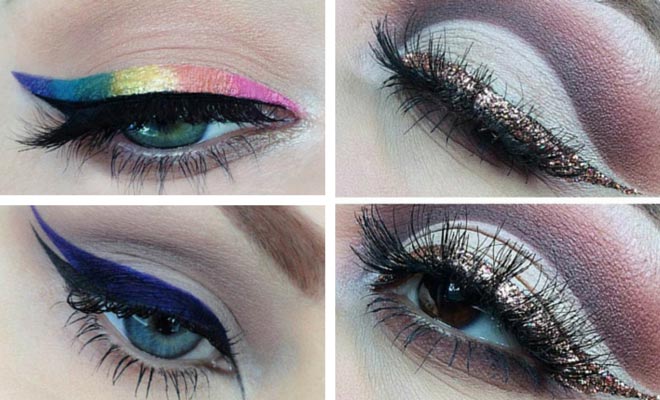 Beauty
27 Amazing Eyeliner Ideas You Need To Try
By
|
Eyeliner is an essential piece of every woman's makeup bag. Sharp touch of a black or colored liner brings eye-makeup on the whole new level in just 60 seconds. Winged eyeliner, also known as the cat-eye, is classic, sexy and fresh way to define and lift the eye.
Although the black winged eyeliner  is flattering and looks amazing, you can easily get bored of it. Luckily, there are ways to switch up your eyeliner game. If you would love to try something a little different, here are 27 eyeliner ideas that are anything but boring.
1. Rainbow Eyeliner
Rainbow eyeliner is perfect for days when you want to replace your boring cat-eye. It's bright, vibrant and the colors scream spring and summer!  You can achieve this look in few easy steps.
Step 1: Create a winged line in black. You can skip this step if you don't need a guide for your rainbow eyeliner.
Step 2: Grab a small detailer or angled liner brush. Using small and steady strokes, apply a pink eyeshadow on the inner corner of your eye. To make the colors more vibrant, you can wet the brush with a fix spray or water.
Step 3: Proceed with orange color and blend it with the pink. Make sure to clean the brush before each color.
Step 4: Apply yellow (or gold), green, light blue and dark blue eyeshadow. When you're satisfied with your rainbow effect, apply a white liner to your waterline. This step will make your eyes appear larger.
Step 5: Apply mascara and false lashes.
2. Black Eyeliner with a Heart
What a cute way to amp your eyeliner routine! This look is all about the detail so you'll need a little bit of patience. The heart shape is created with a heart sticker or confetti. If you have a steady arm and some skills, you can even make the heart without using any stickers. Lovely and easy!
3. Brown Winged Eyeliner
A brown eyeliner will intensify beautifully any eye color.  As you can see, it goes perfectly with gold and brown eyeshadows. We're seriously obsessed with this look! You?
4. Purple Glitter Eyeliner
Make a statement with this gorgeous glitter eyeliner. Perfect look for a night out with your girlfriends, right?  The main focus should be on the eyeliner so don't use any vibrant eyeshadow colors. Brown shades at the crease will add depth and make your eyes appear larger. Apply them with a clean fluffy brush. It'll do all the work for your.
5. Kim Kardashian Inspired Double Winged Eyeliner
Kardashian's and Jenner's are known to have the most perfect makeup looks. That's not surprising, given the number of makeup artists that work for them. The one of the most popular Kim K. makeup looks is definitely this double winged eyeliner with a pop of white. This look is one to try!
6. Pink & Purple Ombre Eyeliner
Summer calls for vibrant and colorful eye-makeup looks such as this one. To achieve it, just follow few easy steps below the rainbow eyeliner (#1). The look has less colors but the technique is the same.
7. Black & Gold Double Eyeliner
Amp your regular cat-eye with a sharp touch of gold eyeliner. Gold is a perfect way to add some brightness on your eyes. The application is pretty simple. After you're satisfied with your eyeshadow makeup look, draw your regular cat-eye flick and add a line of gold eyeliner directly above it. It's ridiculously simple and looks fantastic!
8. Double Winged Black Eyeliner
Totally own a party night with this eye-catching look. The look features double winged eyeliner matched with brown eyeshadows.  Perfect eye-look for our green-eyed ladies.
9. White Winged Eyeliner
Your eyeliner doesn't always have to be dark, there are other ways to line your lids.  You can always experiment with different colors, especially during summer. This look is anything but ordinary.
10. Smudged Eyeliner
Smudged eyeliner is perfect choice for women who can never get their cat-eye right. Your first application of eyeliner doesn't have to look perfect because you're gonna smudge it! The look is sexy but still work-appropriate.