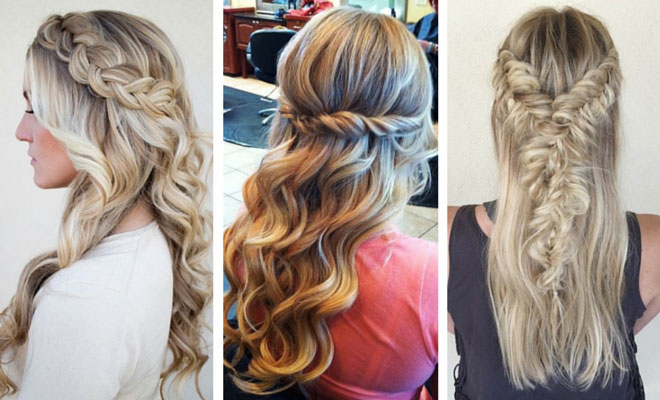 Instagram
Beauty
61 Stunning Half Up, Half Down Hairstyles
By
|
Half up, half down hairstyles are a great option for formal and casual events. They look like you've spent hours on them, but actually are super-easy to create. Also, they work for any hair length and face shape.
Half updos are type of hairstyle that always elicit compliments. Soon enough, they will become your latest addiction. Our collection of 61 half updos will surely inspire you to wear your hair this way.
1. Curly & Messy Style
This half updo will amp up any look! To achieve this look first curl your hair in soft curls. They should look effortless and messy, as pictured. Next, slightly tease your crown to get volume. Pick up few sections of the hair and  loosely twist them upward. Secure with bobby pins. The style is perfect for a summer wedding.
2. Teased Crown & Soft Curls
Sometimes less is more. A simple and smooth bump matched with wavy hair can make an absolutely stunning hairstyle. All you do is curl your hair with a curling iron and wait until the curls cool down. Brush through them with a natural boar grooming brush. This type of brush will help distribute your natural hair oils down to the rest of your hair. The best way to tease your hair and create a bump is with a tail comb. Smooth the tease with a bigger brush, and secure with a few bobby pins.
3. Curly Half Updo with a Hairpiece
This gorgeous hairpiece reminds us of Great Gatsby style. The best part about this hairstyle? It's super easy to do. After curling your hair, take a front section of the hair and loosely twist it toward the back. Repeat on the other side so they both meet and secure with a bobby pin (or few of them). Got Great Gatsby fever? Then make sure to put this hairstyle on your 'to-do' list for your next special occasion.
4. Fishtail Braid Half Updo
Whether you are headed to a formal occasion or just looking for an another way to style your everyday hair, this lovely fishtail half updo might be your perfect choice. Now, of course, to re-create it, you have to know how to to do a fishtail braid. This braid style is super easy to create, once you have the technique down, you'll have an amazing hairstyle every day.  To make the braids look messier and thicker, gently tug the outside pieces of the braids out. Super easy trick, right?
5. Half Updo for Short Hair
Whether you have short, medium, or long hair, you can rock a half up, half down hairstyle. This half up braided crown is the perfect hairstyle for beating the summer heat without sacrificing your style.  So cute and refreshing. Give it a try!
6. French + Fishtail Braid Half Updo
Isn't this one of the most simplest yet prettiest casual half updos you have ever seen? The braid starts as an inverted side French braid (also known as a Dutch braid), and ends as a fishtail braid. You can complete this hairstyle in just a matter of moments. Love it!
7. Tousled Low Ponytail
Get some breathtaking beach waves into your hair to create an effortlessly gorgeous hairstyle. Separate a few pieces of the hair in the front and twist them around to the back. Pull the twists into a low ponytail. Great look for any summer event.
8. Side Swept Dutch Braid + Curls
If you have long hair and are always looking for something to do with it, our suggestion is this jaw-dropping braided half updo. Braids and curls are our favorite combo. The style feels formal, yet casual since some of the hair is left down.
9. Braided Top Knot Half Updo
This pretty style is a unique take on the top knot half down style. Section the top of your hair and simply hold it in place. Next, add a texturizing spray to give your knot that extra boost. Pull the hair in a half up, half down ponytail and secure with an elastic hairband. Braid it into a fishtail braid and twist the braid into a bun. You can also add curls to your hair for a more romantic look.
10. Messy and Twisted Fishtail Braids
Take your fishtail braids to a whole new level with this  fabulous style. This style is remarkably simple – two fishtail braids, one twist, and you're done! So, to achieve the hairstyle you need to braid two fishtail braids. As always, gently pull out outer sections of the braid to make it fuller and thicker. Twist the braids around each other to create a "braided twist". This hairstyle is easy to create and perfect for day or night.