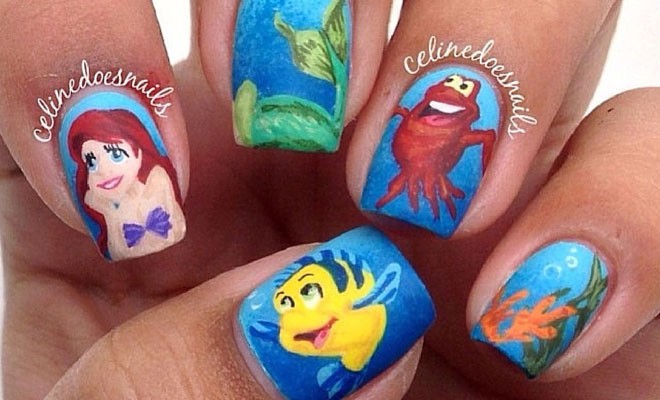 Instagram / CelineDoesNails
Beauty
21 Super Cute Disney Nail Art Designs
By
|
11. Colorful Alice in Wonderland Design
Wow, we have so many talented nail artists out there! Nice design of Alice in the garden of live flowers.
12. Mickey & Minnie Winter Design
Perfect Disney nail design for winter! Everything is super cute but something is missing… where's Minnie's signature bow? The green nail polish is Essie 'First Timer'.
13. Cinderella
Another Disney princess, yet another gorgeous nail design! This design includes Cinderella and her Prince Charming. The new Cinderella movie is just in theaters, so make sure you wear this design when you go to see it.
14. Maleficent
If you've recently watched the Maleficent movie starring with Angelina Jolie, then you know that Maleficent actually has a pure heart. We love the background color of this nail design. It really goes with her character and personality.
15. Snow White
Snow White nail design is cute and fun to wear.
16. Mickey Mouse Accent Nail
Few brush strokes of red , black and white polish, some dots, cute Mickey design on your accent nail and your perfect Disney nail design is done! Sounds simple, right?
17. Olaf  + Snowflakes (Frozen)
If you want to build a snowman but it's not winter yet, you always can 'build' one on your nails. We bet you now have that song  stuck in your head. Sorry!
18. Cute & Simple Design
Life is too short to have boring nails, right?
19. Ursula Nail Art (Little Mermaid)
Are you a Ursula fan? If yes, you need to try this design!
20. Toenail Disney Design
After all of these Disney nail designs for fingers, we need to include at least one for your toenails, too! With this cute design, your toenails will be ready to be exposed at any time.
21. Little Mermaid – Tutorial
Here's an easy step-by-step tutorial for Little Mermaid – Ariel. Enjoy!