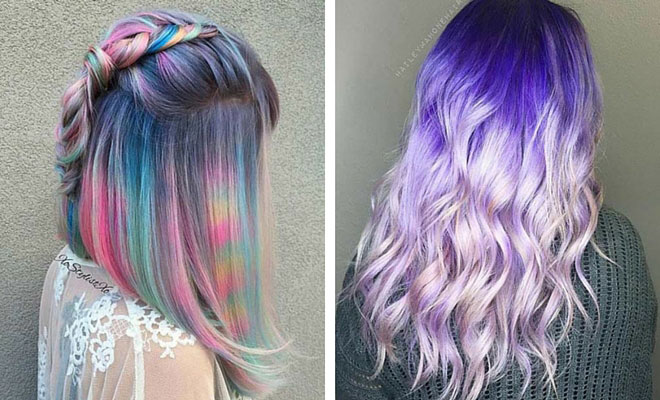 Instagram
Beauty
21 Pastel Hair Color Ideas for 2018
By
|
11. Pastel Purple
Pastel colors are light colors so this look will require bleaching or lightening treatments beforehand. This will have a detrimental effect on your hair so if yours is dry, damaged or seriously over-styled, you'll need to be realistic about the kind of results you'll get.
If you need to spend a few weeks having your cut, hot oil treated and well cared-for first, do it. You'll only regret it when your hair doesn't look quite as good as you'd hoped.
12. Pastel Blue Ombre Hair
Rita Ora is a fan of this stunning spearmint blue color and if you don't fancy an all-over look, this ombre one is definitely a winning combo of colors.
Going blue at the roots and blonde at the ends is a great way of adding a different pop of color but not too much, and it's a little different. Why wouldn't you want to be a little different?
13. Metallic Blush
You'll need to be smart about your color choices, especially if you have dark hair. You'll also need to be realistic about the kind of time frame you'll be looking at to achieve the desired effect. This metallic blush looks like pink perfection but it's not a look that'll be easy to get if you don't go about it the right way.
Remember that you may need to undergo more than one lightening treatment if you're going from dark to light. This is not a one-step process.
14. Pastel Hair Color Idea for Blondes
If you've got blonde hair, the lightening treatments will be less necessary, or you'll only need a light pre-bleaching session first. This candy-floss pink is amazing to look at, but you'll need to go a lot lighter before you brighter.
You could even consider using hair chalks on bleached hair for a temporary color fix. These chalks are a great way to play around with a few colors before you make you final decision. They're also perfect for getting pastel hair for when you want it to last just one night only.
15. Dusty, Pastel Teal Hair
It could be blue, it could be green, it could even be the color you get when you mix the ends of all your hair dye pots together. Sometimes it pays to play around with color combos to achieve a unique shade for you. We've seen lots of blues around but this teal blue is something else entirely.
This beautiful blue will fade to a lovely dusky, powdery blue, before going a slightly silver shade. If it's an easy fade-out you want, this isn't a bad one to go for but just remember to keep the roots darker to stop it looking like you urgently need to make a hair appointment.
There are lots of coloured shampoos on the market these days which can help you to top up a color in between appointments too. It is well worth investing in one if you want to save a little money.
16. Grey to Pastel Pink Ombre
Grey hair is in. Pastel hair is in. Why wouldn't you combine the two? Just look at this grey to pastel pink ombre. It just works!
Amber Le Bon went for a My Little Pony-style dip dye / ombre. This is like that but with a touch more color at the top. Bold and beautiful but without being too 'in your face'.
17. Vivid Purple to Pastel Purple Colormelt
Ashley Tisdale is a fan of purple, lilac and lavender hues and we love this vidid purple to pastel purple colormelt, a great way of combining two looks in one.
It's always good to have options!
There are tinges of pastel pink in there too, just to give the look a more three-dimensional feel. The more tones you add, the more dimensions you'll add. We think it's time for things to get a little colorful…
18. Pastel Pink and Blonde Hair
This pastel pink and blonde hair combo makes the hair look almost a rose gold color and do you know who recently sported a look like this? Kate Hudson, that's who. If it's okay for Hollywood royalty, it's a look we're all going to want. Right?
If you want to go pink but not too pink, ask your hairstylist to go rose gold instead, combining various shades of strawberry blonde with baby pink to achieve a blingtastic color that will just look all the more fabulous as it fades.
19. Pastel Lavender Hair
It was Nicole Richie who got tongues wagging with her various shades of purple hair over the years and if you want something that is cute, romantic and a little girlie all at the same time, but you don't really want to sport a baby pink, this pastel purple is such a great idea.
As purple fades, it turns a silvery-grey color (which is actually quite hard to achieve by itself).
20. Pastel Hair + Braids
This is the prettiest hair we've ever seen and although it might not be easy and take more than a few hours in the hair stylist's chair, it's certainly worth it. If we had hair like this, we'd take enough selfies to last us a lifetime. Wouldn't you?
Why go for muted lilacs and powdery pinks when you can go for the entire pastel spectrum in one go? Hey, if you've only got one time frame available to dye your hair a crazy color, you might as well go all out! You can't say it's not stunning!
21. Soft Pastel Tones
This look is a little more randomised with balayage or hand-painted pastel pops of color running through. A soft silver could be used as the base with hints of turquoise, green, lilac, blue and pink to bring it all to life.
Add your curls to make the look pop and what do you have? Hair that a fairy princess would be proud of, that's what!
We hope we've given you plenty of pastel hair color ideas to play around with but we want to see what wonderful creations you beautiful people have come up with too! Give us a shout out on social media and let us know what pastel pretties you've put together.